A super car is born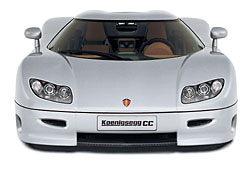 Leider ist der Eintrag nur auf English verfügbar.
Zusammenfassung
Standard bearings and special seals
"We have received a lot of goodwill because we are building a Swedish super car," says Christian von Koenigsegg, president of Koenigsegg.
According to von Koenigsegg, 120 of the car's 160 suppliers are Swedish. Volvo and Saab have donated time and expertise to the project. And so has SKF.
Standard SKF bearings and seals can be found throughout the car – in the doors, in the suspension system, in the engine, in the gear box.
In addition, SKF Industrial Seals Europe, centred around Sealpool AB in nearby Landskrona, developed a set of special seals for use in the Koenigsegg suspension system. The seals, fitted to the ride-high cylinders, allow the car at the press of a button to rise up 45 mm in order to pass over speed bumps.
"This was specially constructed for us," says von Koenigsegg's engineer Thomas Koch, formerly from VW. "We thought it would be good to adapt the car to city traffic."
Falls Sie das Text- und Bildmaterial dieses Artikels anderweitig veröffentlichen möchten, holen Sie bitte beim Chefredakteur die Genehmigung ein. Mailen Sie an
EVOLUTION@SKF.COM
. Die Verwendung von Zitaten aus unseren Artikeln ist kostenlos, aber bitte geben Sie als Quelle Evolution - das Wirtschafts- und Technikmagazin von SKF' (
WWW.SKF.COM
) an. Falls Sie irgendwelche Fragen haben, wenden Sie sich an den Chefredakteur.