Mopeds built for you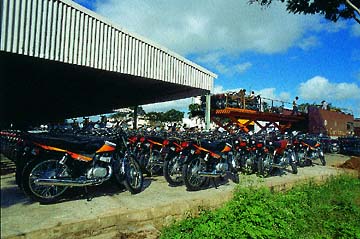 Leider ist der Eintrag nur auf English verfügbar.
Zusammenfassung
Indian partnership
TVS Suzuki is working to become India's leader in motorised two-wheelers; SKF has a partnership agreement with TVS, supplying all their ball-bearing needs.
      The three-year contract was signed in September 1997. SKF delivers 85,000 ball bearings weekly. With greater production efficiency, SKF has been able to meet the prices required by TVS without compromising quality.
      SKF supplies ball bearings that are used to support the crankshaft of TVS's motorcycle engines and to support the counter shaft and drive shaft of the gearbox. SKF bearings are also used in the front and rear wheels. To facilitate quick dismantling of the rear wheel without undoing the wheel sprocket, the sprocket carrier is mounted on a single ball bearing.
      SKF ball bearings are the main bearings of the crankshaft used to support the clutch shaft of the variomatic transmission and the rear wheel axle of the TVS Scooty. The front wheel hub is supported on two SKF ball bearings.
      In TVS mopeds, SKF ball bearings are used to support the engine crankshaft and the two wheels. SKF operates two factories in India, one in Pune and one in Bangalore. Pune was initially set up in 1965 as a batch production plant with a mix of automatic and semi-automatic machinery. Today it has a work force of 2,300. Its yearly production includes 16 million deep groove ball bearings of 40 different sizes, 5 million taper roller bearings of 66 sizes, and textile components for five products.
      The Bangalore factory, which has 480 employees, was established in 1989. It runs on a staggered work schedule and operates around the clock. This has led to improved productivity and cost efficiency and has enabled SKF to increase its production from 2.2 million bearings in 1989 to around 30 million in 1997.
Falls Sie das Text- und Bildmaterial dieses Artikels anderweitig veröffentlichen möchten, holen Sie bitte beim Chefredakteur die Genehmigung ein. Mailen Sie an
EVOLUTION@SKF.COM
. Die Verwendung von Zitaten aus unseren Artikeln ist kostenlos, aber bitte geben Sie als Quelle Evolution - das Wirtschafts- und Technikmagazin von SKF' (
WWW.SKF.COM
) an. Falls Sie irgendwelche Fragen haben, wenden Sie sich an den Chefredakteur.