Moving the earth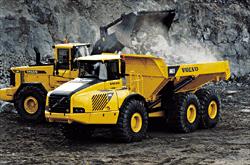 Disculpa, pero esta entrada está disponible sólo en English.
Resumen
No time to idle
Owners of vehicles as expensive as articulated haulers naturally want them to be out working rather than standing idle in a garage waiting to be serviced. Handing in an articulated hauler for routine service or repair not only costs money, but it also deprives the operator of potential income.
"We set out from the start to find a maintenance – free concept for hydraulic steering cylinders," says Niclas Hansson, project manager at SKF Strategic Marketing. "By defining the needs together with the customer and utilising SKF's unique competence and product mix, SKF and Volvo managed to design a complete maintenance – free unit, 100 percent filled with grease and sealed from the SKF factory, as well as ending up with reduced number of parts and simplified assembly for the customer."
The key to this specific solution at Volvo CE was SKF using its CARB® toroidal roller bearing. According to Hansson, this maintenance – free solution managed to reduce the maintenance positions by more than 15 to 20 percent, substantially reducing the vehicles' service frequency.
"A collaboration such as this opens up great opportunities to provide solutions that create much more value to the customer's products," Hansson says. "I am confident that this was just one step in a long process and that SKF is well equipped to take on the journey."
As a second step SKF is now able to offer complete solutions for both oscillating positions and sealing arrangements for hydraulic cylinders.
Si usted está interesado en publicar el texto y las imágenes contenidas en este artículo, por favor, póngase en contacto con el Redactor Jefe a través de la dirección
EVOLUTION@SKF.COM
para obtener autorización. Usted está autorizado a citar, sin cargo alguno, cualquier parte de nuestros artículos, pero por favor mencione la fuente como Evolution, la revista de negocios y tecnología de SKF (
WWW.SKF.COM
). En caso de duda, contacte al Redactor Jefe.