Shear mining power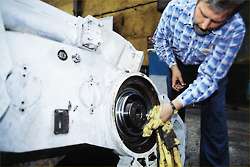 Désolé, cet article est seulement disponible en English.
RÉsumÉ
Underground movement
Every time the KSE 1000 longwall shearer bites into a fresh coal face, it demonstrates the quality and reliability of SKF bearings. Approximately 90 percent of the machine's bearings are produced by SKF; the machine's « little brother, » the KSE 800, will include SKF's innovative CARB TM toroidal bearings.
    The shearer's lead designer, Jan Dziura, credits SKF with helping his team meet Zamet's stringent requirements for high power in a relatively small package. The local SKF office, in Katowice, assisted Komag throughout the design process, analysing bearing loads and suggesting arrangements. The designers are appreciative of the support provided by SKF.
    « For them, it's an additional safety factor, » says Lucjan Kubikowski, now with SKF's Customised Engineering Competence Centre in Prague.
L'utilisation à des fins de reproduction du texte ou des photos de cet article en ligne est soumise à l'approbation de la rédactrice en chef (
EVOLUTION@SKF.COM
). Il est possible de citer gratuitement des passages des articles, mais mentionnez la source Evolution, le magazine des affaires et techniques de SKF (
WWW.SKF.COM
). En cas d'incertitude, contactez la rédactrice en chef.