La pasionaria de la com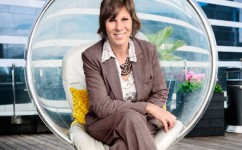 Sorry, this entry is only available in Français.


Tags:
Summary
Âge : 57 ans
Domicile : Leeds, dans le nord de l'Angleterre
Au repos : longues randonnées difficiles, lecture, musique et gastronomie
Plat préféré : « Le meilleur plat que j'ai mangé, c'est une assiette de pâtes à Rome, cuites à la perfection avec des tomates et du basilic. Les saveurs étaient merveilleuses. Rien de dispendieux, mais c'était exquis. »
Média préféré : « Je ne regarde pas beaucoup la télé, mais j'aime la radio. Je télécharge sans cesse des podcasts sur mon vieil iPod. Beaucoup de téléchargements sur Internet. Et j'adore le cinéma. »
Règle d'or en communication : « Tout ce que l'on fait est une forme de communication. C'est aussi simple que ça. »
If you are interested in using the text and images contained within this online magazine for publication, please contact the Editor-in-Chief on e-mail
EVOLUTION@SKF.COM
for approval. You are welcome to quote from our articles free of charge, but please credit the source as 'Evolution - the business and technology magazine from SKF (
WWW.SKF.COM
) If in doubt, please contact the Editor-in-Chief.