Nonstop crushing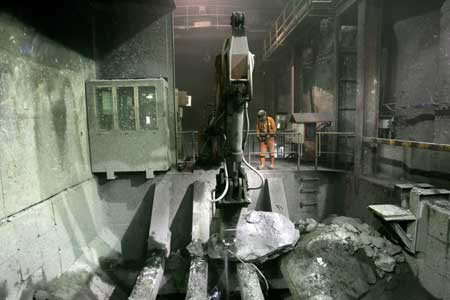 Tyvärr är denna artikel enbart tillgänglig på English.
Sammandrag
The Somincor mine began production in 1989 and has about 1,000 employees. In 2008 it posted total sales of $470 million and operating earnings of $275 million. In 2008, it mined 2.4 million metric tons (2.7 million US tons)of ore. From this ore, Somincor produced 89,000 metric tons of copper, 22,600 metric tons of zinc and 927,000 ounces of silver. The 2009 target is to mine 3 million metric tons of ore.
Om du vill publicera text och bilder från denna webbtidning, kontakta chefredaktören på adress
EVOLUTION@SKF.COM
för godkännande. Citera gärna våra artiklar, men ange 'Evolution - affärs- och teknikmagasin från SKF (
WWW.SKF.COM
)' som källa. Vid oklarhet, kontakta chefredaktören.