Take care of your crusher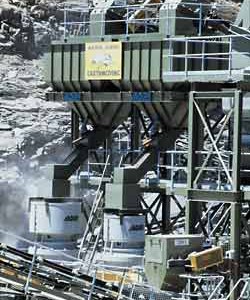 Tyvärr är denna artikel enbart tillgänglig på English.
Sammandrag
A crush on cooperation
The link between Jaques and SKF goes back 70 years, and for the last 40 years SKF has been the sole supplier of bearings to the company. Jaques pioneered the use of spherical roller bearings with a PTFE-coated bore in the company's shaker screens, replacing the older-style bearings with Pydane-lined bores. This innovation allows the use of unhardened steel shafts, which reduces manufacturing costs.
The cooperation between Jaques and SKF includes ongoing development in design and use of new materials. Jaques runs regular conferences and lecture series, with extensive input from SKF engineering staff, to keep customers and equipment users up to date with the latest developments and service practices. These seminars also deal with recommended and routine maintenance regimes, and the supporting role that SKF engineering staff offers for more complex operations.
SKF can provide a wide range of maintenance services within its Proactive Reliability Maintenance (PRM) programme. If trouble-free operation is the target, then PRM activities such as on-site application engineering and bearing diagnosis are a step on the way.
Jaques uses more than 70 different types and sizes of SKF bearings. The majority of these are spherical roller bearings, as well as some cylindrical roller bearings and spherical plain bearings. They range from a 70-mm bore bearing to a bearing that weighs 420 kg and has a bore of 750 mm and an outside diameter of 1,000 mm.
Om du vill publicera text och bilder från denna webbtidning, kontakta chefredaktören på adress
EVOLUTION@SKF.COM
för godkännande. Citera gärna våra artiklar, men ange 'Evolution - affärs- och teknikmagasin från SKF (
WWW.SKF.COM
)' som källa. Vid oklarhet, kontakta chefredaktören.