Ugo Nespolo – un artista lo hace "a su manera"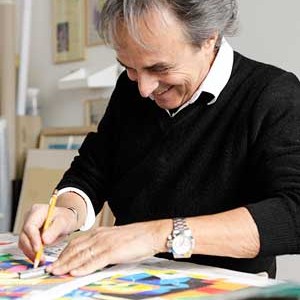 Sorry, this entry is only available in Español


Tags:
Summary
LUGAR DE NACIMIENTO: Mosso Santa Maria, cerca de Biella, Italia.
FECHA DE NACIMIENTO: 29 de agosto de 1941.
FAMILIA: casado, con dos hijos, Camillo, de 19 años, y Violetta, de 15 años, y Febo, un perro salchicha de pelo duro.
INTERESES: el mundo.
PELÍCULA FAVORITA: "Imposible decir una. Recientemente vi Malditos bastardos y me gustó. Me encanta Jerry Lewis y no comprendo por qué no se valora su genialidad en su propio país".
LIBRO FAVORITO: El guardián entre el centeno, de J. D. Salinger.
ARTISTA FAVORITO: "De nuevo, imposible decir uno. Me vienen a la mente Vermeer, Miró, Matisse y Matthias Grünewald".
If you are interested in using the text and images contained within this online magazine for publication, please contact the Editor-in-Chief on e-mail
EVOLUTION@SKF.COM
for approval. You are welcome to quote from our articles free of charge, but please credit the source as 'Evolution - the business and technology magazine from SKF (
WWW.SKF.COM
) If in doubt, please contact the Editor-in-Chief.