Un ponte nella storia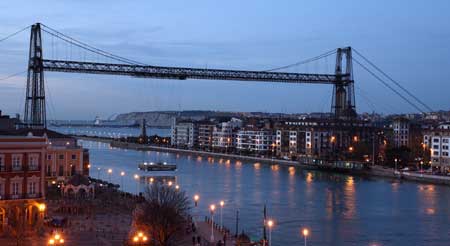 Sorry, this entry is only available in Italiano
Summary
Il Puente Colgante si trova in Spagna e fu costruito una prima volta nel decennio 1890 e successivamente ricostruito agli inizi degli anni '40. Formato da piloni che si ergono a cinquanta metri di altezza sul fiume Nervión, il ponte unisce la zona periferica di Bilbao, Las Arenas, a Portugalete. È il primo monumento dell'era industriale in Spagna a essere dichiarato Patrimonio mondiale dell'umanità dall'UNESCO. All'interno dei due piloni, alle due estremità, sono installati due ascensori con le pareti in vetro che permettono di camminare lungo la piattaforma del ponte. Collegamento vitale tra le due sponde del fiume, il ponte è attraversato ogni giorno da circa 16.000 persone, a piedi o in auto.
If you are interested in using the text and images contained within this online magazine for publication, please contact the Editor-in-Chief on e-mail
EVOLUTION@SKF.COM
for approval. You are welcome to quote from our articles free of charge, but please credit the source as 'Evolution - the business and technology magazine from SKF (
WWW.SKF.COM
) If in doubt, please contact the Editor-in-Chief.