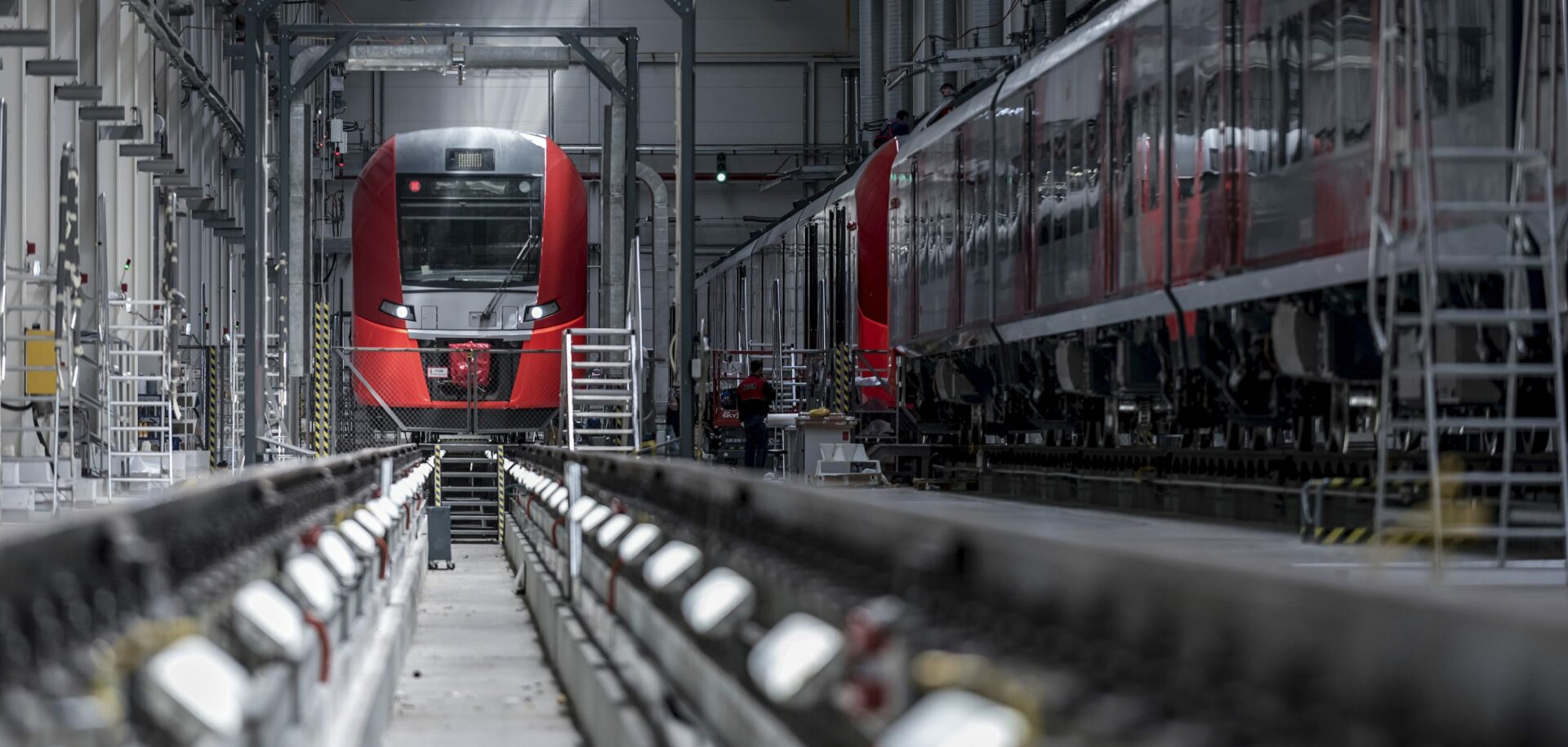 Rolling across Russia
Russia is a vast country that makes a unique set of demands on its railways. Ural Locomotives manufactures a new generation of locomotives to meet those demands. Now the company is also working with Russia's fast-developing higher-speed (160 kph) train sector.
The electric locomotives produced by Ural Locomotives, a joint enterprise of German corporation Siemens and the Russian Sinara group, are the most powerful in Russia, a country where being powerful is critical. Distances are vast – the distance from Moscow to Vladivostok, for example, is an incredible 6,500 kilometres – and market demands on railway transport are ever increasing, meaning longer trains and heavier loads. Loco­motives are required to haul cargoes of iron ore, oil and coal in trains as long as 120 wagons. In most of Europe railway freight stations aren't even equipped to deal with trains of this length.

Ural Locomotives
Located: Verkhnyaya Pyshma, just north of Yekaterinburg in the Ural region of Russia
Workforce: 3,300 employees
Manufactures: The 2ES6 and 2ES10 freight locomotives. The company also now has a dedicated production facility for the Lastochka higher-speed (160 kph) train, with a contract signed with Russian Railways for its production through 2023.
eng.ulkm.ru
G class tapered roller bearing units
SKF has provided Ural Locomotives with more than 11,000 G class tapered roller bearing units. Originally, the bearings were manufactured by SKF in Italy and imported to Russia, but they are now produced at SKF's factory in Tver, 200 kilometres north of Moscow.
Russia's difficult terrain adds to these challenges; the frequent steep gradients provide major difficulties for heavy trains.
In 2006, under commission by national railway operator Russian Railways, Ural Locomotives began manufacturing the 2ES6, called "the Sinara", a powerful and reliable locomotive that was capable of hauling loads of up to 8,000 tonnes. Previously, the company had worked on the modernization of earlier generations of locomotives manufactured in the 1970s and 1980s (the VL-11 series).
The new locomotive has brought enormous savings, thanks to its low maintenance requirements.

Denis Konteyev
Chief Locomotive Production Engineer at Ural Locomotives
The 2ES6 locomotive is made almost entirely of Russian parts, including G class tapered roller bearing units (TBUs) from the SKF factory in the Russian city of Tver. The Ural Locomotives factory, located not far from Yekaterinburg, has reached a major production landmark – the completion of its 600th locomotive in this class.
"This locomotive has brought enormous savings, thanks to its low maintenance requirements," says Denis Konteyev, chief locomotive production engineer at Ural Locomotives. "With the preceding generation of locomotives, after 300,000 kilometres the axlebox bearings would have to go through a major overhaul, with the addition of lubricant, or they would simply have to be replaced. With this locomotive, however, that milage has been significantly extended, despite the difficult climatic conditions and the great load of the cargoes."

In 2010, Ural Locomotives began the production of an even more powerful electric locomotive, the 2ES10, capable of hauling loads of up to 9,000 tonnes. The new locomotive, equipped with asynchronous traction motors manufactured at the Siemens Elektroprivod factory in St Petersburg, is fitted with SKF TBUs and has a new on-board diagnostics system that reports, via a dedicated radio channel, on 600 different parameters to the servers in the transport and repairs department.
The system continually informs the engine driver of any issues arising, and the driver can immediately decide on actions that need to be taken, ensuring a higher level of safety.
Transport efficiency continues to be an important factor. In the past, when working on steep slopes, Russian Railways crews would have to divide up the trains or double up the locomotives. Now, through the use of a booster section developed by the Ural Locomotives factory in 2013, the power of the locomotive can be increased to 13,200 kW (17,700 hp). This extra power is particularly advantageous in the arduous terrain of the central and southern Urals and western Siberia.

The 2ES10 electric locomotive, in its trisectional variant, can haul trains with a load of up to 9,000 tonnes without being divided up when the gradient radically changes. This means that the time to delivery and the costs of transport are significantly reduced.
It's not all about the power to haul heavy loads, however. It's about speed as well. The Ural Locomotives factory is now successfully implementing a contract with Russian Railways that shifts production of the Lastochka electric higher-speed (160 kph) passenger train from Germany to Russia.

In 2013, Ural Locomotives opened a new, dedicated production facility, and in May 2014 the first Lastochka trains rolled off the production line. In keeping with a programme to use components made in Russia, there are also plans to start fitting SKF axlebox bearings, produced at the SKF factory in Tver, on the Lastochka trains.
The Lastochka is continuing to expand the geography of its routes – on 1 October 2015, the higher-speed trains began operation in two additional areas of the Russian Railways network, the Oktyabrskaya and the Sverdlovsk regions. This in turn has meant a step-up of production at Ural Locomotives; 24 electric higher-speed trains were produced in 2015, and the company has plans to produce a further 30 in 2016.