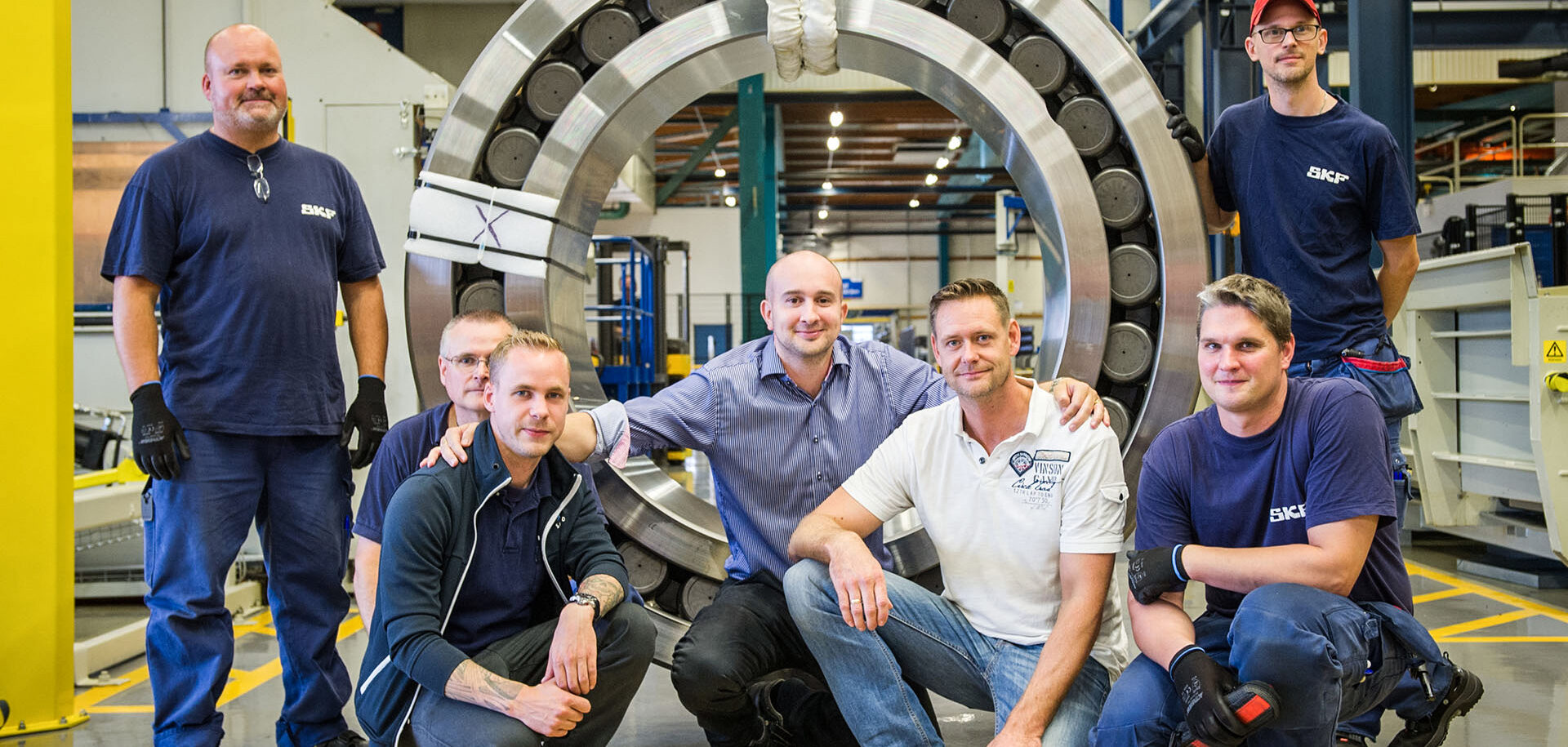 Spherical roller bearings: The bearing for all seasons
In 1919 SKF launched a product that was to transform the world of bearings and their applications in countless industries. Over the past 100 years, the spherical roller bearing has continued to evolve, thanks to continual innovation that has pushed the boundaries of its performance. For the foreseeable future the spherical roller bearing will continue to be one of the most versatile bearings for countless engineering tasks.
Spherical roller bearings were initially used in applications where there were heavy loads, moderate speeds and the risk of misalignment. The application of these bearings has grown to include wind turbines, marine propulsion, sugar processing, pulp and paper production, material handling, mining and construction. Contributing to the growth of spherical roller bearings is the fact that they enable rotation with low friction and permit angular misalignment.
How the spherical roller bearing was invented
SKF engineer Arvid Palmgren is credited with the development of the spherical roller bearing. He joined SKF in 1917, taking a position in the company's marketing department to work on technical information. Realizing that he lacked much of the background he needed to provide technical details, he set about working on bearing theory and started carrying out laboratory experiments.
In 1918 SKF started to develop a bearing that could accommodate the loads for wheel set bearing arrangements in railway applications, and Palmgren was asked to study rolling bearings in depth. SKF's founder, Sven Wingquist, was keen to find a solution as quickly as possible and put all of the company's resources to the task. Wingquist hoped that the work would take a few weeks, but no theories existed on which they could base calculations for bearing development, so Palmgren carried out tests with various combinations of bearing elements. It took almost six months to achieve a new bearing design. At the heart of his work was his conviction that SKF should create a product that was not only a good solution but that would offer economic value to customers. In June 1919 Palmgren presented a double-row, self-aligning roller bearing that ultimately became one of the company's greatest technical and commercial successes. He himself became an important person in the engineering world, carrying out research into bearing properties relative to bearing load-carrying capacity and life.

In 1924, with colleague Gustaf Lundberg, he published the world's first theory on rolling bearing life. This was to become the standard for the entire bearing industry and was used as a guide for future designs. In 1930 Palmgren was awarded the gold medal from the Royal Swedish Academy of Engineering Sciences for his work.
Basic design of the spherical roller bearing
Spherical roller bearings have two rows of symmetrical rollers, a common sphered outer ring raceway and two sphered inner ring raceways inclined at an angle to the bearing axis. The centre point of the sphere in the outer ring raceway is at the bearing axis.
The evolution of the spherical roller bearing has been supported by other product developments and improvements in material quality. These include higher steel grades and the introduction of sealed bearing solutions and better lubrication. Standard spherical roller bearings are manufactured in a wide range of sizes, with bore diameters ranging from 20 millimetres to 1,800 millimetres.
Milestones
In 1951 SKF launched the C design spherical roller bearing, incorporating a floating guide ring and pressed steel cages. The previous bearing design for the smaller bearing sizes had an inner ring with a central guide flange to guide the rollers. The flange had proved to be problematic for applications with combined loads, resulting in high friction and inadequate reliability. The floating guide ring enabled the rollers to position themselves axially without inducing additional internal forces and friction.
This was followed in 1979 by the CC design, which had self-guiding rollers. For the first time SKF was able to optimize the interrelationship between the rollers and raceways using computer-aided analysis. Consequently, there was greater freedom for the rollers to find their own equilibrium position between the raceways. This new design offered lower bearing friction, particularly when accommodating combined loads.
In 1989 SKF responded to industry needs for increased load-carrying capacity for higher-performance machinery by introducing the E design. This involved a radical redesign of the CC design to feature lightweight, high-tech and highly accurate pressed steel cages. These cages provided space for more, considerably larger rollers while still offering the self-aligning feature that promotes low friction. Six years later a range of standard sealed spherical roller bearings was launched.
The game-changing SKF Explorer bearing
The launch of SKF Explorer in 1999 created a new performance class for spherical roller bearings that enabled the power density to be raised significantly. Such was the impact of these bearings that their performance could no longer be predicted by standard bearing life calculations. SKF Explorer was the result of a number of developments, including increasingly sophisticated computer calculation programs to optimize every bearing element, improvements in manufacturing processes and better bearing steels and heat treatments. In operation, customers could benefit from higher load-carrying capacity, much longer service life and increased reliability as well as the ability to increase shaft speeds, reduce power consumption, improve running accuracy and achieve lower noise and vibration levels and a longer lubricant life.
In addition to the bearing design, SKF has emphasized the importance of using the most appropriate seals for tough environments. Consequently, SKF offers sealed spherical roller bearings, which are factory-lubricated with a specially formulated grease. Contact seals can reduce or eliminate relubrication requirements and reduce maintenance costs. Mounting and assembly are easier with sealed solutions. In some applications, moving to a sealed design can increase bearing life rating by up to four times.
The pace of development continues to enable the use of spherical roller bearings under increasingly harsh conditions, with higher contamination levels or poor lubrication. For example, in 2011 a new patented heat treatment for bearing steel resulted in the upgrade of the SKF Explorer bearings for demanding applications. Service life would then increase up to two times in contaminated or poorly lubricated conditions. In 2015 further improvements in seal technology benefited the spherical roller bearings, now capable of running at twice the previous speed capacity and with reduced seal friction.
Latest designs
As with all of SKF's products, spherical roller bearings have undergone continual development, most recently in 2018 with the launch of a new SKF Explorer spherical roller bearing for high-speed applications targeted at the industrial gearbox sector. The future of the spherical roller bearing means continually pushing the boundaries of performance.