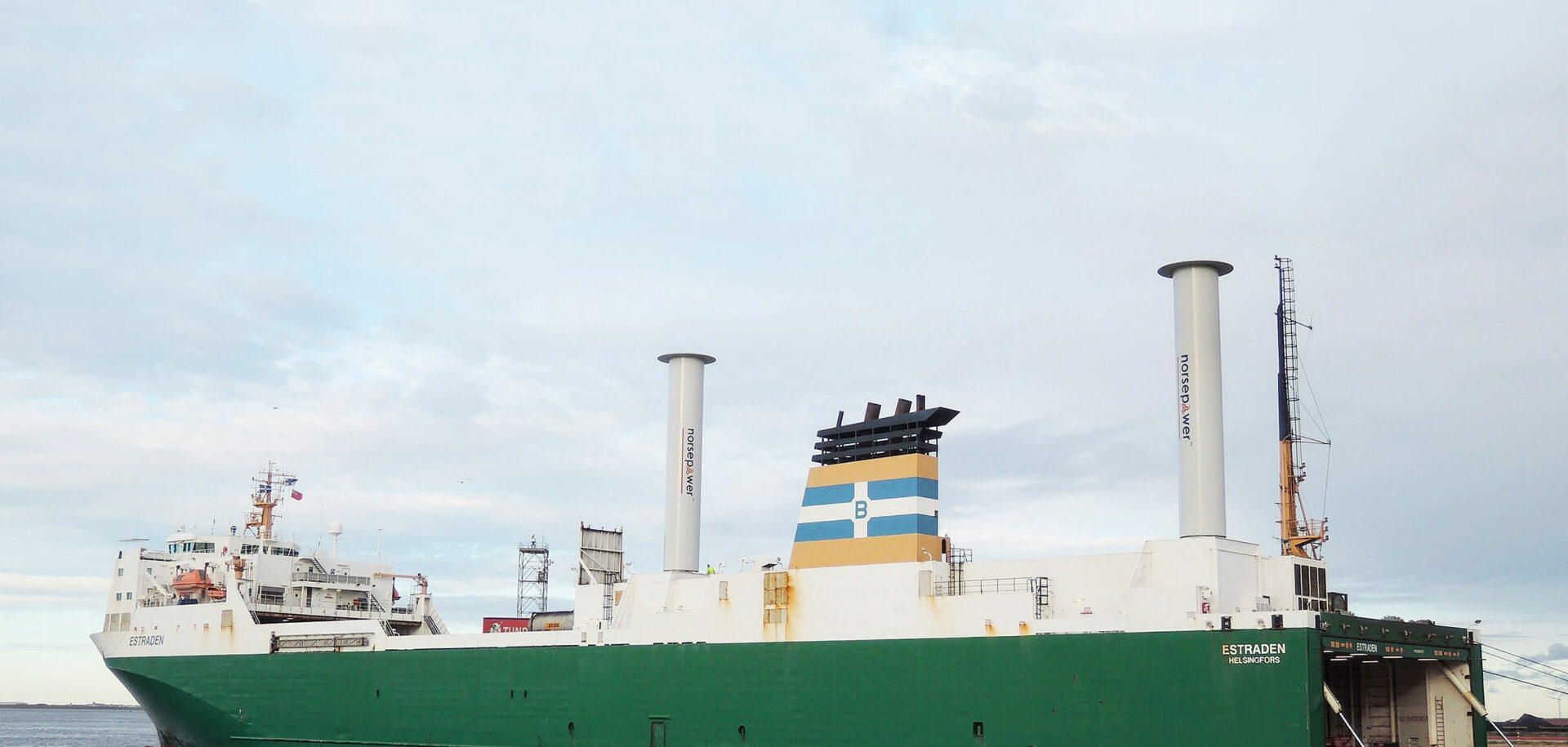 The force of Magnus
There are only a handful of paths to making the world's shipping industry greener and at the same time profitable. One route involves hull and engine optimization, to reduce drag and increase fuel efficiency. Adding wind power to the mix is another.
Norsepower Oy Ltd., headquartered in Helsinki, Finland, is a manufacturer of futuristic-looking auxiliary rotor sails that are mounted on ships' decks to give thrust when the wind blows. Since it was founded in 2012, the niche startup, with its seven engineers, has reengineered the 100-year-old principle of wind, drag and lift that keeps airplanes aloft to cast it in a new role – moving ships forward. In the process Norsepower has won innovation awards and contracts from some of the world's biggest shipping companies.
          
"The pressure is on to make shipping greener by reducing carbon emissions globally," says Tuomas Riski, CEO of Norsepower. A former IT executive, Riski formed the company along with a group of marine industry experts, including Kai Levander, one of the world's foremost naval architects. "We believe our hybrid auxiliary propulsion technology can be an enabler to make this happen."
Our main goal is to continue the fast commercialization of this technology.
Tuomas Riski, CEO of Norsepower Oy in Helsinki, Finland
Maersk Tankers, one of the largest operators in the world, recently joined with Shell Shipping & Maritime and the U.K.'s Energy Technologies Institute to announce a planned test of two rotor sails – each 100 feet tall and 16 feet wide – on a 110,000 DWT tanker, to achieve an expected fuel savings of about 10 percent. The installation will be Norsepower's largest to date and will undergo tests through 2019. The deal follows two other installations already anchored in the portfolio of references – a ro-ro (roll on-roll off) ship on the North Sea and a Viking passenger ferry on the Baltic.
Norsepower
Norsepower is a provider of low-maintenance, software-operated and data-verified auxiliary wind propulsion systems.
The company was established in 2012.
It is headquartered in Helsinki, Finland.
Norsepower has gathered more than $10 million of funding, which has enabled development, piloting and commercialization of the Norsepower Rotor Sail Solution.
norsepower.com
SKF solution on top
A Norsepower Rotor Sail installation rotates at about 200 rpm. At proper wind conditions, the outer composite sheath spins with a peripheral speed of approximately 100 miles per hour. An SKF spherical roller bearing arrangement is used at the top of the column to impart thrust forces to the ship. The bottom of the column is equipped with guidance rolls fitted with SKF bearings. SKF seals and lubrication systems are used throughout the installation, which must withstand constant motion and natural forces in a harsh environment.
"We are often contacted by new startups several years before they even have a commercial project, and in this case we gladly obliged with our engineering expertise," says Tommi Pitkaaho, key account manager SKF Finland, who started working with Norsepower in 2013. "With Norsepower, the pace of innovation has been extremely fast."
"This is a major step forward for our industry," says Riski. "The Maersk deal is a big and complex project, and we've shown we can do it with our simple, robust yet high-tech patented technology."
The Norsepower Rotor Sail solution is a large, lightweight, composite spinning cylinder that is attached to a ship's superstructure much like a mast. But instead of deploying a huge cloth sail to catch the wind and thrust the ship forward, the innovative system spins the large perpendicular cylinder with the help of electric motors. When there is wind, as there often is on international ocean trade routes, the aerodynamics of the air pressure difference surrounding the cylinder creates thrust that is subsequently transferred to the ship.
The Norsepower Rotor Sail is suited for most ships except container vessels, Riski says. Product tankers and dry bulk carriers with adequate free deck space can install a rotor sail in a matter of days.
The natural phenomenon that Norsepower harnesses is termed the "Magnus effect," named for German physicist Heinrich Gustav Magnus, who in 1852 was the first to mathematically describe the airstream surrounding a spinning object such as a tennis ball. The lifting force of the Magnus effect in what is now known as a Flettner rotor was used as a primary means of propulsion on the Buckau, a rotor ship that crossed the Atlantic in 1926. Finnish engineer Sigurd Savonius, who in 1924 developed a rotor with a cylinder open to airflow – the Savonius rotor – also deserves credit for this technology.
But, explains Riski, the rise of cheap diesel engines kept the rotor technology at bay, and it is only now becoming commercially available. "If this were the car industry, the solution would have been adopted overnight," he says. "To make it interesting to ship operators, we have made it as cheap and easy to use as possible."
Simply put, with the Norsepower Rotor Sail system, activated by pressing a button, ships can throttle back on the main engines, thus saving fuel and emissions, and still have enough power to maintain speed and voyage time. That is, when the wind blows.
The Norsepower Rotor Sail is used to provide an auxiliary source of propulsion. The expected long-term investment payback of such an installation on a ship is about four years, Riski says.
While Norsepower now has high-profile references, the company has also had a little help along the way, winning a rash of technology innovation awards.
"We are a small team with a global supplier network," says Riski. "Our main goal is to continue the rapid commercialization of this technology."