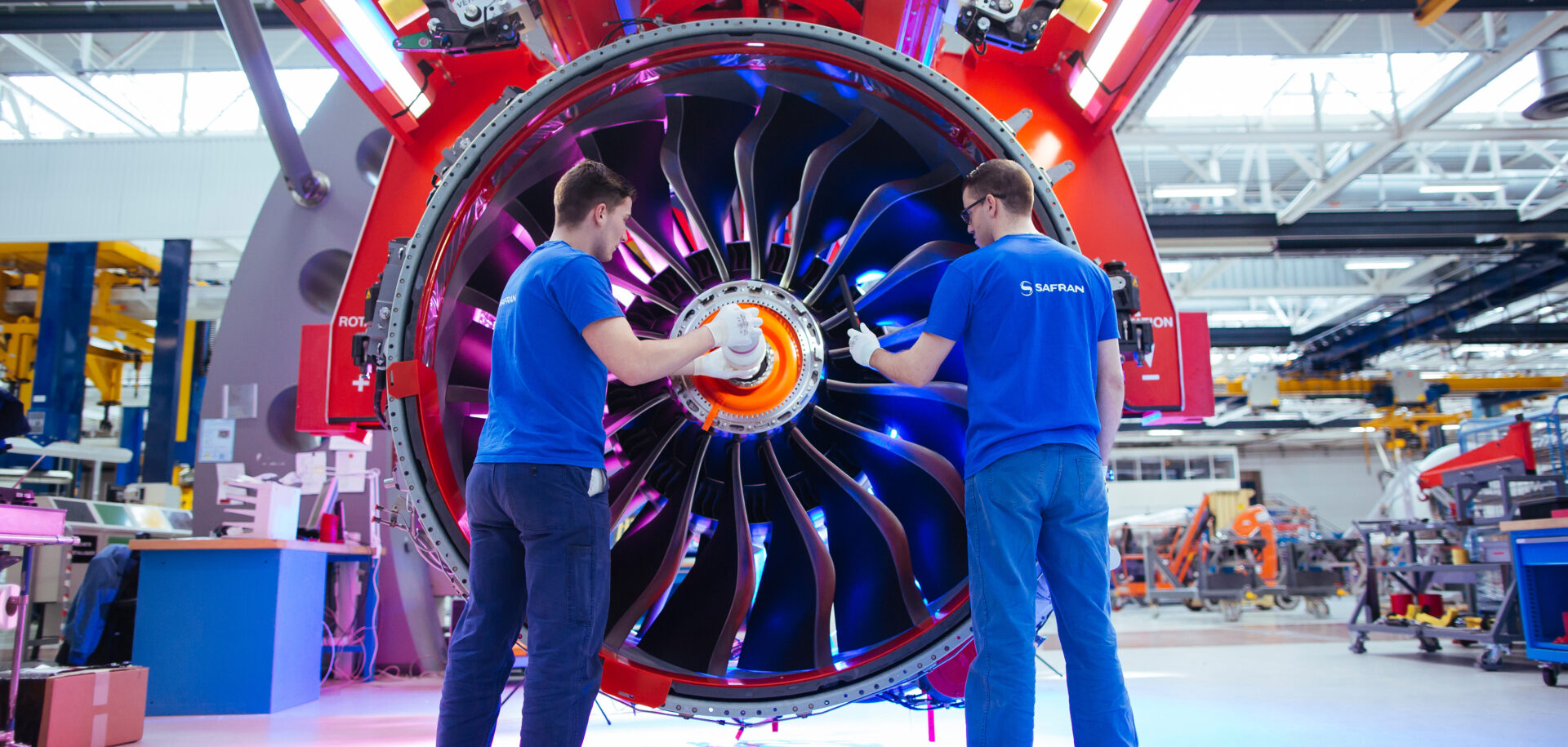 A giant LEAP forward
Never before has an aircraft engine sparked such enthusiasm as LEAP. This new-generation engine, developed by Safran and GE Aviation through CFM International is now challenging its manufacturers with an unprecedented ramp-up in production.
LEAP (Leading Edge Aviation Propulsion) is the well-deserved name for a new engine that represents a major technological advance and is setting the aerospace industry on fire.
At a time when all eyes are turned to environ-mental issues, the LEAP engine is providing operators with a 15 percent reduction in fuel consumption and CO2 emissions as well as a 50 percent reduction of NOx emissions compared to the CFM56 engine. The CFM56 is the world's best-selling aircraft engine with more than 29,000 engines delivered to date, powering single-aisle airplanes for more than 550 operators worldwide. The LEAP engine also reaches 99.98 percent dispatch reliability and complies with the tightest noise emission requirements, and it retains the reliability and low maintenance costs of the CFM56.

LEAP was designed entirely from scratch, a rare occurrence in aeronautics. As a fully-fledged innovation, it has created enormous enthusiasm amongst all who have worked for several years on the project.
"Our suppliers do play a major role in satisfying the requirements of the three keystones of operational performance – quality, delivery and cost", says Hélène Moreau-Leroy, First circle SKF sponsor and former CEO of Safran Transmission Systems. She has lived this industrial adventure to the full, working in close partnership with the SKF Aerospace Business Unit teams.
"In 2014, Safran initiated the inner circle approach in order to build a very close partnership with a selected group of its main suppliers," says Moreau-Leroy. "Within this circle, SKF is the only supplier of engine mainshaft bearings and transmission bearings."

Safran is an international high-technology group operating in the aircraft propulsion and equipment, space and defence markets. The group has a global presence, with more than 58,000 employees worldwide, and logged sales of 16.5 billion euros in 2017.
Safran is listed on Euronext Paris and is part of the CAC40 index, as well as the Euro Stoxx 50 European index.
In February 2018 Safran took control of Zodiac Aerospace, significantly expanding its aircraft equipment activities. Hélène Moreau-Leroy, First circle SKF sponsor and former CEO of Safran Transmission Systems, has been appointed director of the Zodiac integration project.
The role of the First circle SKF sponsor is to act as a guarantor vis-à-vis the operational teams. The sponsors have to check the strategic alignment of activities on both sides as well as the proper flow of information, and they have to make sure there is good synergy amongst the different players. In addition, says Moreau-Leroy, "it's crucial that projects in Research and Technology are all directed towards the challenges of the future."
Confidence is at the centre of the relationship with the inner circle suppliers. "In order to achieve performance, we must explain to them how our needs are evolving," says Moreau-Leroy.
Manufacturers such as SKF are able to assure us of their ability to cope with a rise in the production rate.

Hélène Moreau-Leroy
First circle SKF sponsor at Safran
"Fortunately, key manufacturers are able to assure us that they have the ability to increase their production rate. Indeed, they will be improving their production facilities in the months and years ahead."
This is exactly what happened in the case of SKF, given the tremendous commercial success of LEAP. "It was a huge challenge," says Laurent Peinetti, global account manager for the Safran Group at SKF. "In order to enable this rapid step-up in production, we've harnessed all our expertise and made high levels of investment. The LEAP programme has led us to totally transform and improve our production facilities."
That's how, by late September 2017, SKF managed to deliver its 1,000th engine mainshaft bearing for LEAP engines to Safran. And this tempo is not slowing down. As of today, the LEAP engine is already powering a few hundered new-generation aircraft – Boeing 737 MAX and Airbus A320neo – and it has logged more than 14,000 orders or stated intentions to order from about 170 operators.
As for the future, Safran and SKF are already working jointly on engine projects as far ahead as 2030. These will be even more fuel-efficient, quieter and with a higher level of performance. Beyond that, visions of the future of aeronautics belong in the realm of science fiction.
Aeronautics finds its strength and reliability in day-to-day life.

Hélène Moreau-Leroy
First circle SKF sponsor at Safran
"The main thing," says Moreau-Leroy, "is the here and now. Aeronautics finds its strength and reliability in day-to-day life. We carry hundreds of thousands of passengers every day. This must be what determines our way of working. Precision, rigour, operational excellence, the ability to secure all of our activities, our performance – this is what we fundamentally care about at all times."