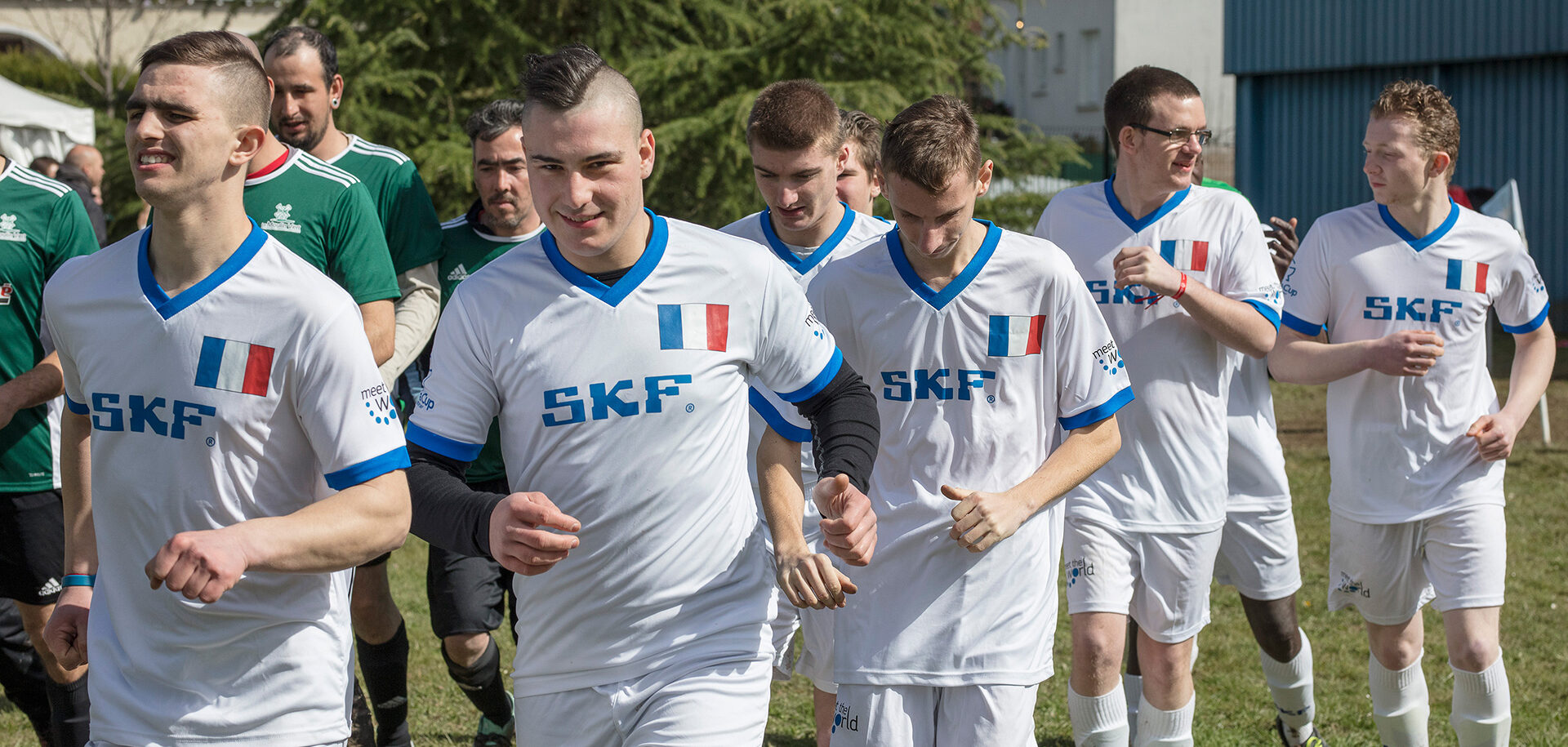 Beyond competition
In France, SKF is organizing its Meet the World football tournament in partnership with Special Olympics. The challenge is far greater than simply sending the winning team to Sweden to play in the famous Gothia Cup; the whole idea is to change society's perception of people with intellectual disabilities.
"Here, we are not talking about disability," explains Nathalie Dallet-Fèvre, general manager of the Special Olympics France organization. "We're talking about athletes, about surpassing oneself, about societal recognition. Those athletes are showing the world there's a champion in each and every one of us."
Such is the philosophy of this international movement that is celebrating its 50th anniversary this year. Founded in the United States by Eunice Kennedy Shriver, it aims to offer fulfilment to individuals with intellectual disabilities, as well as getting the public to view them without prejudice.

All over the world, the SKF Group takes to heart its involvement in projects for the benefit of local communities and their citizens. In each country involved, SKF employees are planning and organizing activities in the community. Thus, SKF takes part in many programmes such as education, health and sports. That's how SKF has become one of the main partners of the Gothia Cup, allowing thousands of young people throughout the world to take part in such a fabulous international junior football tournament. For SKF in France, its main corporate social responsibility project is its partnership with Special Olympics. In Saint-Cyr-sur-Loire, Eric Beghini, SKF site director, is very pleased with the organization of the Meet the World tournament. "We are proud to welcome these young people," he says, "and to give them the opportunity to live their dreams."
This movement is now recognized and supported by the International Olympic Committee (IOC), just as the Olympic Games and the Paralympic Games are. Special Olympics accredits 172 sports programmes worldwide: football, track and field events, judo, swimming – about 30 sports – for some 5.6 million athletes, including 15,000 in France.
Anyone can take part, whatever their age or ability. The unique feature of this programme is that each competitor is rewarded. "Special Olympics gives everyone a chance to express their talents," Dallet-Fèvre continues. "All the athletes, after giving their all, return home with a medal. Their medal is a real object of pride for each of them and also for their loved ones – a pride that can change their lives."
In France, SKF has welcomed the Meet the World pretournament at its Saint-Cyr-sur-Loire site since 2013: two days of qualifying seven-a-side football matches. Eighteen teams participate, all coming from specialized institutions all over France.
Here we're talking about athletes surpassing themselves, and societal recognition.

Nathalie Dallet-Fèvre
general manager of Special Olympics France
Each year, the team selected will have the privilege of competing in July for the Gothia Cup in Gothenburg, Sweden, in the Special Olympics category. Gothia Cup is the largest international youth football tournament. In the 2018 event, 1,731 teams from 78 countries participated – a gathering of thousands of young people of all nationalities and cultures, driven by the same passion for football.
On a rather chilly early spring weekend, about 200 football players – both boys and girls – are running, dribbling and scoring goals on the field near the SKF facility close to Tours. They are all warmly welcomed by SKF volunteers, each one sponsoring a different team.
"It's a very positive partnership," says Dallet-Fèvre. "Not only do the volunteers bring valuable help to the organizing of the event, but also a genuine bond is built up between them and the teams they are sponsoring. By involving their employees, partners such as SKF will contribute to changing society's perceptions of intellectual disabilities."
Stéphane Cordier, project manager of the SKF sensor bearings department at Saint-Cyr-sur-Loire, is a volunteer for the fifth year in a row. "You should see the smiles on the faces of young people who come here to express themselves in an authentic football game. It's sport at its best! You see tears of joy, and tears of sadness too. It's very emotional."

Marjorie, a sports teacher, coaches one of the participating teams. She points out that regular practice of football helps these young people gain self-confidence and a sense of fulfilment. "This event gives them the opportunity to meet other teams from specialized institutions. It's very stimulating." As one young man says: "First of all, we're having fun. We make new friends. If only we could win – to go to Sweden for the Gothia Cup, what a dream!"
That dream belonged to the team from the Medico Technical Institute of Neufchâteau, in the Vosges (Lorraine, France). As for the players in the other teams, they returned home happy and proud to have participated in the tournament.