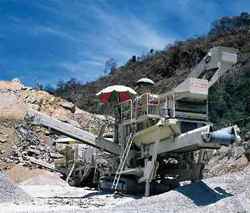 A smooth break-up
Like a common pepper mill, rock crushers grind and wedge their way to pebbles the size of sugar cubes. For Finland's Nordberg-Lokomo, this daunting task is an everyday affair.
Summary
Shock-loads of rock
Rocks are virtually uncrushable without bearings. In fact, bearings of all sizes are used throughout Nordberg-Lokomo's range of jaw, cone, gyratory and impact crushers. Crushing a rock mechanically requires an enormous amount of physical pressure, in the vicinity of 480 MPa , or around 70,000 psi. To achieve these forces, a jaw crusher, for example, relies on four huge spherical roller bearings, which give motion to a pitman. One side of a wedge-shaped, corrugated manganese-steel jaw moves in an elliptical fashion, while the other stays stationary, allowing the pitman to crush boulders progressively to the desired size. All parts of this process, including the bearings, must withstand huge shock loads as boulders are dropped into the feeder element.
    Nordberg-Lokomo recently delivered its biggest crusher ever made, a C 200 jaw crusher, to an Italian quarry. The unit includes four 231/560 CA/W33 spherical roller bearings which weigh 740 kilograms each. Smaller bearings are also found throughout Nordberg-Lokomo's ancillary equipment, such as conveyor belts, exhaust fans and caterpillar tracks. Nordberg has been an SKF customer since 1926. Today, most of Nordberg-Lokomo's bearing needs are provided by SKF.
Crusher terminology
A jaw crusher consists of two steel side plates, set in a V-formation. One of those plates is a pitman, which oscillates in an elliptical fashion to crush the rock. Cone and gyratory crushers, by contrast, have a rotating element inside them. Like a common household blender they progressively break down boulders into more manageable sizes. Impact crushers have four fast rotating wings, which toss rocks against a heavy-duty steel plate to crush them.
Like a common pepper mill, rock crushers grind and wedge their way to pebbles the size of sugar cubes. For Finland's Nordberg-Lokomo, this daunting task is an everyday affair.
"Whatever you want to crush, we can do it with Nordberg. We've been at it for over 100 years," says Matti Tukkimies, purchasing manager of Nordberg-Lokomo. With a degree in geology, Tukkimies knows his rocks. "Crushability is not dependent on a rock's hardness or softness; it depends on its internal structure. In fact, the harder the rock, like basalt or granite, the easier it is to crush. Sticky materials are the worst."
    Nordberg-Lokomo is a leading manufacturer of crushing, grinding, pulverising and screening systems for rocks, ores and assorted minerals. Rock crushers produce aggregate material, a geological term for a mixture of mineral or rock fragments that have a variety of specific uses. Either compact and movable or immense and stationary, these jaw, cone, gyratory and impact crushers are vital to road, bridge, waterway, mining and construction projects around the world. (See fact box.) A growing market for crushers is the recycling of demolition debris, including wood, into new construction materials.
    Large and voracious, Nordberg-Lokomo's machines can swallow the toughest granite blocks and spit out pebbles. Other units can take a 1.4-metre-wide boulder and pulverise it. As a reminder of the incredible strength of these crushers, design engineer Timo Luoma keeps a bar of steel on his desk. Crushed and condensed to half its original size in a test run, this unique paperweight testifies to the state-of-the-art engineering that goes into making the crushers.
Own foundry
Nordberg-Lokomo's gargantuan C 200 jaw crusher is as tall and stout as a two-storey house, and can crush almost 2,000 tonnes of rock an hour. The first unit was recently shipped, module by module, via train to the Cava San Carlo limestone quarry in Italy. Each of the machine's two 12-tonne, 12-centimetre-wide steel side plates required its own train wagon. Based in Tampere, Finland, a two-hour drive north of Helsinki, Nordberg-Lokomo manufactures its crushers on a 13-hectare site that includes several hangar-sized workshops as well as a steel foundry. The foundry, one of the largest in Scandinavia, produces a special vacuum steel called Vaculok TM, which is superior to conventional cast steels and provides fatigue strength, impact toughness and other properties. Vaculok steel is used in extremely demanding applications such as the pitman, the main moving part of the C 200 jaw crusher.
    Controlling the manufacturing process – from raw materials to the finished product – is of utmost importance to rock crushers. Wear and tear in the field is enormous, but Nordberg-Lokomo's crushers perform even under the most severe applications.
    Nordberg-Lokomo is one of three divisions within the Nordberg Group. These include the Aggregates Division with manufacturing plants in Mâcon, France, and Tampere; the Mining Division in Milwaukee, Wisconsin, in the United States; and the Screening Division in Middleboro, Massachusetts, also in the U.S., which was acquired in 1997.
Global presence
That year, Nordberg's net sales rose 32 percent to 2.5 billion Finnish markkaa (457 million U.S. dollars). Nordberg-Lokomo in Tampere, with 1997 sales of FIM684 million (US$125 million), accounts for almost a quarter of the group's turnover. Nordberg has 35 sales and representative offices in more than 25 countries. Principal markets are Europe, accounting for 35 percent of turnover, North America with 22 percent, and Asia/Pacific with 20 percent.
    The Nordberg Group has been part of Finland's Rauma Corporation since 1989.
    A global engineering group, Rauma encompasses other well-known industrial brand names like Timberjack logging machines; Sunds Defibrator, manufacturers of fibre-processing technology; and Neles Controls, which provides digital automation solutions for various industries.
    Nordberg-Lokomo has a rich and varied history. The Nordberg Manufacturing Co. was founded in 1886 in Milwaukee, Wisconsin, by Finnish immigrant Bruno Nordberg. The company began specialising in crushers in 1928 and quickly expanded to Canada, the United Kingdom, Brazil and Chile. Nordberg also acquired several other companies, notably French crusher manufacturer Bergeaud in 1975.
    The Tampere-based Lokomo company has manufactured rock crushers since 1921, and for many years was a Nordberg competitor. Aside from crushers, Lokomo also manufactured locomotives (which is how it got its name), and was later bought by the Rauma-Repola group in 1970. With Lokomo in its portfolio, the Rauma Corporation then took over Nordberg in 1989, in a sense bringing Nordberg back home to Finland. The Tampere plant was renamed Nordberg-Lokomo and today it employs 700 people in its foundry and workshops.
    In most applications, professional crushing enterprises – mines, quarries, civil works – require more than one crushing stage. In fact, the number of stages – primary, secondary, or tertiary – depends on the type and size of rock being used and the desired end product.
    "One crusher can't do everything," says Jussi Virtamo, chief designer at Nordberg-Lokomo. "So we have a whole family of crushers to fit different applications. Our business is to sell a complete system that, besides crushers, includes screens, conveyors and automated systems."
    In the primary crushing stage, gyratory or jaw crushers are usually used to break down big boulders into more manageable sizes. Secondary and tertiary reduction stages, the latter also known as fine reduction, typically use cone and gyratory crushers for their economic production and product-size control. According to Virtamo, the maximum rock size for any crusher is about 80 percent of the depth of the crusher's feeder.
    A variety of Nordberg-Lokomo's rock-hungry rigs are used around the world for sensitive applications such as road construction. In mid-1997, United Basalt Products Ltd., a company on the small Indian Ocean island of Mauritius, bought a Nordberg Lokotrack primary mobile crushing unit to crush its basalt stockpiles for use in road works. Equipped with caterpillar treads, this Lokotrack unit can be stationed wherever the quarry sees fit.
    Later the same year, the Country Park section of the Route 3 Project in Hong Kong, a US$795 million, 28-kilometre road link, was completed with the help of four Nordberg Lokotrack LT 140 mobile crushers.
    "Customers in the aggregate (a mixture of rock or mineral fragments) business are much more exacting in their quality requirements than mining customers," says Virtamo. "If you are building a road or laying the foundation for a train track, it is very important for the rocks to be even and cubic, like sugar cubes, so that they can rest on each other. The rule of thumb in this business is to make machines that are as fast and small as possible."
No ball and chain
Costello Dismantling, a Boston, Massachusetts-based wrecking contractor, recently added a Nordberg-Lokomo Citytrack unit to its battery of demolition machines. Mobile enough to fit on the back of a truck, the 23-tonne unit crushes bricks, blocks, wood and reinforced concrete from urban demolition sites. Once metal objects are removed with a magnet, the resulting mass is a uniform and easy-to-handle mass of recyclable material.
    "It is a precise, efficient and methodical machine," says Dan Costello, president of Costello Dismantling. "The wrecking business has cast off its ball-and-chain image to become a sophisticated and technically demanding business. It is a business that requires ever higher levels of productivity, safety and environmental awareness."
Alexander Farnsworth  
a feature writer based in Stockholm  
photos Alexander Farnsworth and Nordberg-Lokomo