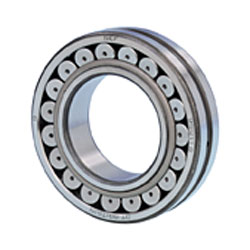 Summary
Service around the clock
After the completion of a trial period, ABC issued a bearing supply tender for its Australian operations. The tender documents and site visits were handled by a team representing personnel from SKF Bearing Supplies, SKF Australia and SKF Service. These visits proved invaluable by the team identifying TFO (Trouble-Free Operation) as the most valuable offer for ABC.
The primary air fan is a critical fan located in the rotary kiln plant that operates 24 hours a day. This fan supplies air to the kiln burner, which maintains the process temperature of 1500°C inside of the kiln. Should there be a catastrophic bearing failure, this fan would be shut down, interrupting clinker production and causing lost production and costly downtime.
During a planned shutdown in November 1999, SKF Service installed a self-aligning bearing system comprising one CARB C 2216 K/C3 as the non-locating bearing and one spherical roller bearing 22216 EK/C3 as the locating bearing. Both bearings were installed into SKF SNL 516 V bearing housings featuring K7 housing bore tolerance, grease relief holes drilled in the housing base and TSN 516 S high-speed labyrinth seals, and lubricated with SKF LGMT 2 grease.
Since the installation of the SKF self-aligning bearing system, the fan has now exceeded the 9.4-month mean time between failures.
Two months later, SKF had a second opportunity to help ABC improve its operations.
During a planned mill shutdown in January 2000, SKF Service helped Adelaide Brighton Cement install and commission another self-aligning bearing system comprising one CARB C 3224 K/C3 as the non-locating bearing and one spherical roller bearing 22224 EK/C3 as the locating bearing. Both bearings were installed in SKF SNL 524 V bearing housings featuring K7 bore tolerance, grease relief holes drilled in the housing base and TSN 524 S high-speed labyrinth seals, and lubricated with SKF LGMT 2 grease. SKF Service was also selected to provide bearing installation, laser shaft alignment and condition monitoring services.
The trial installations showed that operating temperatures of the bearings were halved and operating vibrations significantly reduced. The fan is located above the cement mill, where the ambient temperature exceeds 50°C. The bearings have now been measured operating at 58°C. The SKF self-aligning bearing systems comprising CARB and Explorer bearings installed into SNL bearing housings have now been standardised for fan applications at the Birkenhead plant.
Product line
Adelaide Brighton Cement produces general-purpose cements conforming to Australian Standard AS3972:
• Adelaide Brighton normal Portland cement, type GP – General purpose Portland cement.
• Adelaide Brighton premium cement, type GB – General purpose blended cement (contains nominally 20 percent fly ash).
These products are manufactured, to exacting standards, at the Birkenhead Works in Adelaide, South Australia, for use in the construction and building industry and in domestic applications.
General purpose Portland cement, type GP, as its name suggests, is the traditional basic cement used in industry. It is specified for purposes that do not require the special properties of low heat of hydration (temperature rise), high sulphate resistance or high early strength.
General purpose blended cement, type GB (premium cement), is often used in place of type GP cement when early strength development is not critical. Blended cement, however, has enhanced workability and may set a little slower.
Both general purpose cements are ideal for use in structural concrete, mortars, renders, grouts and cement-based products, and can also be used as general binde
Adelaide Brighton Cement's aim is to be among the best in the world in terms of safety, customer satisfaction and cost. With the business needs in mind, process standardisation and systematic reliability improvements are among the key elements to achieving this goal.In Australia, the name of Adelaide Brighton Cement (ABC) has become synonymous with building products – namely cement.
ABC's origins date back to 1882 with the first commercial production of cement in Australia at Brighton near Adelaide, South Australia. Adelaide Brighton Limited (ABL), ABC's holding company, is listed on the Australian Stock Exchange with a market capitalisation of 213 million Australian dollars and employs about 900 people Australia-wide. ABC's major asset is the 1.3-million-tonne capacity plant at Birkenhead in South Australia, which produces 4,300 tonnes of cement clinker per day. The Birkenhead division also includes a limestone quarry at Klein Point, 80 kilometres west of Adelaide, where the main raw material, limestone, is sourced for the manufacture of cement.
Birkenhead Division
Located on the water in the Port of Adelaide, South Australia, Birkenhead produces clinker, which is then milled to produce general purpose (GP) and general purpose blended (GB) cement.
In 1991 Birkenhead completed an AUD 130 million expansion and modernisation. Its existing dry process kiln was converted to a state-of-the-art "precalcining" type of greater capacity. Reaching 1500 degrees Celsius at the burning zone, at 67 metres long and 4.57 metres in diameter, the kiln is one of the largest of its type in Australia.
"Upgrading the dry process doubled the kiln output capacity and improved energy efficiency," says Mark Carlstrom, Birkenhead's condition monitoring supervisor. "The main difference achieved with the calciner process over the previous method is the way in which the raw meal is calcified earlier in the process stream."
The capacity of the main kiln was increased from 500,000 tonnes a year to 1.3 million tonnes and the project included a new 3,000-kilowatt cement mill and a large undercover raw material handling and blending system.
Total service
Carlstrom says part of the reliability process from the vendor/supplier point of view was that some suppliers only supplied goods, and the lack of expertise in product service or engineering support would be frustrating and could mean lengthy delays. For this reason ABC in early 1998 began looking for vendors and suppliers offering total service and "single source" contracts.
In late 1999 cross-functional sourcing teams assessed a number of tenders for the supply of bearings to Adelaide Brighton Limited's sites based on improved plant reliability, commitment to reduced costs, quality and service.
A major shutdown at the Birkenhead plant in late 1999 enabled SKF Service to introduce the SKF self-aligning bearing system to ABC's Condition Based Monitoring (CBM) team for evaluation and trial. Two critical fans were selected for the trial installation. One fan operates as a primary air fan in the Rotary Kiln Plant, the other operates as a dust collection fan in the Cement Mill 1 Plant. Typically both fans experienced high operating temperatures, high operating vibration or low system reliability.
"The aim was to extend failure mean time and show tangible improvements," says Martin Grosvenor, SKF service engineer for South Australia and Northern Territory.
Performance-based TFO
The TFO (Trouble-Free Operation) concept was presented to ABC, and after an evaluation period SKF was awarded the entire bearing contract.
The new TFO contract enables SKF to supply products and services that will result in significant downtime cost savings to ABC. Agreed production cost savings enable ABC to share the benefits by allowing SKF to renegotiate the contract bearing prices.
The TFO rollout has been progressing to plan, with SKF assisting ABC with inventory management and key performance indicator reporting. A standard self-aligning bearing system has been selected that delivers ABC significant benefits in terms of increasing rotating equipment reliability and inventory rationalisation.
The first trial fan has now surpassed its MTBF (mean time between failures) rate, and the replacement SKF bearing configuration on another six fans means a total AUD 330,000 projected cost saving benefit for ABC over the agreed time frame.
Standardisation
Adelaide Brighton Limited's long-term vision is to be world class by 2005. The process of standardisation will enable ABL to be well run and profitable by June 2001.
"It's all about defining our processes and then driving the improvement process," says Stephanie De Nichilo, reliability superintendent at Birkenhead. "Minimising waste and variation is our focus to achieving maximum capacity and profitability.
"Efficiency-wise, there has been a drive towards business improvements in the past 10 years, but with increasing pressure of imports, we must eliminate waste and maximise the output from our existing plant."
Carlstrom says currently the market for building materials is seasonally cyclic, and ABC meets the current demand. However, the last few years have been trying for Australian industry, with the opening up to imports from Asia and other areas.
Diana Ward
a freelance journalist based in Melbourne
photo Diana Ward
and Adelaide Brighton Cement