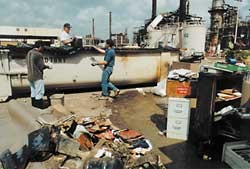 Summary
Chevron at a glance
Chevron, the largest refiner in the United States, operates six petroleum-producing refineries. The company also operates a refinery in British Columbia as part of its Canadian subsidiary. Through a 50-percent joint venture with Texaco, Chevron has stakes in 13 refineries in Africa, Asia and the Middle East. Worldwide, the company employs 34,000 people.
Chevron is one of the largest U.S. marketers of petroleum products, with a network of about 8,000 retail outlets. Its primary markets are the south, southwest and western regions of the United States.
The company's roots go back to the days of John D. Rockefeller and the Standard Oil Company, which in 1911 was split in an antitrust suit. Two of the 34 resulting companies merged to become Standard Oil of California. In 1984, the company was renamed Chevron.
Marshalling resources
When Hurricane Georges hit Chevron's Pascagoula, Mississippi, refinery on Sept. 27, 1998, it triggered the beginning of a massive machinery rebuild operation.
Within hours of the storm, the 1,200-hectare refinery lost electricity, sweet water and computer power. A metre of water had collected in the machine-shop building. Since the refinery had some warning before the hurricane hit, it had shut down its operations, but its 3,000 ground-level motors and 1,500 pumps were submerged under almost two metres of salt water. Meanwhile, alligators and snakes from the bayou moved in. Corrosion and water damage were soon widespread.
Don Ratay, senior contract administrator at the refinery, says, "We had to start from scratch just to rebuild enough infrastructure to bring in repair crews."
Chevron decided to use Sulzer Bingham, an outside contractor, to rebuild the pumps. SKF supported this operation with training and technical service.
"I knew it was bad when I saw seaweed on top of a two-metre-high chain-link fence," says Michael R. Pearce, SKF's regional account manager from Birmingham, Alabama, who visited the site after the storm.
SKF and its local distributor, Applied Industrial Technologies (AIT), marshalled their resources to help. A telephone hot line was set up for technical support and to answer queries about product availability. When necessary, SKF airlifted spares from Europe and insured next-day delivery of all parts.
For 12 weeks after the storm, the repair crews and subcontractors worked overtime to get the machinery in order. By the end of December, the refinery was back in operation again.
When a devastating hurricane hit Chevron's oil refinery in the southern U.S. in 1998, it left seaweed on two-metre-high fences and a mark on the company's balance sheets. Within 12 weeks, though, it was back to business as usual.Chevron's refinery in Pascagoula, Mississippi, has quenched the thirsts of automobiles since 1963. But when a hurricane hit the U.S. facility on Sept. 27, 1998, the going got tough.
At its peak a Category 4 storm – which means winds in the range of 60 to 70 metres per second – Hurricane Georges left a trail of destruction across the Caribbean region and the Gulf of Mexico coast in the southern United States. Sustained winds of 65 metres per second ripped off gutters and tore down power lines. By the time the hurricane reached Mississippi, it had lost some of its original intensity, but local schools closed as officials urged residents to evacuate.
Only a stone's throw from the shallow Bayou Casotte, which leads into the Mississippi Sound and the Gulf of Mexico, 155 kilometres from New Orleans, Chevron's Pascagoula refinery was flooded by up to two metres of water. Properly forewarned, the refinery had shut down its operations but vital machinery was still damaged by seawater.
34 centimetres of rain
"The storm dropped 34 centimetres of rain," says Richard Chenoweth, who owns Scranton's, a popular steak and seafood restaurant in Pascagoula. Scranton's has ridden out every storm since it opened in 1924. During Hurricane Georges, Chenoweth camped out in the restaurant with family and friends for about 24 hours.
"Then came high tide and a storm surge," he says. "The water had nowhere to go. Within an hour my car was under water with its lights on. The water had shorted the battery."
Other local industries in Jackson County (pop. 114,000) include the Ingalls Shipbuilding yard, a division of Litton Industries, International Paper and several seafood-processing companies. All sustained some form of damage from the storm. The U.S. Navy's naval station at Pascagoula rode out the storm by sending its ships out to sea.
While it only took 12 weeks until the Pascagoula refinery could resume making gasoline, the storm was felt 3,000 kilometres away at Chevron Corporation's headquarters in San Francisco.
"Weak crude oil prices and several hurricanes in the Gulf of Mexico severely impacted operations in 1998," said Ken Derr, Chevron chairman and CEO, in a third-quarter 1998 earnings report. "Hurricane Georges hit our refining, chemical and pipeline operations hard at the end of September, with the Pascagoula refinery suffering major water damage." As the seventh-largest refinery in the U.S. and one of the most modern within the Chevron Products Company, the 1,200-employee Pascagoula refinery normally processes more than 100 million barrels of crude oil per year.
That amounts to 295,000 barrels per day, a volume equivalent to an American football field covered to a depth of 11 metres. Once separated in distillation towers – the structures that give refineries their distinctive skylines – then converted and further treated, the Pascagoula refinery produces 130,000 barrels of gasoline, 50,000 barrels of jet fuel, and 68,000 barrels of diesel fuel.
Alexander Farnsworth
a feature writer based in Stockholm
photo Chevron