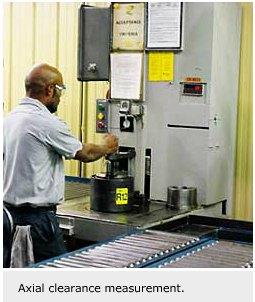 Summary
In 2001, SKF acquired Roller Bearing Industries, Inc, one of the major players in rolling bearing refurbishment in the North American market. RBI maintenance service offers railway customers reduced product and maintenance costs plus a first-class service for reconditioned and remanufactured tapered roller bearing units for wheel sets of freight, locomotive and passenger rail applications. This acquisition strengthens SKF's position within the North America freight bearing business and develops SKF's global leadership in this industry.
Facts about RBI
Roller Bearing Industries Inc (RBI) was set up at the end of the 1970s by Jack Miller and Stuart Johnson, former executives of a major US bearing manufacturing facility.
   As innovators for most of the reconditioning practices in tapered roller bearing refurbishment, the partnership started operations in Elizabethtown, Kentucky, in 1980. This site was chosen for its close location to most North American railway companies.
   Operation began with a certified AAR reconditioning shop capable of reconditioning all TBU sizes for Class I and Class II railways, private wheel shops and related rail industry operations. As RBI developed growth within the North American rail market, it moved into international market penetration including international customers in Asia, Europe, Africa and South America. Today RBI has about 90 employees.
In 2001, SKF acquired the US railway bearing refurbishment company Roller Bearing Industries, Inc, to strengthen its position within the North American freight-bearing business and to develop its global leadership within the industry.Bearing maintenance at the North American railways is a major activity with an average of 1 million reconditioned or new tapered roller bearing units (TBUs) mounted each year. Roller Bearing Industries, Inc, (RBI) is one of the leading bearing service companies supplying reconditioned freight car and locomotive bearings to North American railways.
The North American railway market is focused on freight transportation, which moves an average of 2.5 trillion tonne-km of freight annually (equivalent to 12,500 trains, with 50 wagons each, with a payload of some 100 tonnes per wagon, going all around the world). The technical parameters of North American railways are governed by the Association of American Railroads (AAR). This market comprises eight Class I and 35 Class II railways. The difference between the two categories is based on total yearly operating revenues, where the classification for Class I railways exceeds 262 million US dollars and operating revenues for Class II railways ranges between USD 21 million and USD 262 million. Freight cars are loaded with cargoes ranging on average from 60 tonnes to 115 tonnes and operating at speeds ranging from 40 km/h to 130 km/h. Topography and environmental conditions vary drastically, and this has a tremendous impact on the wear and tear of the freight car equipment.
Maintenance
This railway market is quality controlled by the AAR; equipment and rail systems are proactively maintained to control adverse rail incidents. The specifications for acceptable bearing-condition parameters are based on the AAR Manual of Recommended Standards and Practices, Section H – part II.
During the early 1980s, the practice of reconditioning and remanufacturing TBUs was applied widely throughout the North American Class I rail industry, although today many of these activities are outsourced to AAR approved organisations such as RBI.
Railway roller bearing reconditioning involves the disassembly, cleaning, inspection and repair, if necessary, and reassembly of the roller bearing. The reconditioning process begins when the reconditioning facility receives used bearing cores from the customer. The core is usually the entire bearing unit, comprising two tapered roller inner ring assemblies (cones) and the outer ring (cup), including the end cap, backing ring, seal wear rings and cap screws. The unit is dismantled, the grease seals are discarded, and the components are placed upon automatic wash systems in which the spent lubrication is removed from all internal rolling components by non-hazardous, environmentally friendly agents. The components are coated with a rust-prevention agent and are moved to holding locations.
As soon as ambient temperature is reached after washing, external surfaces on components such as the outer rings, end caps and backing rings are buffed and polished to remove accumulated rust and other external material build-up. This process supports the inspection process. The components are inspected for visual and dimensional characteristics. Components not meeting specifications are either scrapped, if it is not possible to rework the defects, or remanufactured.
Bearing remanufacturing
Remanufacturing bearing components is basically a process of adding to or removing some of the original material of the bearing components. Adding to the original material involves a chrome plating process that provides a layer of chrome uniformly across the inner ring bore. This layer of chrome is more durable than the original bearing material. It brings the bearing inner diameter back to an acceptable and usable original equipment manufacturer, OEM, limit.
For the remanufacturing process, most dimensional tolerances are usually held to within 0.0025 mm to 0.038 mm discrepancies. Maintaining such close tolerances is achieved by proper employee training, modern machining equipment and sophisticated gauging devices. Key remanufacturing AAR approvals achieved, other than the chrome plating process, relate to the remanufacture of backing ring radii, spacer widths and fretting wear on the inner ring assemblies. With AAR acceptance for a number of operations, the work can be carried out cost-effectively and without compromising quality, performance, safety or reliability.
Component treatment
Components such as the seal wear rings, spacers, backing rings and end caps are thoroughly inspected visually and dimensionally. Normally, the acceptable tolerance levels for these materials being reconditioned or remanufactured fall within 0.025 mm and 0.127 mm variations.
Each bearing component is 100 % inspected and measured for compliance to at least the minimum AAR quality tolerance. Within a reconditioning process, it is imperative that each component is inspected in detail. Failure to uncover one abnormality could result in bearing failure while in service. Inner ring assemblies and outer rings are visually inspected for wear and bearing damage – for example, water or acidity damage, known as "etching," or stain discoloration caused by acidity in the lubricant. Additionally corrosion, pitting, rust, brinell marks, metal smearing, electrical marks, heat discoloration, metal flaking, metal indentations, fatigue spalling and fatigue cracks are included within the search. Each characteristic is detailed within the AAR specifications for conformance and non-conformance properties. Inner ring and outer ring components have the narrowest acceptable tolerance variations and are inspected at two or more workstations before achieving full component certification within the production facility.
Reassembly
Reconditioned TBUs have lateral movement measured to within the prescribed limits. At this stage the bearing unit will be staged in groups and processed to the lubrication area. New lubricant is injected into the bearing by a pressurised lubrication device that evenly distributes the grease into the internal rolling components. Each bearing unit processed has the grease weight measured for accuracy and recorded; assuring that each bearing unit has a fully loaded lubricant charge and is ready for field service. Once lubricated, the bearings are fitted with new grease seals. A sensorised seal press unit is used, which confirms that the seal retaining lip is properly seated in the outer ring grease seal groove. Sensors fitted within the grease presses consequently assure that proper sealing pressures and contacts have been achieved.
Then the bearing unit is placed in a staging area, where associates will clean the external surface and fit the appropriate backing rings, seal wear rings and end caps to the finished product. New cap screws and locking plates are added at the final packaging station. As an option, especially for harsh chemical car applications, a unique stainless steel locking plate, with AAR approval, can be offered. Once on the conveyor belt, the finished bearing units are audited one additional time for conformance and then wrapped and shipped to the customer's destination for use.
Quality Control
RBI has one of the most rigorous quality programmes in the rail industry. The RBI Quality Department is autonomous and reports directly to the president of the company. Its ratio of auditors to production personnel is 1:8. Stationed at key points to sample and test for product conformance, these auditors perform random audits throughout the plant and are empowered to stop production should they observe any non-conformance.
All employees are trained and certified – a practice RBI implemented long before the AAR M1003 training requirements went into effect. All reconditioned components are 100 % approved by certified production inspectors during the reconditioning and remanufacturing processes. After each certified procedure, parts are held in a mandatory hold area until 15 % of the components are inspected and documented by quality auditors. Other quality system controls and checks include: barrier gates, electronic/computer-aided transducers and keyed lockout systems. All workmanship can be traced to the individual performing the work. Statistical Process Control (SPC) and Process Failure Modes and Effects Analysis (PFMEA) are in place to ascertain failure trends and respond proactively. RBI also contracts retired AAR inspectors to perform quarterly, independent third-party audits to further strengthen the quality system to effectively administer changes imposed by the AAR quality system and customers.
Customer feedback
Two of America's largest power utilities specify RBI Power-Plus premium bearings along with a competitor's product for its maintenance requirements. During 2000, they experienced a combined total of 435 bearings removed from service – none of which were RBI reconditioned product. In that year, these power utilities enjoyed more than a 33 % reduction in AAR billing for costs related to removal of bearings from service. During the third quarter of 2000, they initiated a programme to purge all pre-1997 bearings and replace them with 100 % RBI Power-Plus bearings. Both these companies have experienced product cost savings and reduced maintenance costs.
In March of 2001 RBI received the prestigious TTX Company SECO Award (Supplier Evaluation Consensus Rating Award) for 2000. RBI has been a recipient of this award continuously since 1991. This performance programme was instituted in 1991 to recognise and commend the TTX supplier community's commitment to continuous quality improvement. Annually, the TTX Company will evaluate some 140 suppliers based on the following criteria: product quality, product performance, cost, delivery, service, financial and administrative functions. After the results are accumulated and tabulated, the TTX Company SECO committee will present the SECO Award to the supplier companies earning "Excellent Supplier" status and acknowledge the entire supplier base for their commitment to continuous improvement.
In future, RBI is committed to introducing SKF technologies and associated bearing mechanical advancements to the customer base and railway market. This includes SKF's new reconditioning techniques and products to provide better reliability, safety and performance while continuing to collaborate with the AAR organisation, gaining full approval for SKF products introduced to the market.
Paul Price,
SKF Roller Bearing Industries, Inc,
Elizabethtown, Kentucky, USA
and Gottfried Kuře,
SKF Global Railway Marketing, Steyr, Austria