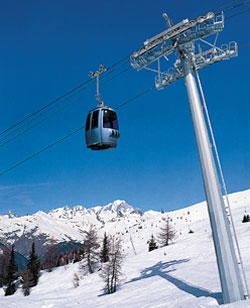 Summary
One-stop shopping
Cableways, snow groomers and snowmaking systems – the product range makes Leitner a site for one-stop shopping in the field of winter resort technologies.
Leitner is a valuable SKF customer. With an annual volume of 1 billion Italian lire (EUR 500,000), SKF has close to 100 percent of Leitner's business regarding bearing needs. The products sold by SKF to Leitner are deep groove ball bearings, spherical roller bearings (also sealed), plain bearings and angular contact ball bearings.
These products are applied chiefly on reduction gears and pulleys on chairlift systems, as well as on urban transport systems.
Leitner SpA, situated in the Italian Alps in Vipiteno, South Tyrol, is the Italian headquarters of the Leitner Group of companies. The company provides virtual one-stop shopping in the field of winter resort technologies.The Leitner Group serves a moving world, producing ski lifts, cableways, people movers, snowmaking systems and snow groomers. Technical aims, apart from the obvious focus on passenger safety, include eliminating vibration and providing a high level of comfort.
Leitner has a reputation as a reliable partner guaranteeing high quality worldwide. Its approach to service begins with individual consultation customers. Sales service offers design choice, track layout and selection, and even environmental protection programmes.
The planning extends to exact timing, which has to correspond to the client's needs in every aspect. "Our production is a turnkey system. The client orders and then basically just picks up the keys for the resort," says Dr. Eugenio Miori, manager of purchase and service logistics at Leitner.
During construction, Leitner offers training courses for customers with particular emphasis on how a product will perform. The customers may wish to inspect installations the company has made elsewhere. To help new customers visualise the finished products the company has on-site mock-ups to demonstrate how they will look when completed.
Leitner's philosophy is that a product can always get better. Even though its products are tested to perform as designed, they are constantly on trial for improvement.
Constructive experience comes not only from design but also from close co-operation with customers.
Many Leitner Group employees practise winter sports themselves, which also helps them understand their clients' needs, get information and tips from ski resorts, and learn firsthand about skiers' wishes and expectations. This exposure has a valuable impact on the technical development of machinery and resort projects.
Commitment goes on round the clock. Specialised personnel stand by on Sundays and bank holidays to assist customers as needed, and to deliver spare parts.
Leitner's warehouse contains enough spare parts to cover needs for up to 15 years. Any element requested is ready to be delivered directly to the customer without delay, normally within 24-36 hours.
Leitner operates an internationally certified quality programme, to ISO 9001 standards, that covers all operations from the production of individual components to final assembly and sales. The certificate was awarded in 1994 on the basis of a joint audit carried out by the certifying bodies SQS (Swiss association for Quality and management Systems) and German TÜV (Technische Überwachungsverein). "Security and quality come before quantity. Our concern is to avoid risks; cost is not the major factor," Dr. Miori explains.
And both the company and its business are developing. Leitner currently has 600 employees. In 1999 it had turnover of 320 billion lire (USD 165.4 million), half of it from sales in Italy and half from exports, which it ships to countries from Russia to New Zealand. The consolidated value of production for all divisions combined experienced an increase of 18 percent over the previous year. The major share of this growth came from the organisation's ropeway engineering division, where net sales grew by 19 percent for a total of 64 systems supplied globally.
In early 2000, Michael Seeber, chairman of the board of the Leitner Group, reached an agreement to form a new consolidated company together with Prinoth. This company, called Leitnersnow, is formed by the current Leitner Group (Leitner Snowmakers, Leitner Snowgroomers and Borer) and Pagoda Group (Gespi Service, producing security apparel for the slopes, Prinoth snowgroomers and Valteco snow guns). The new Leitnersnow will be managed by Sergio Lima, with the head office in Italy.
This new corporate group will present a partnership in the global market to provide security on the slopes. Leitnersnow will guarantee all necessary service for this purpose, and a complete range of products to get even better skiing trails for enthusiasts worldwide. The goal of the group is also to develop synergies and new technologies, combining resources to confront the competition. In order to further strengthen the company, future plans also include going public by introducing Leitner on the stock exchange.
Anna Maria Sifo
an international business journalist based in Rome
photo Leitner