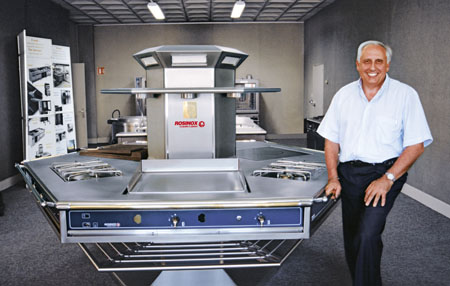 Kitchen confidence
From Michel Roux's three-star Waterside Inn at Bray in England to the presidential palace in Gabon in Central Africa, Rosinox of France supplies top chefs with avant-garde kitchen equipment.
From Michel Roux's three-star Waterside Inn at Bray in England to the presidential palace in Gabon in Central Africa, Rosinox of France supplies top chefs with avant-garde kitchen equipment.
The Rosinox companywas established in 1837 in Bourges, in the Berry region of central France, and began life as the Rosières iron foundry. The company began producing kitchen equipment in 1869, supplying cast iron ranges for chateaus. In 1999, the Milan-based ALI foodservice equipment group acquired the professional catering equipment division of the company. Today, Rosinox employs some 135 people and has an annual turnover of 15 million euros.
"At Rosinox we make professional kitchen equipment for institutional catering establishments, including centralized kitchens, hospitals, company restaurants, school kitchens and commercial restaur-ants," explains Angelo Chiessi, president of Rosinox and its sister company, Friginox, which produces chillers and freezers. "But we have always been an avant-garde company, producing extremely high-performance products that are very well-constructed and that ensure performance over time."
This strategy of development and technological advance came about after the first Gulf War in 1991, which led to a sharp decline in the travel and tourist industry and provoked a crisis in the catering trade. "We decided we couldn't compete with companies producing lightweight appliances, especially with the increasingly stiff competition from various countries around the world, so we changed our focus to developing products that are very technically advanced," says Chiessi.
Indeed, Rosinox cateringequipment can be found in some of the world's most celebrated kitchens, including Michel Roux's three-star Waterside Inn at Bray in England, the Gemelli teaching hospital in Rome, the Apicius restaurant in Paris, Jamie Oliver's 15 in Cornwall, racing driver David Coulthard's Dakota Hotel in Glasgow and the royal palace in Gabon in Central Africa. Rosinox kitchens are much sought after by those who depend on high quality and service in their catering. Rosinox also supplies the Léon de Bruxelles and Buffalo Grill restaurant chains and some 300 hospital kitchens in France alone. Forty percent of the company's sales are custom-made installations for individual clients.
A Rosinox installation ranges from the simplest oven, retailing at 8,000 to 10,000 euros, to a complete installation that could cost up to 400,000 euros. Single cookers such as the hexagonal Royal Chef range can cost as much as 60,000 euros. The Rosinox product range has more than 500 products, including cookers and ranges, deep-fat fryers, bratt pans, stockpots, pasta cookers and bain maries, and the list lengthens every year. The average lead time is four weeks. "France is our biggest market," says Chiessi. "It is the birthplace of grande cuisine after all. But we sell worldwide to a unique clientele looking for high-performance equipment. We sell through distributors, but people often come directly to us."
Rosinox is constantlydeveloping and inventing new products. To date, it has registered some 20 patents. The latest innovation, patented in 2006, is a multi-function pressure-tilting bratt pan – a rectangular sauté pan with a detachable mixer that went on sale in September 2006. "We have been marketing it, and there's a great deal of interest," says Chiessi. "We spent two years developing the technology; we are the first to come up with such a unique and useful product."
Until now, mixers have only ever been integrated into circular pans. In the past, mixing food in a bratt pan had to be done by hand, using a paddle. The advantage of this product is that it can be used for sautéing as well as for cooking more liquid preparations with sauces. The mixer can be removed to leave the space free for cooking, and, using SKF's linear electric actuators, the pan can be tilted to pour off the contents. "When we tested it, we made 180 kilograms of beef bourguignon in it – enough to feed a whole school," Chiessi says.
One of Rosinox's main markets is centralized kitchens, which are extremely popular in France, with more than 3,000 in the country, compared with just a handful in the rest of Europe. These kitchens produce meals for more than one place, such as hospitals, retirement homes and schools, and use a system called blast-chilling to preserve the food. Explains Chiessi: "Once the food is cooked, it undergoes an extremely rapid chilling process, which ensures that it stays fresh and stops bacteria from multiplying. The food can be kept for up to five days, offering huge potential savings on wastage." Rosinox and sister company Friginox are pioneers in the area.
French law statesthat industrial kitchens must take 120 minutes to bring the internal temperature of a dish down from 75 to 10 degrees Celsius. To do this, Friginox has constructed a range of blast-chillers and has recently registered a new patent for its i-chilling process. The latest Friginox chilling units – which can take up to 560 kilograms of prepared food – can calculate the weight, thickness and consistency of the food and automatically set the optimal speed and temperature to use without forming ice crystals.
Rosinox equipment must conform to a whole raft of security measures, hygiene rules and security norms. Screws must be invisible, and the devices must be washable with a water jet. "We have six people working in our research and development department and two more in our laboratory, where we do our own CEE certification," explains Chiessi. "We are equipped to reproduce all the different types of gas supply that are available around the world. These differ greatly from country to country. All our cookers must be able to work with every kind of gas supply while maintaining the same levels of performance.
"We are constantly modernizing and reorganizing our factory in order to remain competitive and offer the highest possible quality to our clients," continues Chiessi. "Our long-term strategy is to continue investing in research and development and to create the most advanced products to better satisfy our ever-growing customer base." And, judging from Rosinox's expanding client portfolio, that will be the way of the future for this innovative company.
---
Customized actuators
SKF's collaboration with Rosinox goes back to 1985. Historically, Rosinox was a client of the French sales arm of the Swiss Magnetic group, a specialist in linear electric actuators, which was acquired by SKF in 2002.
In 2006, Rosinox purchased three different types of actuators:
• 360 MAX 64 course 200 mm linear electric actuators for the standard pressure-tilting bratt pans
• 50 MAX 64 course 400 mm linear electric actuators for multi-function pressure-tilting bratt pans
• 100 GC84TL actuators for deep-fat fryers
The two linear electric actuators were customized by SKF Equipments, SKF's French sales company based in Montigny, with the addition of a protective seal to provide better watertightness when the bratt pans are cleaned.
All the linear electric actuators are produced in Magnetic's factory in Liestal, near Basel in Switzerland.