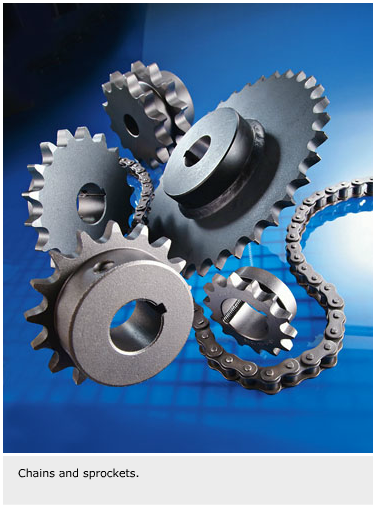 Linking power transmission products to the supply chain
Engineers are always looking for bearings and power transmission products that are mutually compatible and can meet expectations. To that end, SKF has introduced a new unique range of power transmission products.
Engineers are always looking for bearings and power transmission products that are mutually compatible and can meet expectations. To that end, SKF has introduced a new unique range of power transmission products.
Power transmission productsplay an important role in overall bearing performance. They are the vital link between moving parts in equipment, and industry as a whole spends about twice as much on these products as it does on the actual bearings.
By creating its own range of power transmission products, SKF can now offer products that are well matched and give engin-eers a wide design choice according to performance and cost considerations.
SKF is likely the first bearing manufacturer to consolidate the sales and supply of power transmission products in this way. The range, to be sold under the group's existing brand, is the result of a thorough analysis of the market and customer
requirements.
Bringing power transmission products under a single brand offers significant user benefits apart from the confidence that comes from a well-known brand. SKF can provide a convenient single supply source for products and services with a large stock of products. This, in turn, offers the chance to simplify logistics to end users and reduce administrative work.
SKF already has its own sophisticated worldwide warehousing and logistics systems through which power transmission products can be supplied. This currently can provide access to more than 8,000 power transmission items (and in the future even more), which enables distributors to have smaller stocks and less capital invested in inventory.
Power transmissionand bearings work together in many industries, including food and beverage, oil and gas, pulp and paper, textile, steel, packaging, mining, mineral processing and cement, agriculture and material handling. Many bearing problems and failures can be identified through knowledge of power transmission. Combining an understanding of bearing systems with power transmission gives SKF the opportunity to enhance the support it gives to users.
The SKF power transmission range covers most common types of products, which can be divided into six main categories – belts, pulleys, chains, sprockets, couplings, as well as bushings and hubs. Some of the products are in separate groupings that have different dimensions and different fixing methods and are made from different materials. There are also products that have special characteristics, needed for specific types of applications. All SKF power transmission products are identified by an SKF specific designation prefix. Apart from that, the designation follows international standards for easy recognition and cross-referencing.
SKF belts are branded SKF and carry the designation prefix "PHG." Depending on the belt profile, they are classified according to the classic V-belts, wedge and narrow wedge belts and hex belts.
The wedge beltis a later development of the classic belt and is a stronger belt when compared with the classic V-belt. The narrow wedge belt is a high-performance wedge belt. The hex belt has a cross section of a double section classic V-belt. It is designed for applications where one or more of the driven pulleys will rotate in different directions.
There are other more specialized types of belts such as ribbed belts, banded belts and timing belts.
Multi-ribbed beltsare the newest addition in the belting range. Ribbed belts require less energy to bend around the pulleys and can transfer power more effectively to the driven pulley. Banded belts consist of belts joined together in a set of multiple strands. Banded belts virtually eliminate the negative effects of vibrations and are typically used in applications with pulsating loads.
Timing belts, also called synchronous belts, are more specialized types of belts. For such belts, the drive comes from the leading edge of the belt teeth. This type of belt is considered a direct-drive belt.
Finally, in this power transmission range, there is the high-torque drive (HiTD) belt, a heavy-duty timing belt for demanding applications.
Belts are typicallyavailable as either the wrapped type or the cogged raw-edge type. The wrapped type resists the accumulation of dirt in dusty conditions and has a longer life as a consequence. But the cogged raw-edge type can be used for pulleys with a smaller diameter compared with the envelope type. Another advantage of the cogged type is the slightly
higher power rating.
Pulleys are used together with belts in belt drives. The design of the pulley needs to match the design of the belt. There are five main types of pulleys – classic V-belt pulleys, wedge belt pulleys, narrow wedge belt pulleys, HiTD pulleys and timing pulleys.
The most common pulley types corres-pond to the belt types already described. These are classic V-belt pulleys, wedge belt pulleys and narrow wedge belt pulleys. Also within this range are HiTD pulleys, heavy-duty versions used for demanding applications. Timing pulleys can be arranged according to classic timing pulleys and metric timing pulleys. They are used together with timing belts, also called synchronous belts.
SKF pulleyscome with a taper bush or
pilot bore and are identified by the designation prefix "PHP" under the SKF brand. Unlike the products offered by many of SKF's competitors, the group's pulleys are packed in boxes (except for large-size pulleys) and cover the most complete range.
SKF chains in the power transmission range are equipment extensive, covering transmission chains, heavy-duty chains, double pitch chains, engineering chains,
silent chains, oilfield chains, leaf chains and conveyor chains.
The range includes a number of special chains that are made of different materials or have additional attachments.
Transmission chainsprovide a smooth, efficient flow of power with low friction as well as a pitch-by-pitch drive, which is essential for synchronized drives. Heavy-duty chains have a greater ultimate tensile strength, compared with standard chains. Typically they are used for applications with long-life requirements that are subjected to shock loads. Double-pitch chains are suitable for applications where there is a long centre distance between the sprockets. The load-carrying capacity is almost the same as for standard chains. This results in a lighter and less expensive chain. Engineering chains refer to chains made with very large pitch dimensions. The silent chain runs quietly and is more flexible than conventional roller chains. The chain is capable of carrying more power per chain area than the standard roller chain.
Oilfield chains arenormally identified by the special crook shank pin that holds the chain together. Oilfield chains are
sophisticated products that are supplied by only a limited number of suppliers on the market.
Leaf chains areused worldwide. They have high fatigue strength, long service life, maximum resistance to wear and a com-pact design. Conveyor chains are manufactured to a wide variety of applications serving industries all over the world.
Often attachmentsare integral parts of the chain design to perform conveying operations. An attachment is a basic part fitted to the chain to adapt the chain or for a special conveying duty. The attachment can be an integral part of the chain plate, or it can be built into the chain as a replacement for the existing chain link.
All these chains are classified according to the two main standards for chains, the American standard (ANSI) and the British standard (BS-ISO).
Each chain comes with a standard connecting link. A different type of connecting link, called an "offset link," is available upon request.
Standard chains are packaged and branded SKF, while large chains are packed according to size and order quantity. The designation prefix for this product class is "PHC."
Sprockets are part of chain drives. The type of sprocket should match the type of chain used in the chain drive. There are three different types of sprockets, based on the locking principle to the shaft. SKF
offers bored and keyed sprockets, pilot bore sprockets and taper bushed sprockets. Apart from that, SKF offers also double simplex sprockets.
Bored and keyed sprockets must be mounted onto a shaft with a similar keyway to fit the sprocket. The pilot bore sprockets are available for the customer to re-bore to their own specification, while the taper bushed sprocket is mounted onto a shaft together with a taper bush. The double simplex sprocket is a sprocket with double rows of cogs.
SKF sprockets are identified by the prefix "PHS." All are branded SKF and are, except for large-size sprockets, packed in boxes.
Couplings have the primary function of connecting two shafts that turn in the same direction and on the same centre line. Typically couplings are divided into high-torque and low-torque couplings.
The majority of couplings are selected based on their speed, torque and misalignment capabilities. SKF offers a variety of couplings such as SKF flex couplings, FRC couplings, jaw couplings, gear couplings, grid couplings, chain couplings and universal joints.
The SKF flex couplingprovides easy installation, excellent resistance to shock loads and vibration dampening. It is virtually maintenance-free and can accommodate angular, parallel and axial misalignment. The FRC coupling has a relatively high load-carrying capacity and can dampen moderate shock loads and vibration. Its interlocking design makes it easy to install.
The SKF jaw coupling is a coupling for maintenance-free operation and easy installation. It is suitable for moderate shock loads and small vibrations, while the gear coupling is capable of transmitting high torque at low speeds. This design can accommodate parallel and angular misalignment as well as axial movement.
Typically grid couplingsare found in applications requiring a small cross section. The design offers protection against impact loads and shock loads as well as good vibration dampening capability. For heavy-duty and high-torque applications, chain coup-lings are typically used. Finally, universal joints allow transmission of power at much larger angles. SKF offers these in single and double configuration.
SKF couplings, identified with prefix "PHE," are branded and packed in SKF
boxes. Typically, this product range is stocked in pieces rather than complete sets. The same types of couplings are found throughout the world. Even special types of couplings are generally replaceable by one in the SKF range.
Bushings and hubs are used to secure products such as pulleys, sprockets or
couplings onto a shaft. SKF offers tapered bushings as well as weld-on and bolt-on hubs. SKF bushings are identified by the designation prefix "PHF," while hubs carry the designation prefix "PHH."
Both bushings and hubs are branded SKF and are packed in SKF boxes together with their respective screws and mounting instructions.
The ability to provide a single source for power transmission products will meet increasing customer requirements for better solutions, improved service and product availability. With SKF's worldwide reputation in bearings, the addition of a single power transmission products range should be readily accepted amongst customers.