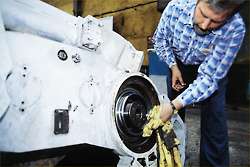 Shear mining power
A newly developed longwall shearer with increased supply voltage gives Polish coal mines a productivity boost.
Summary
Underground movement
Every time the KSE 1000 longwall shearer bites into a fresh coal face, it demonstrates the quality and reliability of SKF bearings. Approximately 90 percent of the machine's bearings are produced by SKF; the machine's "little brother," the KSE 800, will include SKF's innovative CARB TM toroidal bearings.
    The shearer's lead designer, Jan Dziura, credits SKF with helping his team meet Zamet's stringent requirements for high power in a relatively small package. The local SKF office, in Katowice, assisted Komag throughout the design process, analysing bearing loads and suggesting arrangements. The designers are appreciative of the support provided by SKF.
    "For them, it's an additional safety factor," says Lucjan Kubikowski, now with SKF's Customised Engineering Competence Centre in Prague.
A newly developed longwall shearer with increased supply voltage gives Polish coal mines a productivity boost.
A group of Polish designers and engineers has produced a high-powered longwall shearer that is setting new productivity standards, scoring a victory for the country's beleaguered mining industry.
    A longwall shearer is used to remove coal from a rock face that runs parallel to its travelling direction. As the machine moves along a track set up next to the face, rotating heads shear the coal off, dropping it onto a conveyor for transport out of the mine. A roadheader, in contrast, moves directly into a coal face running perpendicular to its travelling direction. The KSE 1000 longwall shearer is the product of a four-way partnership of the manufacturer Zamet, the research centre Komag, the Ziemowit mine in Tychy-Ledziny and the Polish government's Scientific Research Committee. The latter supports industry by funding a wide range of research in cooperation with various other institutions.
    Komag is a governmental design institute: 70 percent of its budget come from the sale of its products; the remaining 30 percent come from grants it wins from government institutions. This set-up is a practical way for the government to support the mining industry, providing necessary research that the individual mines and equipment producers would not be able to afford. Zamet is a joint stock company that produces equipment for the metals industry (both ferrous and non-ferrous) in addition to mining equipment. Completely privatised in 1993, it is part of the industrial holding Mostostal Export. Zamet has had a positive ISO 9001 audit.
    Early in the KSE 1000's design process, Komag's engineers discovered that it would be impossible to deliver the required power without using a high-voltage power supply. But their decision to use a six-kilovolt supply was met with great scepticism by the rest of the industry. The most common standard in Poland was one kilovolt, and Malgorzata Malec, Komag's foreign relations and marketing manager, says that there was "a strong psychological barrier to overcome."
    Experts were particularly concerned about the safety factors connected with the higher voltage. However, convinced that they had a winner on their hands, Komag soldiered on. "You have to give credit to Zamet, and to the Ziemowit mine, for being willing to try it," says Jan Dziura, a senior specialist in Komag's shearer division and the lead designer of the KSE 1000.
    And it has paid off. After two years of operations, including trials, the shearer has achieved an average output of 8,500 tonnes of coal per day – more than four times the national average of just 2,000 tonnes. This is the second-highest rate for any shearer operating in Poland, and it was achieved under very difficult operating conditions. In fact, the new machine is so fast that the biggest problem so far has been for the workers and the other equipment to keep up with it – to process "these massive amounts of coal that it's dropping onto the conveyor," as Dziura says.
    The KSE 1000 has proved its status as a machine for tomorrow, but it is working with equipment and techniques of today, which causes bottlenecks. The shearer moves at an operating speed of up to 15 metres per minute, for example, and "Sometimes it just runs away from the operators," says Dziura, with a trace of justifiable pride.
    But the extra power is not overkill; it's essential on walls with harder coal and more rock intrusions. The higher voltage power supply has another advantage: It allows the use of only one transformer, which can be placed as far as 2.5 kilometres from the shearer – meaning less time lost in moving the equipment. While the standard power lines into Polish mines are six kilovolts, most of the machinery is either 0.5 or one kilovolt. Shearers that run on one kilovolt have to be stopped frequently so the six-to-one kilovolt transformer can be moved closer, since the power loss is too great if the cable is longer than 100 metres.
Changing mining industry
Komag and Zamet's accomplishment is all the more impressive when seen against the backdrop of the Polish mining industry, which is facing severe hardship. Heavily subsidised under communism, it is now struggling to find its way in the free market. The mines' grim financial circumstances make life difficult for the entire Silesian region. However, this adversity has bred strength and flexibility in Polish designers and engineers. Previously, when ample cash was directed to mining research, Komag had time to build elaborate prototypes, and even had its own small mine in which to test them. Those days are gone; today, designers take their machines into real, live mines to be tested by real, live miners. However, this has proved to be a blessing in disguise: "You learn things underground that you'll never learn in a laboratory," says Dziura.
    "The miners don't care that you call it a 'prototype'," says Stanislaw Orchel, acting manager of Komag's Longwall Systems Division. "For them, it's got to produce. They push it to the limit." He says that after putting the machine through its paces, the miners will give the designer "full information" on what he's produced. Without the luxury of prototype testing, interaction among the designer, the manufacturer and the end user is a must – and this sort of cooperation has led to the new shearer's success.
    Restructuring its mining industry is an urgent issue for Poland's government. "We hope that the restructuring programme will get under way soon, that it will calm things down and bring stability to the industry," says Henryk Lach, Zamet board president.
    As an example of the industry's troubles, he points out that while there are more than 300 of Zamet's AM-50 roadheaders in Poland, only 240 are actually in operation – and those are constantly being repaired. As this article was written, details of the programme were still being hammered out, but the overall goals are to severely reduce the workforce and to concentrate on the most profitable, productive mines. If these goals are pursued successfully, the KSE 1000 should have no trouble finding buyers.
    In the meantime, Zamet is eyeing the Russian market, where it hopes to find as much interest in the KSE 1000 as it has in China for its roadheaders. The company also has high hopes for the KSE 1000's "little brother," the KSE 800.
    Lach hopes that Zamet will eventually be able to bundle the KSE 1000 into a "turnkey" package, including equipment from various manufacturers, with all the machinery necessary to exploit a longwall. Even if these plans do not come to fruition, the companies involved in bringing the KSE 1000 to life have proven that despite the dire straits of the country's mines, Poland is a world-class producer of mining equipment.
Nathaniel Espino  
a business journalist based in Warsaw  
photos Michael Dean