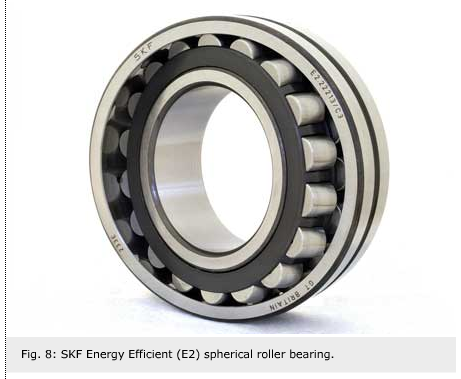 SKF Explorer and SKF Energy Efficient bearings provide sustainable solutions
Reduce costs; improve machine performance; save our natural resources. It's a tall order, but SKF has risen to the challenge with two performance-classes of bearings. Both the SKF Explorer and the SKF Energy Efficient (E2) performance class bearings deliver all that and more.
Summary
A win-win for manufacturers and the planet. With their potential to reduce costs and improve machine operation while reducing energy consumption, SKF Explorer bearings and SKF Energy Efficient bearings offer a win-win advantage for manufacturers and the planet. By se bild hting friction, these two performance classes are redefining and expanding the goals of sustainability from a concept applied to conservation of resources to one that also applies to preserving the bottom line.
Drawing on more than 100 years of engineering knowledge and unmatched expertise in the field of tribology, SKF is continuously working to create products that are so much more efficient that over their operating lives, they save more energy than it took to manufacture them. At the same time, SKF engineers want to give manufacturers a proven way to reduce energy use, decrease maintenance costs, improve machine reliability and contribute to global sustainability.
Success has come in the form of two bearing performance classes, each designed to provide money- and resource-saving advantages in specific applications. SKF Explorer bearings provide benefits for heavy load applications, while SKF Energy Efficient (E2) bearings decrease power consumption in light-to-normal load applications.
SKF EXPLORER BEARINGS: FOR HEAVIER LOADS
SKF Explorer bearings (se bild . 1) have been developed to run cooler, smoother and longer than standard rolling bearings in heavy load applications. These bearings reduce environmental impact by enabling downsizing and by reducing both lubricant and energy consumption. Just as important, this performance class of bearings can reduce the need for maintenance and contribute to increased productivity.
Key to the performance of SKF Explorer bearings is the optimized internal geometry. Using proprietary software, SKF engineers analyzed the interrelationship of the rolling elements, raceways and cage. They devised methods to reduce friction, heat generation and wear in the bearing, while enabling SKF Explorer bearings to withstand heavier radial and/or axial loads.
The rolling elements of SKF Explorer bearings are manufactured to extremely close tolerances to reduce vibration levels and equalize load distribution. Cages are enhanced to improve guiding of the rolling elements and optimize the effect of the lubricant while lowering heat, friction, noise and vibration levels. The surface topography of the SKF Explorer bearing rolling elements and raceways is optimized to enhance the formation of a hydrodynamic lubricant film, maximizing the effects of the lubricant, while reducing heat generation and wear. Exceptional strength and durability have been achieved through the use of extremely clean, highly homogeneous steel, while a unique heat treatment process results in better dimensional stability in applications where operating temperatures are high. Today, SKF manufactures a large number of SKF Explorer bearings covering different bearing types.
Environmental savings and increased uptime
A practical example of the savings that can be achieved comes from Stora Enso, a paperboard producer in Sweden. With sealed SKF Explorer bearings, Stora Enso has increased uptime, eliminated its lubrication system and reduced water reclamation costs.
Previously, the company was experiencing continuous bearing failures in a suction box vacuum system used to extract water from pulp. After just four to seven months of operation, the bearings were failing, as water leaked into the bearing arrangement, washing grease out, which also led to fretting corrosion and finally to premature bearing failure. Grease in the water had to be extracted and disposed of, adding to water treatment costs.
Stora Enso installed SKF Explorer sealed spherical roller bearings in two suction boxes. These sealed bearings, which keep lubricant in and water out of the bearing cavity, prevent the ingress of water and contaminants into the bearing.
The SKF Explorer sealed spherical roller bearings in both suction boxes ran trouble-free for more than 13 months. In addition to extended bearing service life, the company was able to eliminate the lubrication system and reduce grease consumption by approximately 3 kg/y per bearing. Eliminating the need to extract and dispose of grease from process water realized additional cost savings and environmental benefits.
SKF ENERGY EFFICIENT BEARINGS: FOR LIGHT TO NORMAL LOADS AND RELATIVELY HIGH SPEEDS
SKF Energy Efficient (E2) bearings belong to a performance class of bearings that have been specially designed to reduce the frictional moment in the bearing by at least 30 % when compared to SKF standard bearings (se bild s. 3, 5, 7 and 9).
Like the SKF Explorer bearing, the SKF Energy Efficient bearing is the result of rethinking and redesigning virtually every facet of bearing design. New theories in tribology, metallurgy, lubrication, sealing and manufacturing were combined to create new bearing geometries, specialized cages and refined manufacturing techniques.
A significant breakthrough with the SKF E2 bearing is the development of new grease formulas to lubricate the bearings and extend the grease life or lubrication intervals.
The SKF E2 deep groove ball bearing (se bild . 2) is particularly well suited for electric motors (se bild . 3), pumps, gearboxes, conveyors, fans and other applications characterized by light-to-normal loads and relatively high speeds.
Results have shown that, when applied to a shielded deep groove ball bearing, the new low-friction grease developed for the SKF E2 bearing will last at least two times longer than conventional greases used in similar standard bearings (se bild . 4).
Medium size NJ design cylindrical roller bearings, which are typically used on the intermediate shafts of gearboxes, are also available in the E2 performance class.
These bearings typically run under combined loads, with axial loads of up to 30 % of the radial loads. NJ design cylindrical roller bearings in the gearbox of a wind turbine have been tested. The power losses in SKF Energy Efficient cylindrical roller bearings were up to 80 % lower compared to standard SKF cylindrical roller bearings. (se bild . 5). The outstanding frictional moment reduction under combined loads was achieved by optimizing the roller end face profile and the roller-flange contact area.
SKF Energy Efficient tapered roller bearings offer a number of advantages. These bearings, like other SKF E2 bearings, are characterized by a power loss reduction of at least 30 %. These improvements were achieved by optimizing the number of rollers, replacing the steel cage with a new-design polymer cage and by optimizing the topography of the rollers, raceways and flange (se bild . 6). The result: a lighter-weight, cooler running bearing that consumes less lubricant and less power (se bild . 7).
SKF Energy Efficient spherical roller bearings (se bild . 8), like all other SKF E2 performance class bearings, reduce the frictional moment in the bearing by at least 30 % (se bild . 9). Developed for light-to-medium loads, these bearings, lubricated with SKF LESA 2 grease, run cooler than SKF Explorer bearings to reduce lubricant consumption and extend relubrication intervals.
Return on investment
The SKF E2 bearing has proven its worth many times over in applications worldwide. At the Sangam Group, a textile company in India, SKF E2 deep groove ball bearings were installed in an electric motor powering a textile machine. The motor runs at 1,470 r/min, operating 22 hours per day, 363 days per year. By switching to the SKF E2 deep groove ball bearings, Sangam Group estimates a yearly energy saving of more than 2,600 kWh per motor, and additional savings provided by the bearings' longer service life. The company calculated a return on investment of just 37 days. As a result, Sangam Group installed SKF E2 deep groove ball bearings in the other motors and pumps in the factory.
At one of the GlaxoSmithKline Consumer Healthcare factories, with the installation of SKF E2 deep groove ball bearings in electrical motors for pumps, the return on investment included money savings as well as contributions to a better environment. The plant reports annual energy savings per motor of more than 4,500 kWh per year, equalling an annual savings of 390 euros. A two-tonne reduction in CO2 was realized, and the company estimates that it gained 20 euros for every euro invested.
Sustainability and savings
In conclusion, SKF Energy Efficient (E2) bearings have the potential to make a significant contribution to global sustainability. In fact, if SKF Energy Efficient deep groove ball bearings were used on every industrial motor in the EU and US (and assuming a minimum of 30 % lower frictional moment), potential energy savings would equal 2.46 billion kWh/year. And this estimate does not take into account the millions of motors and other applicable machines in use elsewhere throughout the world.