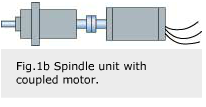 Trends in machine-tool spindle design
The machine-tool industry is improving productivity through higher speeds, improved power density and multipurpose operations. This requires continuously developed spindle solutions.
General trends in the machine industry are marked by increasing globalization of the sector with standardization of components and systems, greater international collaboration and marketing activities. There is a continued push to improve productivity in the sector through higher speeds, improved power densities, greater flexibility and machine tools capable of multipurpose operation.
Modern machine tools are flexible manufacturing centers capable of performing a range of programmed tasks. Spindles are a key component in all machine tools. They are used to carry out a range of cutting operations on, for example, cast metal products. These products require finishing through processes such as turning, cutting, drilling, counter-sinking, tapping, reaming, grinding and milling to achieve their final shape and specification. Major application areas include automotive and aerospace industries.
In principle, the spindle is a motor-driven shaft that both positions and transmits power to a tool or holds a work piece. Spindles can operate at speeds of 20,000rpm or more and have a direct impact on effi-ciency, accuracy and overall productivity. SKF has made considerable investments in the development of spindle technology and, by working closely with its customers, knows machine-tool manufacturing requirements. It offers cost-effective production and engineering services, including a range of standardized and tailored solutions.
Design trends
Specific trends in spindle design indicate that there are three predominant types of spindle configurations tailored to different application needs (fig.1).
1) For low-cost machine tools or those with high torque, belt-driven spindle units are favored. Belt-driven spindle units are found in machining centers, heavy-duty machine tools and lathes where cost issues are crucial (fig.2).
2) For general-purpose applications that demand flexibility and automatic spindle change, spindle units coupled to motors are the norm. Coupled motor designs respond to customer requirements for high productivity, where there is limited space for the spindle, high flexibility in case of service and improved dynamic behavior.
This spindle design is being applied to new machine-tool concepts and existing standard machine tools with asynchronous motors, automatic spindle change, high torque and high speed. Spindle units with coupled motors do offer a flexible approach to design, thanks to the method of connection (fig.3).
3) For medium and high-performance machine tools, high-speed and high-power systems, the motorized spindle unit is, generally, the preferred design option. It is expected that by 2006 motorized spindle units that incorporate asynchronous or synchronous motor technology will push spindle speeds to more than 20,000 rpm and even up to 40,000 rpm. This design is responding to customer demands for higher productivity and better work-piece quality. Applications for these units include machining centers, milling machine tools for aerospace use, grinding machine tools, pick-up lathes and high-performance lathes (fig.4).
New range
In 2003 SKF launched a range of new products and solutions for the machine-tool industry. These include a series of high-precision ball and roller bearings such as sealed angular contact ball bearings, silicon nitride cylindrical roller bearings and the nitralloy (special steel alloy) series for extreme performance. The bearing range also includes hybrid bearings with different sizes of ceramic balls.
With regards to machine-tool applications, the offering now includes:
Support bearings and bearing units for screw drives;
Lock nuts for high-performance spindles;
New lubrication systems;
n Engineering solutions for precision measuring and spindle monitoring;
n A full range of spindles; and
Maintenance and refurbishment of all brands of spindle systems.
In machine-tool applications, bearings have to cope with temperature differences, expansion of inner rings, reduced contact angles and higher radial loads. The new generation of angular contact ball bearings has a new raceway geometry and a cage design, resulting in higher stiffness and less noise. The oval cage pockets are designed to accommodate the ball excursion in the bearing.
Coupled with this, the angular contact ball bearings have benefited from SKF's efforts to improve the material performance. This includes steel that offers better bearing kinetics and cage materials whose properties include higher strength and ability to allow grease and oil to adhere properly. Surface profiles and quality also contribute to lower wear and less noise.
The spindle range is comprehensive and ranges from belt-driven to motor-driven and combined solutions. Application areas encompass woodworking, metal grinding and turning, plus aerospace applications that put demands on high power and extreme speed. As part of its new offering, the range includes a standard series with a delivery time of less than a month plus customer-specified designs.
Standard spindles are supplied as belt-driven or motorized and are available as cartridge or block units. This standard range includes high-frequency grinding spindles designed for applications that require high operating speeds at relatively low loads. Motorized spindles are offered for high-performance applications such as milling/turning, where high production levels call for high speeds, increased power and extended service life.
Magnetic bearings come into consideration in high-precision machines where application speeds are higher than appropriate for rolling bearings.
Monitoring and diagnostics are becoming especially important because of the ever-increasing extension of warranty periods. There is a need to continuously control the operations in machine tools in order to reduce unscheduled downtimes and meet safety requirements in the machines.
SKF offers sensor technology that provides monitoring and diagnostics of the spindle and, consequently, the cutting process. The measuring system has a radial sensor and axial sensor that can be used to detect the axial position of the shaft, cutting forces, synchronous forces caused by imbalances, vibrations due to spindle behavior, bearing condition and centrifugal and thermal expansions (fig.5).
The global machine-tool spindle market is estimated to be more than $1 billion. More than half of this is related to spindle maintenance and refurbishment. SKF has a spindle service network, which offers a global service for reconditioning most spindle brands and models.