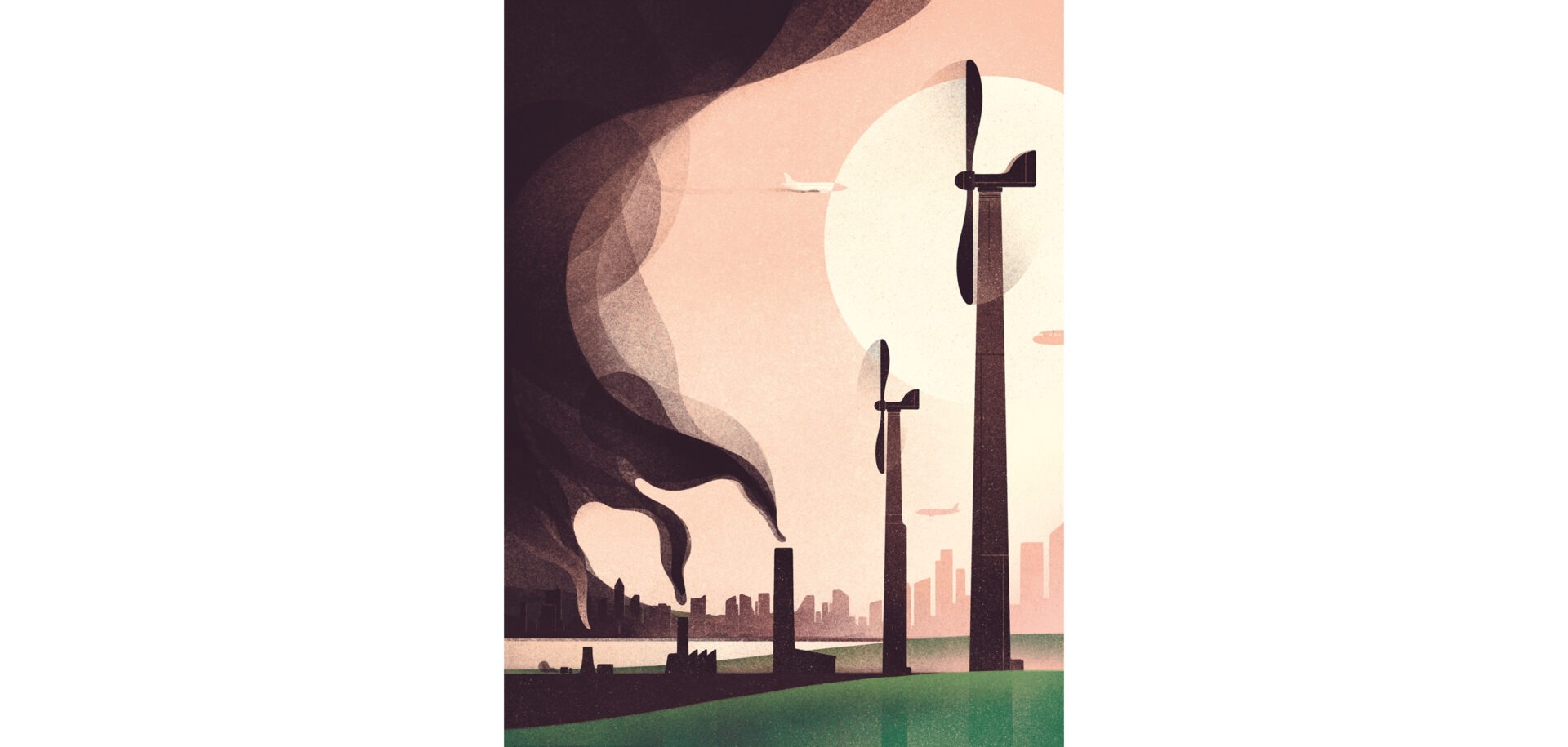 Green growth
Something remarkable happened in 2014. The world's economy grew, but carbon emissions did not. Big investments in renewable energy and an explosion of energy-efficient technology could point the way to a future in which economic growth does not mean more pollution.
For people who believe climate change is real and are trying to do something about it, 2014 was a watershed year. The global economy grew more than 3 percent, but energy-related carbon emissions didn't budge. This "decoupling" of economic growth and carbon emissions was the first recorded in 40 years, the International Energy Agency (IEA) said in early 2015. Previous falls or stalls in emissions growth had been accompanied by an economic downturn. The news was welcomed by climate change action advocates as proof that reducing emissions of greenhouse gases doesn't have to come at the expense of economic growth. "It was great confirmation that the change we are seeking is in fact possible," says Emily Rochon, a global energy strategist for Greenpeace in Brussels, Belgium. "Between 2008 and 2012, global economies were contracting or growing very slowly. Emissions weren't growing at a fast pace, but it wasn't clear if there was decoupling. "So really, this was the first year ever where you could point your finger at the data and say, 'There's the evidence: the economy grew but emissions didn't.' "
While a reduction in global carbon emissions is still years, possibly decades, away, experts say it's already happening in some developed countries such as Sweden, and 2014 could be the beginning of a long-term trend for the rest of the world. "2014 was encouraging, and it shows that when investing in low-carbon energy sources and other clean sectors, one can grow," says Isabella Neuweg, a policy analyst and research adviser to Professor Nicholas Stern at the Grantham Research Institute on Climate Change and the Environment at the London School of Economics. "That's a key point – it's not an either/or." But the so-called decoupling in 2014 didn't happen suddenly. Growth in global carbon emissions has been slowing since 2012, according to PBL (Planbureau voor de Leefomgeving), the Netherlands Environ-mental Assessment Agency and the European Commission's Joint Research Centre. That's mostly as a result of China's world-beating investment in renewable energy – a record 75 billion euros in 2014, up 39 percent from the previous year – and its efforts to reduce the pollution choking cities by shutting down or upgrading the dirtiest coal-fired power plants. But it hasn't been acting alone. Other countries, driven by self-interest or a genuine commitment to cut emissions, have also reduced their reliance on carbon-belching coal and oil and lowered their energy intensity. CO2 from energy accounts for nearly 70 percent of global emissions. Global investment in renewable energy increased sixfold in the past 10 years, reaching 244 billion euros in 2014, up 17 percent from 2013, according to data compiled by the Frankfurt School – UNEP Collaborating Centre for Climate and Sustainable Energy Finance and Bloomberg New Energy Finance.
The explosion of energy-efficient technology, from light bulbs to aeroplane engines, has also helped, as has the shale gas boom in the United States, which has spurred investment in gas-fired power plants. The investment has generated economic growth by creating jobs in new sectors and savings on energy costs, which companies are using to expand their businesses. It's also having a tangible impact on the global energy sector. Bloomberg New Energy Finance says new renewable energy capacity is now outpacing fossil fuels, and the IEA expects the trend to continue, with electric energy from renewable sources accounting for almost two-thirds of net additions to global power capacity over the next five years. The move away from fossil fuels towards renewable energy is being helped by the falling cost of technology, which has made things like solar and wind power more affordable and competitive with ever-cheaper coal and oil. But investment in sustainable energy and energy efficiency won't slow carbon emissions growth fast enough to avoid dangerous climate change. "To really have a long-term sustainable decoupling … I don't think we can get around the fact that we need to consume less energy," says Henrik Selin, who specializes in the politics and policy-making of environmental and sustainable development at the Frederick S. Pardee School of Global Studies at Boston University. But how can the world reduce its energy consumption when developing countries are expanding access to electric power to millions of people?
Part of the solution will be decarbonizing the energy those countries use and increasing their access to renewable energy through mechanisms such as the UN Green Climate Fund, Selin says. That way they can increase their energy consumption without increasing their carbon emissions as well. At the same time, the major carbon emitters – China, North America and Europe – will need to take fairly drastic measures to reduce their energy use. Greenpeace's Rochon says it is "technically and financially feasible" for the world to move to 100 percent renewable energy by 2050 and still enjoy a "reasonable level of economic growth" while limiting global warming to 2 degrees Celsius, which has become a target of global climate policy. But the world needs to act faster, particularly in areas such as transport, which has been neglected. "We are doing a good job in many parts of the world in rapidly adopting clean energy technologies and shutting down the dirty stuff," she says. "But that pace is not quick enough."