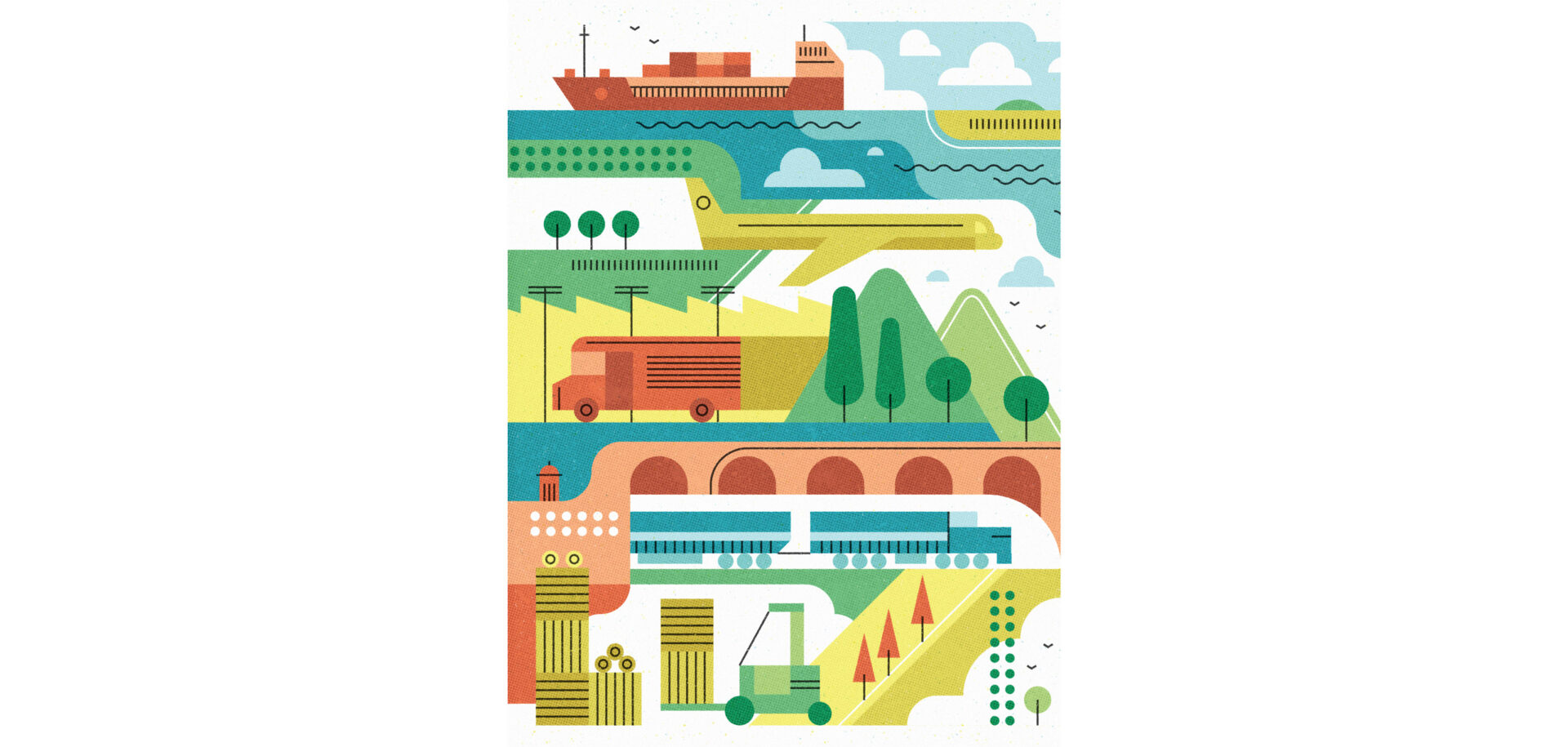 On the road to sustainability
Greenhouse emissions from the logistics industry are a growing problem. But more and more logistics service providers are taking measures to make their operations more sustainable.
The global logistics industry, a multi-trillion-dollar industry, generates almost 6 percent of the world's greenhouse gas emissions caused by human activity. It's a growing problem, and as the world economy expands, so too does the industry and its carbon footprint.
Fortunately for the planet, more and more logistics service providers are investing in measures to make their operations more sustainable, driven largely by government emission-reduction targets and consumer pressure. In some cases, they are motivated to become more sustainable by a genuine desire to reduce their environmental impact.
But progress has been slow, largely due to fragmentation in the road transport sector, which accounts for nearly 80 percent of emissions, says Edgar Blanco, research director at the Massachusetts Institute of Technology's Center for Transportation and Logistics in the United States.
"That's the unique thing about logistics," says Blanco. "Even though logistics is not the largest share of emissions in the world, it is the one that is not going down but instead keeps growing."
But creating a greener industry is possible. Experts say companies can upgrade their vehicles or switch to alternative fuels, increase the load factor on trucks and trains, make warehouses more energy-efficient, introduce driver training programmes and combine different modes of transport.
So why has the industry been so slow to act?
It turns out that making the necessary changes is complicated. One of the major obstacles is the need for cooperation with customers and, at times, competitors.
Such cooperation is easier to achieve in the shipping and aviation sectors, which are dominated by a small number of large companies, but it is more challenging in the highly fragmented trucking industry.
"Eighty percent of all truck movements are done by people who own one or two trucks," Blanco explains.
"The person who needs to make the investment in sustainability is the person who owns the truck, who may not have the capital, who may not have the knowledge and who may not have the interest because at the end of the day he or she is paid the same as any other truck driver out there."
Some larger companies are managing to collaborate, and they are reaping the financial benefits.
Wheels Clipper, a US-based logistics services provider, convinced its customer Tropicana to cooperate with its competitor Ocean Spray by sharing a train link between New Jersey and Florida.
Under the arrangement, Tropicana sends its orange juice to New Jersey and Ocean Spray uses Tropicana's empty boxcars to transport its cranberries to Florida, thereby saving both companies money and reducing their emissions. In the process Wheels Clipper gained another customer.
Other companies are going green by necessity.
German state-owned railway DB Group, including its wholly owned logistics broker DB Schenker Logistics, is obliged to contribute to the German government's goal of reducing carbon emissions by 40 percent from 1990 levels by 2020. DB Schenker Logistics, which accounts for the majority of the company's emissions, is on track to achieve its contribution targets through a combination of driver training for its more than 30,000 drivers and agreements such as the one it has signed with Maersk Line. The agreement requires the Danish container shipping company to reduce its emissions by 20 percent over the next five years in exchange for more freight business from DB Schenker Logistics.
Government coercion is also being used in Sweden, which plans to have a fossil-fuel-independent transport sector by 2030.
Mattias Goldmann, managing director of Swedish think tank Fores, says many companies are trying to make their operations more sustainable in response to the government mandate and, increasingly, customer demands.
An alliance of 10,000 trucks, for example, has set up biofuel refuelling stations around the country, while some municipalities have introduced vehicle emissions and load-factor regulations for trucks entering their region.
"Sweden is a country of long distances and not very many people, so we really need to be very efficient in the transport sector," says Goldmann. "This is an area where Sweden could be a world model."
The challenges of creating a more sustainable logistics industry are even greater in developing countries, where governments are often weak on enforcement and there are competing concerns about poverty and unemployment.
"The priority for these governments is for people to drive any truck and to have a job," says Blanco.
But even cash-strapped truck owners can reduce their emissions and save money through better maintenance, driving at slower speeds and selecting the most direct routes.
"If as a company I plan to make my logistics greener, I can make them greener," says Blanco. "But I have to plan for it, the same way I plan for them to be more efficient and responsive."
SKF enables sustainable and reliable logistics solutions
SKF Logistics and Demand Chain supports the global supply and distribution chain of the Group and has the responsibility of developing and delivering services that are cost-effective, competitive and envir-onmentally sensitive.
The emissions generated from logistics related to SKF are included in the targets defined in the Group's climate strategy. The target is to reduce CO2 emissions per tonne-kilometre by 30 percent by the end of 2016 from the baseline year 2011. SKF focuses on three main areas to reach the targets:
1. Eliminating unnecessary transports.
2. Switching to more CO2 efficient transport modes.
3. Making the chosen transport modes more efficient.
At year end 2014, SKF had reached a 15 percent reduction.
Taking responsibility for sustainability requires dedication. However, it has been proven many times that sustainable solutions are business opportunities that often go hand in hand with reduced costs. SKF is positioning itself in the front line of sustainable logistics solutions and is determined to continue to find solutions that contribute to its climate target.