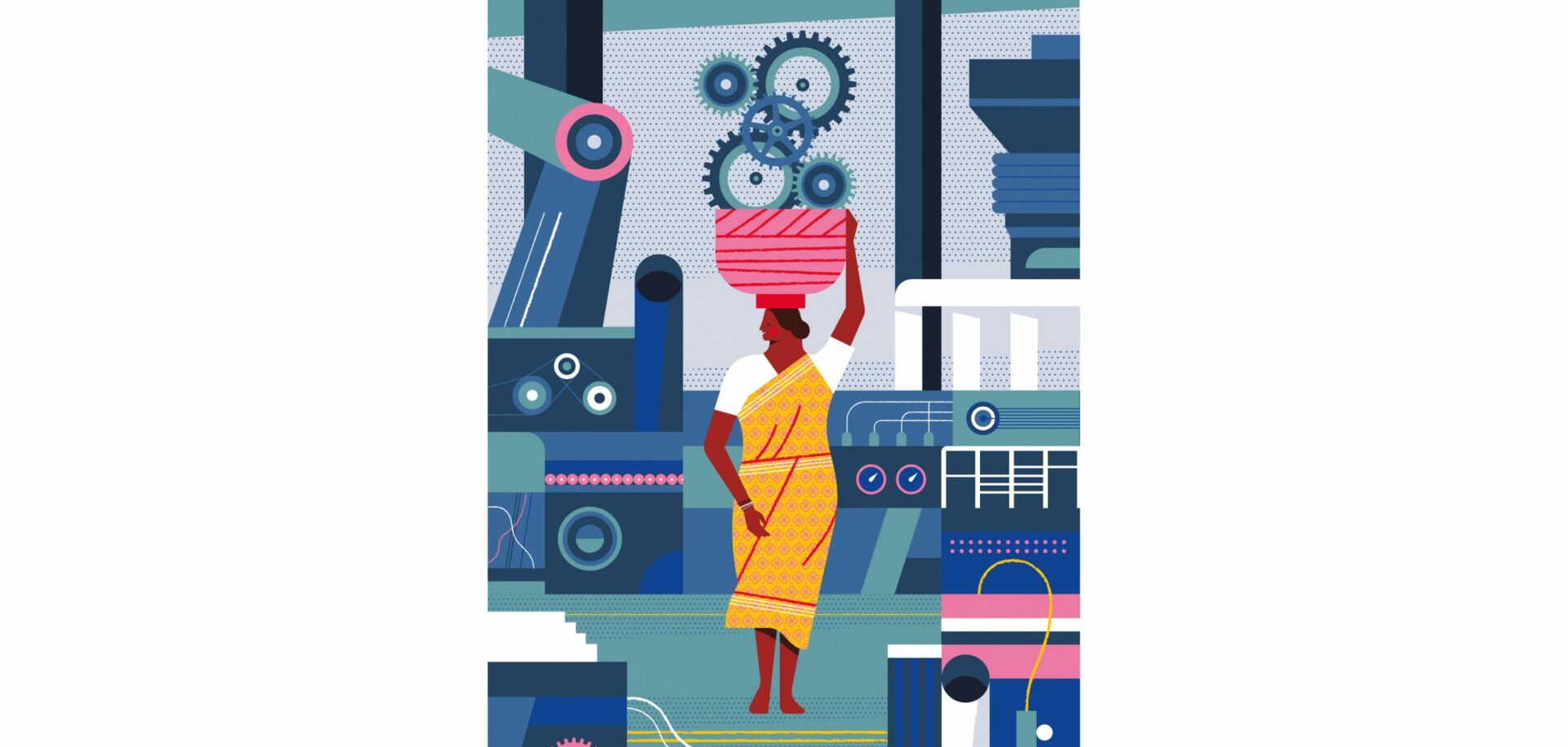 India's global ambitions
Will "Make in India" make a difference? The hope is that the campaign will attract new business from the manufacturing sector, generating jobs and cash, but in a country so vast and complex, nothing is simple.
In September 2014, Indian Prime Minister Narendra Modi launched the "Make in India" campaign with the aim of turning the country into a global manufacturing hub that rivals China.
The labour-intensive manufacturing sector is a significant part of the initiative because it's seen as a key to unlocking India's economic potential and lifting hundreds of millions of people out of poverty – much as it did in China over the past three decades.
The hope is that encouraging foreign and domestic companies to expand operations or set up new factories in India will generate much-needed production jobs for the estimated 12 million people joining the Indian workforce every year, as well as the hundreds of millions of rural dwellers expected to migrate to cities in the coming decades.
The knock-on benefits would be greater consumption, improved infrastructure and faster economic growth.
But replicating China's success won't be easy. Economic reforms that underpin the campaign, such as making it easier for companies to buy land and simplifying the tax system, have stalled in the upper house of India's parliament, where Modi's Bharatiya Janata Party does not hold a majority.
"There is ample political will, as evidenced by the government's pro-business legislative agenda and related initiatives, but converting rhetoric into reality has been challenged by a litany of factors, including a highly complex political environment," says Romita Das, a Singapore-based analyst at global risk consultancy Control Risks.
As most major economies worry about their ageing populations, India's working-age population is still growing; it is forecast to increase from 761 million in 2011 to 869 million in 2020 – and by 2025 India could have the largest workforce in the world.
This huge labour pool should give India a significant advantage over its competitors. But in an economy dominated by the service sector, there are not enough jobs to go around, and the vast majority of workers have no formal training, which limits their options.
SKF's role in "Make in India"
SKF has been a direct beneficiary of the "Make in India" campaign as well as an active contributor, says Shishir Joshipura, managing director of SKF India.
Plans to build a new lubrication systems factory near the southern city of Bengaluru were caught up in legal wrangling and bureaucratic red tape for four years, Joshipura says.
Following the launch of Modi's campaign, however, SKF approached the local government authorities for help, and within two weeks authorities had found a new location for the facility and given the green light for construction to begin.
"It's a very positive development for the country and for us," Joshipura says of Modi's campaign, which aims to boost foreign investment in the wind power and railway sectors – two of the industries that SKF is involved in – amongst others. "As more and more companies set up their manufacturing bases in India or expand their operations, SKF will benefit from having more potential customers."
SKF is already well established in India, with bearing factories in Ahmedabad, Bengaluru, Haridwar and Pune and a seals factory in Mysore.
That's why Modi wants to increase the size of India's manufacturing sector to 25 percent of GDP by 2022, compared with the current 16 percent: It's labour-intensive and it doesn't necessarily require workers to be highly skilled.
To facilitate greater investment in the sector, Modi's government is easing or removing restrictions on foreign direct investment in key areas and cutting red tape to make the country more investor-friendly – changes that don't require approval of the opposition-dominated upper house.
The response from foreign companies has been favourable, analysts say. Foreign direct investment reached 40.8 billion euros in the financial year ended in March 2015, according to government data – up 22 percent from the 2014 financial year and 29 percent from the 2013 financial year.
In late 2015, Japan and India signed a 13.8 billion euro deal for a 450-kilometre high-speed railway line between Mumbai and Ahmedabad, a city in Modi's home state of Gujarat. Taiwanese electronics manufacturer Hon Hai Precision Industry also pledged to spend 4.6 billion euros in the western state of Maharashtra, while General Electric and Alstom won contracts to build hundreds of freight locomotives for Indian Railways.
But many companies are still holding back. Doing business in India is challenging at the best of times, owing to the country's messy democracy and poor infrastructure. The lack of progress on key economic reforms has made some CEOs cautious, says Shilan Shah, an India economist for London-based economic research consultancy Capital Economics.
"Foreign companies are waiting on the sidelines to actually see it [Make in India] become more than just a sound bite, to actually be something that's credible and has been backed up by policy changes," Shah says.
If the "Make in India" campaign succeeds, along with other initiatives such as Skill India, which aims to train 500 million people in various skills by 2022, then India's economic growth could reach 10 percent a year "for a sustained period of time", says Shah.
But it won't happen quickly. "It's an ambitious project," he says, "one that will probably take quite a long time to actually come to any fruition."