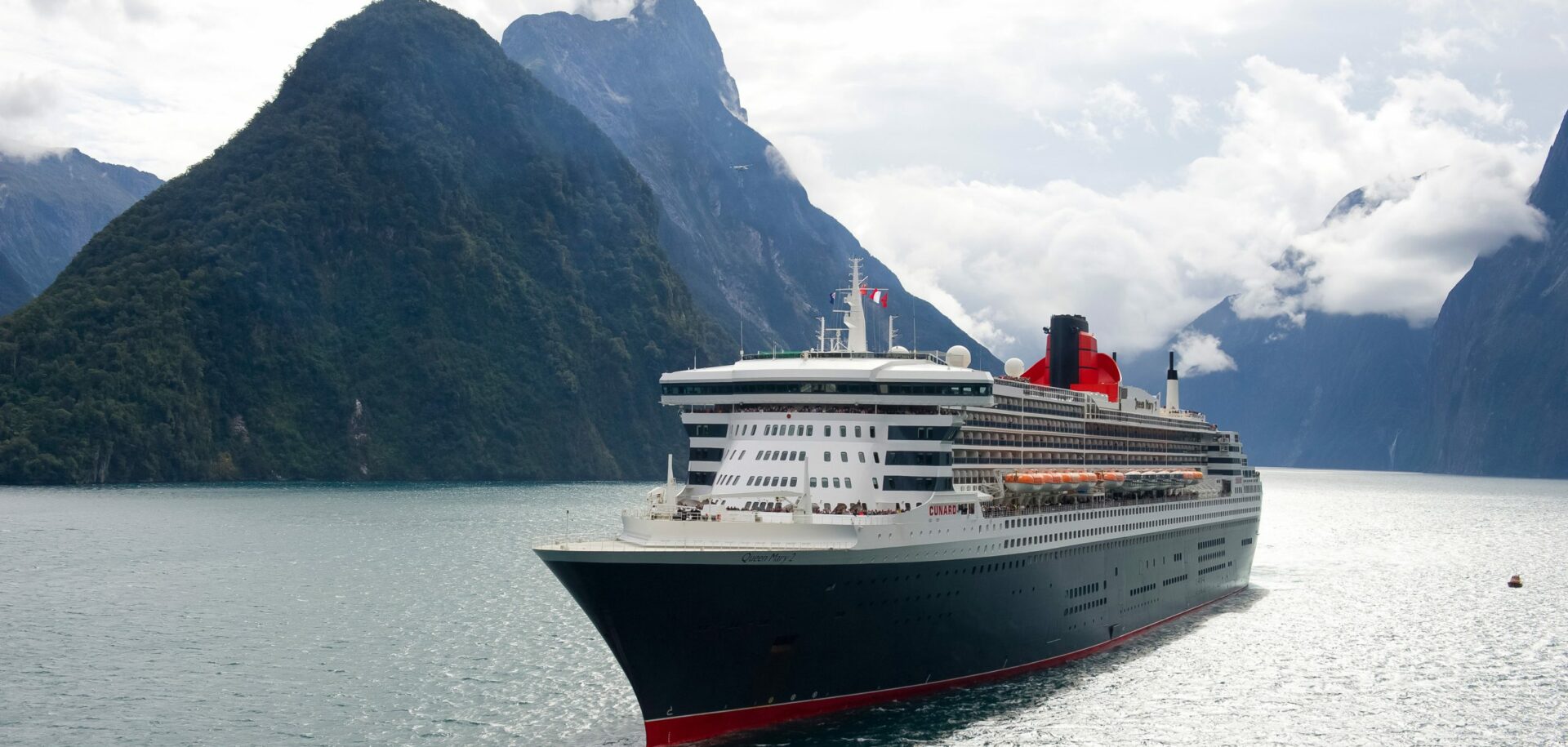 Innovative ship propulsion design
Cruise ships, floating cities that move. The Queen Mary 2 moves with the aid of an innovative integrated electrical propulsion system.
While every person and part aboard a liner such as the RMS
Queen Mary 2
plays an indispensable role in the luxury cruise experience, the electric and rudderless propulsion system, unbeknownst to most guests, is the reason the trip can take place at all.
"The Queen Mary 2 isn't the latest or biggest ship to ply the high seas, but it is one of the most innovative in terms of propulsion," says Espen Tandberg, manager of sales and technical sales support at Rolls-Royce Marine Services in Kristinehamn, Sweden. Tandberg oversaw the 17-day planned overhaul of the ship's thrusters, stabilizers and Mermaid™ podded propulsors in June 2016.
Four podded propulsors hanging off the stern is still a unique set-up in the Rolls-Royce Marine world.

Espen Tandberg
manager of sales and technical sales support at Rolls-Royce Marine Services
Built in 2004 for Cunard Line at a cost of 800 million US dollars – the most expensive cruise ship ever built – and christened by the UK's Queen Elizabeth II, the QM2 includes all the usual and superlative features ­lavish interiors, food and entertainment galore and a pampering crew. The keys to sailing the seas in such style are the four 260-tonne podded electric propulsors (two fixed and two swivelling, or azimuthing), each drawing 21.5 MW. The totally installed power would be enough to power a city of 300,000 people.
The Rolls-Royce Mermaid pods give the QM2, at 148,528 GT (gross tonnage), precision manoeuvrability in port and a maximum speed of 30 knots (56 km/h) at sea. The QM2 power plant comprises four diesel and two gas turbines, the output power of which is converted into electricity that powers the complete ship.
RMS QM2

Royal Mail Ship
Queen Mary 2
. Owned by Carnival Plc, operated by Cunard.
Tonnage: 148,528 GT.
Length: 345 metres; beam: 41 metres; height (keel to top of funnel): 72 metres (equivalent to a 23-storey building); surface area each side: 6,000 square metres.
Speed: 30 knots (56 km/h).
Guest capacity: 3,090 in 1,310 staterooms on 14 decks (plus 1,238 crew).
Fuel ­consumption: three tonnes of diesel per hour for four Wärtsilä engines (Wärtsilä 16V 46C-CR/16,800), six tonnes of diesel per hour for the GE gas turbines (situated directly under the funnel).
Total power installed: 117.2 MW, equivalent to 157,168 hp.

Rolls-Royce Marine
Rolls-Royce Group is a global company headquartered in London that provides integrated power and propulsion solutions. It has 50,500 employees in 46 countries and underlying revenues of 15.9 billion euros in 2015.
The Rolls-Royce marine business traces its roots back to 1831 and includes many established Nordic brand names, such as Kamewa waterjets and Aquamaster azimuth thrusters.
The Rolls-Royce plant in Kristinehamn, Sweden, has about 400 employees and provides marine propulsion solutions.
By being placed outside the ship, these "podded propulsors" – think propeller, motor and rudder wrapped into one – free up space that otherwise would have been occupied by shafts and other transmission systems, making more room, of course, for luxury amenities.
The QM2's podded propulsion system is still so innovative that it will remain a lesson in ship design for years to come. "Mermaid pods have steadily improved over the past decade," Tandberg says, emphasizing how the long-lasting partnership with SKF has led to steady quality and design tweaks through some well-publicized growing pains. "Four podded propulsors hanging off the stern is still a unique set-up in the Rolls-Royce Marine world," he says.
The two azimuthing pods swivel 360 degrees, enabling the ship unparalleled sideways manoeuvrability. The two fixed pods are used for thrust. All four pods have 6-metre-diameter, high-skewed, fixed-pitch propellers for low noise level and low vibration level. Inside the pods are a shaft and a stator, not unlike a toy electric motor, as well as, of course, bearings. (See sidebar.)
Since it left its natal shipyard, Les Chantiers de l'Atlantique in Saint-Nazaire, France, in January 2004, the QM2 has undergone several planned and unplanned maintenance stops where everything on board – including rugs, furniture and machinery – was fixed, replaced or overhauled. Planned maintenance stops, usually at three- to four-year intervals, are preventive and carefully planned. "They are like a Formula 1 pit stop," says Tandberg. "There's no room for error. The ship has a deadline to keep."

A joint effort
Over the past years, Rolls-Royce Marine Services and SKF jointly re-engineered the internal bearing set-up in the Queen Mary 2's ­podded propulsors. "The story is one of continuous improvement," says Torbjörn Holmqvist, application engineer at SKF. Holmqvist explains that one critical design improvement was to redesign the non-drive-end bearing arrangement (two spherical roller trust bearings paired face-to-face). A "common shaft washer" was introduced, which in essence joined the two separate bearings into one. Another important improvement was to use non-standard and extremely high-quality steel alloys for both bearings, all in all to extend bearing service life considerably.
In June 2016, the QM2 docked for planned maintenance at the Blohm & Voss Shipyard in Hamburg, Germany. The maintenance included replacing the drive-end CARB bearing and the non-drive-end spherical roller thrust bearings on all four pods. A team of four SKF service engineers, headed by David Berndtsson, manager of bearing analysis and mechanical service, worked with Rolls-Royce personnel to replace the bearings. All went smoothly, well within the time frame.