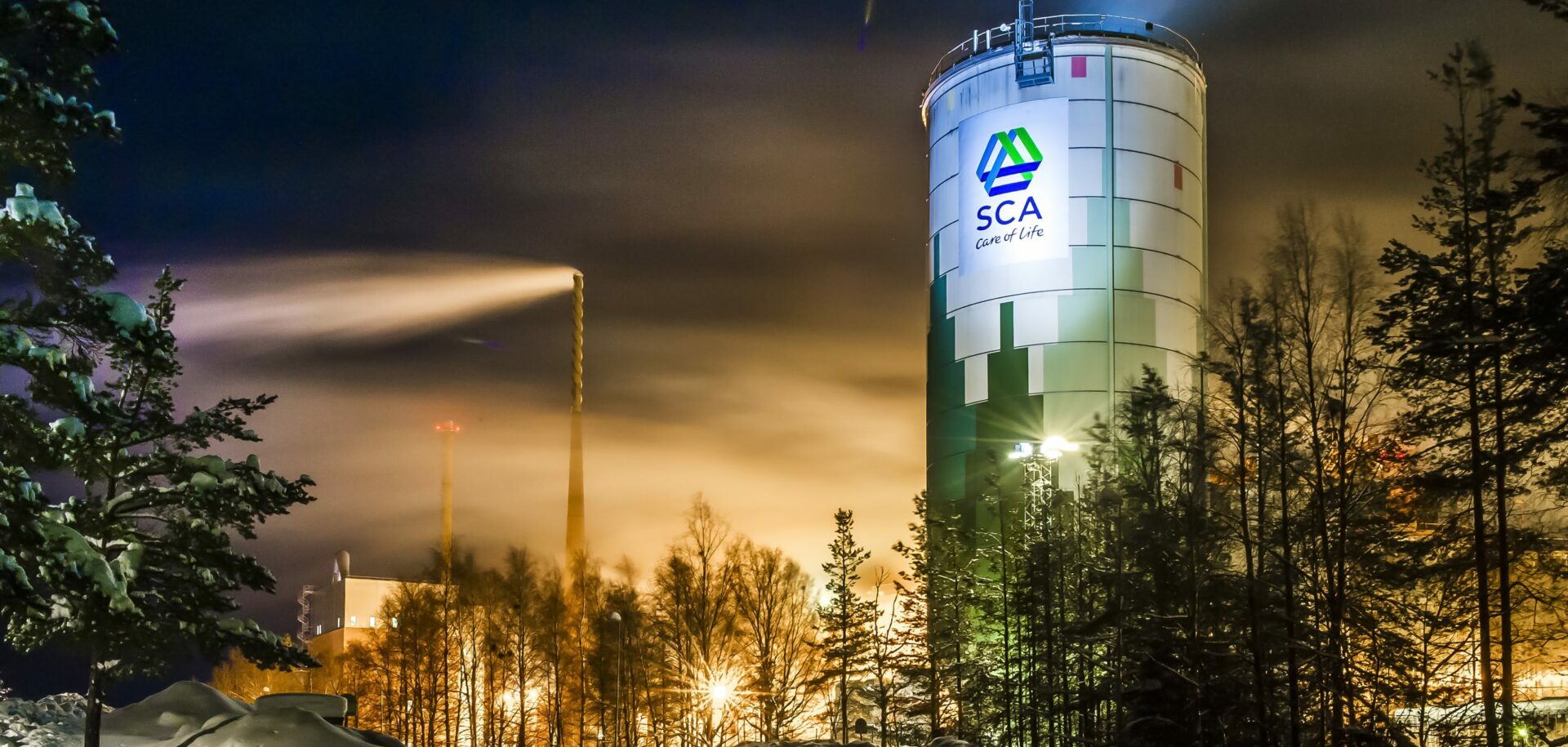 Investing for the future
The 87-year-old Munksund paper mill in northern Sweden is kept up to date to meet the demands of today's customers. One of the latest improvements is a state-of-the-art online condition monitoring system.
Every day at the Munksund paper mill in Piteå in northern Sweden, more than a thousand tonnes of trees are mechanically pulped and turned into material for one of the most common consumer goods in the world – packaging. The mill is owned and operated by Swedish forestry giant SCA and is a profit centre for the group.
Rikard Lundgren, Munksund's mechanical maintenance manager, lifts a corrugated cardboard box onto a table in the conference room. "We make the kraftliner paper on the inside and outside of the packaging," he says. "This paper comes in various weights, from 115 to 440 grams per square metre, to sandwich together the corrugated fluting in between."
Corrugated packaging is used to package everything from microwave ovens to iPhones and iced fish. The octabin, for example, an eight-sided box big enough to house two or three washing machines, is often used to dispense potatoes at supermarkets. In addition to durability, such packaging also needs to be printable for four-colour in-store displays, hence the need for white and brown paper.
The Munksund mill was origin-ally built in 1928 to supply other paper makers with pure pulp. It wasn't until 1961, however, that a full kraftliner line started oper-ations in Munksund.
SCA is a leading global hygiene and forest products company. In 2014 sales were approximately 104 billion Swedish kronor (11 billion euros) and the company has about 44,000 employees.
The company has three business areas: Personal Care, Forest Products and Tissue.
The business area Forest Products, of which the Munksund mill is part, comprises five product segments: publication papers, kraftliner (packaging papers), pulp, solid-wood products and renewable energy. Production is conducted at 20 different facilities. Products are sold mainly in Europe but also in Asia, North Africa and North America.
Double-trailer trucks supply the mill with timber from nearby SCA-owned and sustainably managed forests. Fibre is also supplied from recycled packaging. In the mill, a special industrial-sized blender is used to blend together bales of recycled cardboard into a smooth mixture. Today, the Valmet paper machine PM 1 in Piteå produces 1,100 metres of kraftliner paper per minute. The paper is delivered in 60-tonne rolls.
A papermaking machine is the size of a small container ship and is surrounded by a sea of satellite machinery – turbines, pumps, grinders, compressors, supply lines and more – which give the plant the air of a small city.
SCA has invested heavily in making the most of Munksund. This includes building a new press section, installing an improved reel-wrapping line and building a new wastewater treatment plant. In 2014, Munksund began installing SKF condition monitoring systems in the mill. In 2012, a 500 million Swedish kronor (53 million euros) investment introduced a new lime kiln that runs on biofuel. The lime kiln is part of a chemical recovery system to reduce CO2 emissions by 75 percent. The kiln uses wood pellets instead of fuel oil to create the required heat to produce paper. A major proportion of these pellets are supplied by SCA's nearby sawmill, also located in Piteå.
The total kraftliner production in Munksund in 2015 is budgeted at 390,000 tonnes, up from 369,000 tonnes in 2014. The aim is to ratchet up production to 415,000 tonnes.
"We are continually optimizing all our processes to reach these levels, step by step," says Lundgren. "The time has come to deliver on the investments. Our goal is to run at 98.5 percent, up from 98 percent not so long ago. Just a half percent in technical terms is enormous."
Maximum runability
SKF received an order from SCA Munksund in March 2014 to install the SKF IMx online condition monitoring equipment on 780 specially chosen PM 1 roller and pump bearings throughout the mill. The installation included CMSS 2200 sensors with yellow, heat-resistant CMSS R6SL-J9T2A cables, 27 IMx connection boxes, training and SKF @ptitude Observer software. SKF is also a key supplier of standard and speciality bearings to the mill, as well as handheld condition monitoring systems for some 10,000 vibration points on pumps, rotors, motors, fans and other moving parts.
This is one of the largest online condition monitoring systems ever installed in a paper mill in Sweden.
The installation had its challenges. "We had to work around planned and unplanned stops in the production," says SKF Region and Key Account Manager Anders Lövgren. "The mill has only one planned week-long maintenance stop per year, and eight- to 12-hour stops every third or fourth week. And the temperatures where we had to drill, screw and install cabling could reach 50 °C and above. It was like a sauna."
The installation end result is a comprehensive trend and performance profile and early warning system in real time of all moving parts for max-imum runability.
@ptitude is a registered trademark of the SKF Group