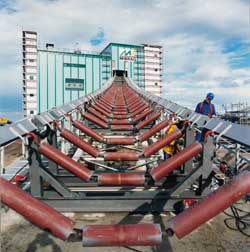 A better way to convey
Throughout industry, conveyors are employed to do tough jobs under harsh conditions. One manufacturer, Precismeca, has found innovative ways to ensure its products don't buckle under the pressure.
Throughout industry, conveyors are employed to do tough jobs under harsh conditions. One manufacturer, Precismeca, has found innovative ways to ensure its products don't buckle under the pressure.
The conveyor for a phosphate mine may be called upon to carry 2,300 tons an hour over 60 miles of desert where the temperatures vary from 30 to 140 degrees Fahrenheit and sandstorms are frequent.
    A conveyor for a coal mine in Russia might be required to carry 6,000 tons an hour amid snowstorms and temperatures between minus 60 and 100 degrees Fahrenheit.
    A conveyor for iron ore in Malaysia might have to carry its load in conditions of up to 100 percent humidity.
    Difficult environments are a fact of life in the conveyor business. And despite these difficult environments, conveyors – and the rollers and pulleys that allow them to keep running – are expected to stay in operation, often for 24 hours a day, for years on end.
    Hans-Peter Schmidt, managing director of technology for German company Precismeca-Montan, a world leader in the manufacture of conveyors and rollers, is a reserved man, but he smiles as he shows Evolution some photographs that he took while on a recent trip abroad. The photos are of a non-Precismeca conveyor, and the conveyor is in trouble. Flanges have come off the rollers, creating sharp edges that slit the conveyor belt. Bearings have jammed, and the belt has rubbed right through the roller surface, leaving a huge oval hole. Other parts have been eaten away by acids used in the manufacturing process.
    "This is what happens if you get cheap components," says Schmidt. "Then, when the problems start, the companies come to us. We often have to play the troubleshooter."
    The company was recently called to the lush forests of Thailand, where the rollers on a conveyor used for transporting wood kept breaking down. Initially, Precismeca rollers also broke down, but soon the engineers discovered that the climate was to blame. The area was very humid, with big temperature swings between night and day. As a result, condensation was forming inside the rollers, causing them to rust and jam. Upon researching the problem, Precismeca was able to develop a new seal system that kept moisture at bay.
    Precismeca's speciality is close cooperation with the customer. With four factories (two in Germany, one in France and one in Canada), licensees in Japan, Brazil, South Africa and Sweden, and a network of agents around the world, the company can stay close to its users, listen to their problems and solve them.
50 years in the making
Precismeca started out under another name making piston pins in Sulzbach, near the German city of Saarbrücken, in the mid-1940s. In 1946, the factory began manufacturing conveyor rollers for the nearby coal-mining industries of the Saarland and Lorraine. From there it was a small step to making rollers and pulleys for all kinds of conveyors, as well as other conveyor components, such as garlands and carrying frames. In the late 1950s Precismeca opened a sister factory, Precismeca S.A., in France.
    Precismeca Ltd. of Alberta, Canada, was founded in the 1970s, after the first global oil shock led to a massive increase in the use of tar sand as a source for crude oil, which resulted in a demand for conveyors.
    After German unification in 1990, the opportunity arose to acquire Montan GmbH in Leipzig, East Germany, which was a leading supplier of conveyor technology to eastern Europe and had been closely involved in open-cast mining in East Germany. The company's full name is now Precismeca-Montan Gesellschaft für Fördertechnik mbH.
    The conveyor component market covers a wide spectrum. At one end are simple, small conveyors requiring little specialist knowledge. According to Carl-Henrich Locnikar, the company's commercial managing director, Precismeca is one of many companies in this market, although even here standards are high. Only certain manufacturers are allowed to supply the tubing that forms the roller body; it must be perfectly round to ensure that the belt runs smoothly. The maintenance-free bearings are sealed using the company's labyrinth seal, to prevent outside contamination from damaging smooth operation.
    But as conveyors grow in size, the competition shrinks. Only six companies worldwide make components for conveyors that are more than 10 feet wide and run at up to 26 feet per second. On this scale, the engineering must be precise: Vibrations in the rollers or pulleys and surface irregularities must be kept to a minimum. Making rollers for specified conditions requires sophisticated technology. Specific seals must be used to stop the elements from getting to the bearings; specific greases are needed for different climates; bearings must be designed to deal with various loads, including heavy weights that may be dropped from a loader – and surfaces must be designed to deal with particular materials. As a result, Locnikar says, the company's design computers contain 15,000 different roller designs. The variety is even greater when it comes to pulleys. According to technology managing director Schmidt, every pulley is unique, since every belt is of a different length and carries a different weight at a different speed.
    It's the ability to produce this variety, as defined by the customer, which is at the heart of the Precismeca philosophy. Consultations begin early in a project to determine exactly what is needed, not just in terms of Precismeca's own products, but also in respect to other variables such as the speed of the belt, or its shape and tension. The pulley is of central importance: If it breaks, the belt and its load will be thrown off.
    Consultations continue throughout Precismeca's relationship with a customer. For example, Precismeca has developed a new roller for the open-cast lignite mine operator Rheinbraun, which meets Rheinbraun's demands for 24-hour operation near built-up areas. The roller has been designed to make the conveyor up to nine decibels quieter than previous models. The roller surface has been optimized, but more importantly, every roller is individually balanced with weights to ensure that it runs smoothly.
    Precismeca has also cut the cost of Rheinbraun's newest roller by 30 percent compared with previous models. Before this, Rheinbraun had always used fairly large bearings to ensure a safety margin for security of operation. But Rheinbraun and Precismeca carried out an analysis of roller failure, showing that it resulted infrequently from bearing failure and much more often from outside contamination by dust and dirt. Precismeca was able to reduce the size of the bearing and improve the quality of the seal protecting the bearing, all of which have helped lower the cost.
    So as a company, Precismeca is more than a producer of conveyor components – it's a partner in the development of technical solutions for bulk conveyance problems.
Michael Lawton  
a business journalist based in Cologne