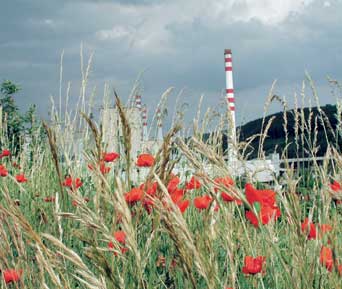 A concrete cooperation
Skyscrapers, bridges, roads and dams are all made of concrete, the world's most widely used building material. Cement is its key ingredient, and bearings play a key role in a large cement plant.
Summary
The SKF solution
The exhaust fan bearing system at Holcim Slovensko's raw material mill was upgraded by incorporating a CARB® toroidal bearing in the non-locating position and installing new SNL plummer block housings equipped with System 24 single-point automatic lubricators. Shaft alignment was executed with an SKF shaft alignment tool TMEA1, providing a high degree of alignment accuracy.
On the exhaust fans of the main kiln, CARB toroidal bearings were installed in the non-locating position. The bearing housings were adjusted to accommodate the CARB bearings. The result of the upgrading is an extension of the interval be­tween bearing replacements to at least 30 months, compared to less than a year previously. "The cost savings to Holcim are very important," says Stanislava Koleničová, managing director of SKF Slovensko. "They don't need to stop that often."
Skyscrapers, bridges, roads and dams are all made of concrete, the world's most widely used building material. Cement is its key ingredient, and bearings play a key role in a large cement plant.
Replacing bearingson a 3,500-tonne-a-day cement kiln may seem a matter of minor importance. But when you consider that stopping the raw material mill or the main kiln system because of bearing failure can cost several days' production, the importance of good bearing maintenance becomes evident.
In Slovakia, Holcim Slovensko's ultramodern cement plant benefits from a predictive maintenance programme, supplied by a team of three partners: DG Servis Stupava (DGSS), Slovenská Ložisková Spolocnost (SLS) and SKF Slovensko. In May 2003, these three companies signed a contract with the cement producer. The objective: to achieve trouble-free operation of bearings at the plant located at Rohožník, some 40 kilometres north of Slovakia's capital Bratislava; to predict the need for replacements; and to supply them on a just-in-time basis.
Holcim Slovensko is the largest producer of building materials in Slovakia. Construction of the Rohožník cement plant started in 1971, when Slovakia was still part of Czechoslovakia. In September 2004, the company completed the first phase of a 2.4 billion koruna (58 million euros) refurbishment project of the rotary cement kiln at the Rohožník plant, whose cement production line is now considered to be the most modern in central Europe. Slovakia's prime minister, Mikulas Dzurinda, and numerous other national and local dignitaries attended the inauguration celebrations for the new kiln.
SLS, established in 1992, is the authorized local SKF distributor, holding bearing stocks and many other engineering accessories. Its engineering department provides complex technical support for bearings and other related engineering services. Under the contract, SLS is responsible for just-in-time deliveries of bearings and related accessories to Holcim.
"Keeping a stock of bearings doesn't sound difficult or exciting," says Adrián Šramko, director of SLS. "But, in fact, inventory management is a highly skilled business. If you keep too large a stock, or you keep the wrong items, the cost of working capital sinks your company; if your stock is inadequate, you lose your customers, and you go out of business anyway."
DGSS, an authorized distributor of SKF Reliability Systems, carries out predictive maintenance on Holcim Slovensko's equipment. "We use various techniques to determine an equipment's condition while it operates. The most important of these techniques is vibration measurement and analysis. With a series of highly accurate measurements of equipment vibration at regular intervals, we can detect trends. Trends and spectrum analysis then reveals possible malfunctions in the equipment before they have serious consequences, and we can determine how the machine's condition will develop," says Michal Štoffa, CEO of DG Servis Stupava.
For its part of the contractwith Holcim, SKF Slovensko supplies SKF know-how and provides technical support, training and engineering services. "This is an innovative programme," says Stanislava Koleničová, managing director of SKF Slovensko. "Cooperation and good teamwork are the keys to its success. Each party contributes its own high competence, and everyone benefits from the result."
Koleničová points to two cases that show how Holcim Slovensko gains from the predictive maintenance contract. One case is the raw material mill, where vibration analysis had detected an incipient problem on the exhaust fan. Uneven dust build-up on the fan blades caused vibration, damaging the spherical roller bearings supporting the shaft. DGSS reported to Holcim, and whilst Holcim was dealing with the fan's imbalance, SKF was asked to replace the damaged bearings. This resulted in an upgrade of the bearing system.
The other caseinvolved the replacement of two exhaust fans on the main kiln. Here, too, the bearing system was upgraded, resulting in an extension of the interval between bearing replacements to at least 30 months, compared with less than a year previously.
Peter Škarupa, project manager at Rohožník, adds a word of explanation. "In the main kiln system, the induced draft (ID) fans are the weakest link. If these stop working, the whole production line grinds to a halt. The raw material mill exhaust fans, which work in tandem with the ID fans, are also vital. Typical downtime in the event of a major breakdown is four days. You can imagine what that means in a 3,500 tonne-per-day cement kiln."
Ján Výleta, Holcim Slovensko's head of central mechanical maintenance, observes two major benefits from the contract: significantly lower maintenance costs and minimal production losses due to bearing breakdowns.
"By replacing the old bearings with SKF's quality bearings we prolonged the service life of the bearings used in our plants by two to three times. The service that DGSS, SLS and SKF provide is available to us day and night, seven days a week, and we greatly appreciate their immediate response to our requests. One of the biggest advantages of this predictive maintenance contract is that they always hold a stock of strategic bearings, so as to act immediately in case a problem occurs," says Výleta.
The predictive maintenancecontract in Slovakia with DGSS, SLS and SKF Slovensko is one of the first of its kind for a company in the Holcim group. "Holcim is keeping a close eye on how this contract works out," says SKF Slovensko's Koleničová. "Holcim companies in Hungary and the Czech Republic may adopt similar predictive maintenance contracts."
---
Holcim Slovensko
Holcim Slovensko, with 700 employees, is part of Swiss-based Holcim Ltd, a global group that is one of the world's leading suppliers of cement, concrete, aggregates and construction services. Construction of the Rohožník cement plant started in 1971, and on completion it was one of the most modern cement plants in the former Eastern Bloc. Today, Slovakia is a sovereign state, and the Rohožník plant, which has benefited from the infusion of Swiss capital and Western technology, is regarded as one of the most modern in central Europe.
---
Il Lingotto
Concrete is a marvellous building material. This is illustrated here: Fiat's car factory in Turin, Il Lingotto, was built between 1914 and 1920. The architect of this building was Giacomo Matte-Trucco. It is one of the most advanced Italian industrial buildings of its era and a stunning example of concrete as a building material. Today, the 126,000-square-metre building has lost its original purpose and is a part of the industrial archaeology.