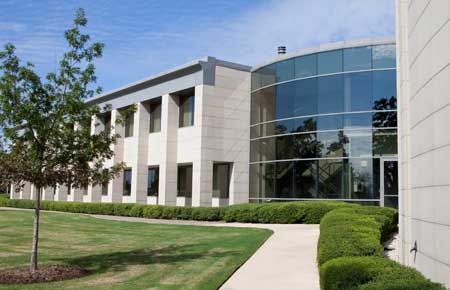 A fluid transfer of knowledge
Texas A&M's renowned engineering school fills a gap in pumping technology education with a new pump lab designed to give students real-life experience with industrial applications.
Texas A&M's renowned engineering school fills a gap in pumping technology education with a new pump lab designed to give students real-life experience with industrial applications.
The invisible gap between the world of academia and industry just grew smaller at Texas A&M. Along the north side of the campus, the deep hum of a motor permeates the air. Students loaded down with backpacks scurry by with a sense of urgency and seriousness on their way to Texas A&M's Dwight Look School of Engineering.
Tucked into J.R. Thompson Hall is the DXP Pump Laboratory, which is the first of its kind to offer a comprehensive fluid-transportation curriculum to engineering students and industry professionals. The laboratory awakens a natural sense of curiosity with its bright lights and interconnected units of motors, pumps, tubes, pressure gauges and computers. It resembles a scaled-down oil refinery.
By passing light through clear acrylic tubing, students observe formation and collapse of low-pressure bubbles entering the inlet of the pump. They manually choke back on a suction valve feeding the pump to create mini implosions, causing pressur-ized fluid to simulate cavitation. This helps them understand the impact of fluid pressurized by means of mechanical forces, such as those resulting from the rotation of an impeller in a centrifugal pump, and is an example of how the trainer pumps are used to provide actual industry experience.
The complexity of the setting is quickly simplified by Mike Golla, lecturer of engineering and the lab's pion-eer. His introduction of the lab is as detailed as it is enthusiastic.
"The importance ofthe conversion of fluids in this pump system is the behind-the-scenes processes that go unnoticed by most people," Golla says as he points to a map on the lab wall. "Wastewater, storm water, even chicken plant processing are a necessary part of life and just a few examples of why fluid transfer is so important. We don't see the 'why' of something failing in the classroom, but with this type of lab, by creating various loads on the parts, we can determine why pumps, bearings and motors fail."
Transporting fluids through water treatment plants, oil refineries and gas-production lines generates heavy loads on motors, pumps and rolling bearings. The result for industry is equipment damage leading to billions of dollars in lost production time and equipment replacement. What students are learning in the DXP Pump Laboratory about the effects of cavitation and other real-world situations can lead to better decision-making processes. The simulated environment is enabling students and industry experts to learn valu-able information for practical application.
Texas A&M engineersand industry experts were on a mission to fill the gap in pumping technology education when they teamed up to create the DXP Pump Laboratory at the Department of Engineering Technology and Industrial Distribution. The concept for the lab was born in August 2007 when Mike Golla and Todd Hamlin, friend and former Texas A&M engin-eering undergraduate, discussed the apparent need for a pumping-technology training program.
"There were no fluid transfer labs in the country offering combined practical and theoretical training," says Hamlin, vice president of the Gulf Coast region for DXP Enterprises, an industrial products and services distributor. "That's why Mike and I felt this would be a great opportunity for both Texas A&M and the industry."
Texas A&M University, ranked in the top tier of engineering schools in the United States, is impacting the global marketplace through its graduates. Spread across 5,000 acres in College Station, Texas, the university invests nearly $570 million dollars in research, including support for NASA missions, the Department of Energy, and the Department of Defense.
After extensive collaboration, Texas A&M, SKF and DXP planted the seeds for the emerging lab project. To support the life of the lab, DXP donated a generous endowment gift to the Texas A&M Foundation. SKF contributed with condition monitoring equipment, including SKF Microlog AX and SKF Microlog GX advanced data collectors/FFT analyzers, software and training programs. Two years after the first conversations between Golla and Hamlin, the state-of-the-art pump lab was built and running.
The pump lab's fluid-transportation curriculum was created for various levels of experience within the engineering school and for industry professionals interested in gaining more knowledge through continuing education. Participants are able to combine their experience and the latest application-technology skills in a hands-on learning environment where mistakes are less costly than in the real world of industry.
The first courses were offered during the summer of 2009. In lower-level courses, such as Pumps 101 and 102 (Mechanical Power Transmission), concepts and components are presented to students. As students advance into upper-level courses, such as Pumps 201 (Fluid Power Technology), loads are simulated in the lab, creating real-world industry problems. Combining theoretical training and practical application in the lab gives students an advantage in preparing for future industry jobs.
"We can teach the science and theory in the classroom and then give a test based on this information," says Golla, "but what bridges the gap of a well-rounded education is the experience level."
With the additionof SKF's condition monitoring equipment, the Microlog AX and GX analyzers, course participants also gain experience in vibration monitoring and damage detection.
"Bearings are the first recognizable problem point in the industrial setting," says Golla. "Condition monitoring in the field is key to pinpointing those problems. We are closing the loop on the performance of bearings in industry by simulating real-world problems. We've moved from preventive maintenance to predictive and are now introducing proactive maintenance."
"This is an excellent marriage of academia and the marketplace," says Tom Light, SKF's regional sales director. "We are proud to be involved in this project. From a leadership standpoint, we are contributing to both the current and future generation of industry leaders in engineering by equipping the world with SKF knowledge and training."
In September 2009, Texas A&M's DXP Pump Laboratory was honored in an inauguration ceremony held on the university campus. Present at the ceremony were representatives from all of the contributing industry partners to the lab, including ITT-Goulds Pump, R&CW-Goulds Pump, Viking Pump, Wilden Pump and Engineering, SKF USA Inc. and EagleBurgmann.
For more information on courses offered through Texas A&M's engineering program, visit http://etidweb.tamu.edu/. For more information on continuing education courses offered through Texas A&M, visit http://readcenter.tamu.edu.
---
SKF contribution
SKF has donated condition monitoring equipment, software and training to the Texas A&M DXP Pump Laboratory. This donation included SKF Microlog AX and SKF Microlog GX data collectors/FFT analyzers, providing advanced vibration monitoring and measuring technology.
Students and industry experts are able to use SKF Microlog AX and SKF Microlog GX to measure vibration levels and detect damage in the equipment, applying classroom theory to real-world industry situations. Vibrations indicating misalignment and deterioration of motors, gearboxes, pumps and rolling bearings are recorded by the software.
This provides valuable information for the DXP Pump Laboratory, providing the first place in the world where students and industry experts can simulate industry pump problems in order to create long-term solutions in extending the life of equipment.