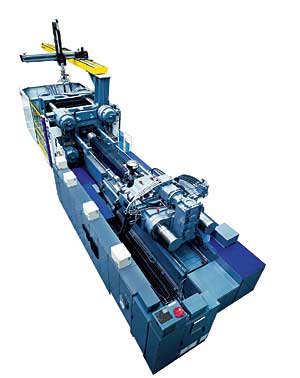 A passion for plastic
As usual, the Greeks had a word for it, long before plastics came to dominate modern life in the second half of the 20th century. The word was plastikos, from plassein – to mold or form.
As usual, the Greeks had a word for it, long before plastics came to dominate modern life in the second half of the 20th century. The word was plastikos, from plassein – to mold or form.
How polymeric materials are molded – by extrusion or by injection molding – explains an important difference between Austria's Engel and Italy's Zambello, two recognized leaders in the business of providing machinery for the plastics industry.
Both companies are similar in their passion for quality, instilled by their respective founders, Ludwig Engel and Zevio Zambello. And that has led them both to choose top-quality suppliers, including SKF bearings, for their products.
Engel today is a world leader in construction of injection-molding machines, producing 50 percent of all large plastics machines in Europe. Yet its beginning almost 60 years ago did not focus on plastic; it was based on whatever opportunities company founder Ludwig Engel could find in post-war Austria.
Engel had been a metalworker in what was then Yugoslavia. After World War II, he and his family emigrated to Austria and settled in Schwertberg, a small town near Linz. In 1945 he set up a mechanical repair shop and began making components for cable cars, a well-positioned business in a mountainous country. He expanded into stamping leather for boots and then, in 1948, into manufacturing hand-operated toggle presses for processing Bakelite, a kind of hard plastic for the electrical industry. From there it was a small step to plastic, notes Reinhard Bauer, manager of communications for Engel. This shift coincided with the growing European demand for consumer items made of plastic.
The original Schwertberg plant is still the company's headquarters, employing 1,300 people of the company's 3,300 total. Yet it is a brand-new facility, com-pletely redesigned and rebuilt after a devastating flood in 2002. "To compete with low-cost manufacturers in Asia, we have to be avant-garde, and we have the most modern injection-molding machine company in Europe," says Bauer.
The plant in St. Valentin, Austria, not far from Schwertberg, manufactures big machines. About half of them are sold to the automotive industry to produce car parts such as fenders, bumpers, dashboards and the like. Some 60 percent of Engel's sales come from the auto industry, and it is a fast-growing area of business. Herbert Zeidlhofer, manager of mechanical engineering at St. Valentin, recalls that in 1997 the St. Valentin plant built perhaps 170 machines per year. "In 2004 we expect to build 400 machines," he says.
The problem in all injection-molding machines – and more so in very large machines such as these – is that plastic shrinks up to 30 percent after the plastic melt is forced into a mold by high-pressure injection. To handle the resulting pressure, the machines are designed with two parts: an injection unit with a screw and a clamping unit to withstand the resulting pressure in the mold.
The machines in St. Valentin use a duo system with two mold-mounting platens, one stationary and one moving. Clamp force range is from 650 to 5,000 tons of force. This force, equivalent to the weight of up to 60 locomotives, one on top of the other, is what keeps the plastic melt from opening the mold.
Engel makes other types of machines as well: a smaller one with a tiebarless clamp and a fully modular system, with a clamp force range from 250 to 6,000 kilonewtons; and the traditional five-point toggle-clamp system with a clamp force range from 3,500 to 9,000 kilonewtons.
Bearings play an important role in clamping, with the challenge being the cyclical nature of the stress rather than the heat, speed or acceleration. "The cycle is from 10 seconds to 100 seconds, and this is stressful because the lubrication system is not optimal, especially on large machines," observes Zeidlhofer.
The SKF team, which had been working with Engel for more than 20 years, rose to the challenge of the lubrication problem. "They worked with us, suggested lots of improvements, behaved as true partners," says Zeidlhofer. "Based on their suggestions, we changed our design, the oil and viscosity, and the assembly process."
Engel's reputation is built on product reliability and responsiveness to its customers. "This is our success story," notes Bauer, " – being a system partner and a single-source supplier focused on injection molding only and responding quickly to our clients' needs."
Zevio Zambello always loved fooling around with machinery. Unlike his father and four brothers, all farmers, he left his hometown of Rovigo, Italy, at the age of 18 to seek his fortune as a mechanic in the industrialized region north of Milan.
He founded Zambello Riduttori in 1957 in Castellanza, Varese, supplying components for gearboxes for the plastics industry, which was booming after the end of World War II. About 20 years ago, explains Zambello, "I noticed that in Germany speed-reduction gearboxes for plastics machinery were being supplied by an outside company, not in-house as had been the case up till then. I decided to do the same in Italy, focusing on customers who manufacture extruders for plastics and rubber. We were the first to do so in this country, and a gearbox designed by me was our first product."
Business has grown consistently since then, confirming the wisdom of Zambello's strategy. Today the company has two manufacturing facilities, one in Magnago not far from Milano's Malpensa Airport, and the other in Lendinara, not far from Zambello's hometown. Magnago produces larger gearboxes, which can cost as much as $125,000. "Although we don't do custom machines as such, about 50 percent of our orders here are non-standard," notes Zambello.
Rovigo handles smaller, more standard items, more than 90 percent of which are standard orders.
The two facilities together produce 10,000 gear-boxes a year. In units, 30 percent are produced in Lombardy and 70 percent in Rovigo. In value the balance is 50-50.
"For the past decade – until a couple of years ago – we have been growing at 30 percent a year," says Alessandro Zambello, son of Zevio and the company's commercial manager (the other son, Ellio, is technical manager for the firm).
Zambello occupies a total of 38,000 square meters (409,000 square feet), including buildings of 6,800 square meters (73,000 square feet). Half of the company's production is sold outside of Italy.
The company's success is all the more impressive when one considers the competition – German and Japanese multinationals with tens of thousands of employees and huge research and development budgets. How does Zambello compete?
"Great flexibility is one factor," explains Zambello, "and a high degree of specialization is another." For specialized companies such as Zambello, small in size but global in reach, the engineering support SKF makes available can be of significant help in eliminating problems before they reach the market.
A gearbox is a very important part of a plastics machine, notes Zambello. "Even some of our clients don't realize how important the gearbox is. It must support very large forces and hence important stresses. Power and speed are critical."
What make Zambello gearboxes superior, in his view, are
Design (some elements are patent-protected)
Quality of the finishing
Refinement of the gears
The way the elements are mounted.
For example, Zambello's factory floor is divided so that the vibration from one machine does not affect the performance of another. Noise is almost absent. Because temperature and humidity can also affect performance, the factory environment is designed to minimize those adverse effects.
Company strategy often runs counter to trends, notes Zambello. "Some competitors are lowering prices by giving in on quality. Their customers may spend less at the outset but spend more for servicing. We focus on the high-quality niche because our after-service costs are nil. Our lifetime costs are low because our machines don't break down.
"We never trade quality for cost," he says. "Our prices are competitive, but we do not compete on price. We are the only ones in our niche who exclusively use SKF bearings. Why? Because they are the best in their sector, as we are in ours."
---
Boosting uptime in the plastics industry
There is a strong need for reliable processes in the plastics industry. For example, there are tough demands on the dynamic and static load-carrying capacities of bearings for the key machines in the industry – injection molders and extruders. SKF's Explorer spherical roller thrust bearings specifically meet these demands.
Besides having considerably improved dynamic load-carrying capacity, they are also made of SKF's unique XBITE steel for improved fracture toughness and wear resistance. Other features have been developed to give very low friction and favorable lubrication of the surfaces even at startup.
According to Tommy Rochhausen, business development for self-aligning solutions, and Sandro Chervatin, application specialist for the Industrial Transmission segment, SKF's offer has made it possible for leading plastic machinery equipment manufacturers, such as Engel Maschinenbau and Zambello Riduttori, to boost performance of their equipment by taking advantage of:
More uptime and less maintenance
Safe machine cycle startup
Unique application engineering competence.