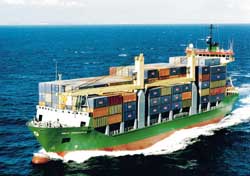 Craning for a world market
Shipboard cranes have come a long way since the block and tackle. Today, Sweden's MacGregor Cranes is the brand of choice for global shipowners.
Shipboard cranes have come a long way since the block and tackle. Today, Sweden's MacGregor Cranes is the brand of choice for global shipowners.
MacGregor Cranes stands out as a company that exports everything it makes. "Our home market is the world," says Anders Nilsson, purchasing manager of MacGregor Cranes, the world's leading supplier of shipboard cargo-handling cranes. "We haven't sold a crane domestically for 10 years. Sweden just isn't building ships anymore."
    The rest of the world certainly is. Of MacGregor's yearly crane production, 60 percent is built by partners in Japan, China, Korea, Croatia, Bulgaria and the United States. The rest is produced in Örnsköldsvik, a small city in northern Sweden, where MacGregor Cranes has its world headquarters and employs 270 people. Despite tough competition, especially in Asia, MacGregor Cranes retains more than a third of the world market for ship cranes. In 1996, revenues totaled SEK 900 million (US$120 million).
Global mission
"In the early 1990s, 60 percent of our production was for European customers. Today, shipbuilding has moved to Asia, and so have most of our clients," says Leif Byström, manager for material administration and local production at MacGregor Cranes. "Our mission is to provide shipboard cargo care products and services that improve the lifetime and profitability of shipowners' vessels."
    A crane is an age-old machine for hoisting and moving heavy objects by means of wires attached to a movable boom, or jib. The wires are passed through a series of tackles and winches, so they can lift heavy weights with minimal effort. Cranes are vital equipment for any cargo ship. They are mounted on deck as part of the ship's superstructure and play a vital role in loading and unloading cargo in port. Because lay-up time is money in the shipping business, shipowners and their crews must be able to depend on their cranes. To support its products, MacGregor Cranes offers a global service network. "We can be aboard any ship within 24 to 48 hours," says Byström.
    MacGregor Cranes are known to seamen around the world. "All of our 57 ships have them," says Frank Louwers, technical director for Dutch shipowner Spliethoff's Bevrachtingskantoor B.V. His company, which runs dry and multicargo vessels in the 6,000-16,000 dwt range, carries cargo such as paper products worldwide. "It may look like we are married to them but we are not. Every new order is an open race. But each time, [MacGregor Cranes] has met our demands in both price and technical specifications."
An Incentive company
MacGregor Cranes was originally Hägglunds Cranes, part of Sweden's Hägglunds Group. It was sold in 1972 to the engineering concern Asea. Twenty years later, when Asea merged with Swiss conglomerate Brown Boveri to become ABB, Hägglunds Cranes was sold to the Swedish investment company Incentive. Meanwhile, Incentive bought Finland's MacGregor-Navire, which specialized in hatch covers, and placed Hägglunds under MacGregor's wings. In January 1997, the company changed its name from MacGregor-Hägglunds to MacGregor Cranes.
Increased capacity
While the physics of cranes have remained unchanged since the pyramids were built, their designs and weight capabilities have improved continually. In 1960 MacGregor delivered its first crane, which had a capacity of three tons, to a Swedish ship called the Patria. By the late 1980s, weight capacities were pushed up to 35 tons.
    "Today, our cranes are electro-hydraulically driven and have an average lifting capacity of 40 tons and a 100-foot reach. The resulting torque, approximately 12,000 kNm, creates enormous forces," says MacGregor's Byström. "Two of these cranes working in tandem can have a capacity of as much as 120 tons."
Modular assembly
Like mechanical building toys of the sort favored by boys and girls the world over, MacGregor cranes are assembled in modules. First, raw steel plates are welded into an ellipsoid-conical steel "skeleton" on site. This shape keeps weight to a minimum, an important consideration for ship- owners, while rigidity is maximized.
    Then components are added in stages. These include electrical and hydraulic systems such as pumps and motors, cooling systems, winches, slewing rings and gears, filter systems and prefabricated cabins for operators, some with air-conditioning units. At the end of the process, a 36-millimeter steel wire 1,155 feet long is rigged to test the crane's performance before it is delivered to the customer.
    One way to look at a MacGregor crane is to compare it to a human body, says Nilsson, the purchasing manager. "It has a skeleton like a man. Then it has muscles in the form of winches and pumps. The circulatory system is the oil in the hydraulic system, which gets pumped, by a 'heart,' to every moving part. And the nerve system is all the electronics that control the crane's movement."
Sailing on
Cranes must be easy to operate because a range of people, from deckhands to port personnel, end up using them. The operator is ensconced in a cabin and has two toggle switches at his disposal that control hoisting speed, luffing (the movement of the jib) and the slewing motion or rotation.
    MacGregor cranes come in all shapes and sizes to load and unload all types of cargo. Besides being durable and sturdy, they are also versatile – so versatile, in fact, that in 1985 the sailing-enthusiast captain of the Hamburg, Germany-flagged Bold Eagle container ship used them as masts for a pair of spinnakers. With a good tail wind, the ship could turn off its engines and sail at a comfortable five knots, saving about 70 cubic feet of oil per day.
    "Unfortunately, the marine authorities didn't think it was such a good idea, as the ship could easily get out of control," says Byström.
Alexander Farnsworth,  
a feature writer based in Stockholm.