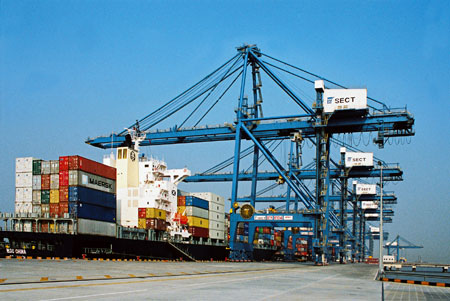 Giant port machinery maker rejuvenates China
Shanghai Zhenhua Port Machinery Co. Ltd., already a global leader in the manufacture of cranes, is looking to extend its presence to container terminals worldwide.
Facts
Shanghai Zhenhua Port Machinery Co. Ltd (ZPMC) is a world-leading manufacturer of cranes and large steel structures. Its main products include quayside container cranes, rubber-tyred gantry cranes, bulk-material ship loaders and unloaders, floating cranes, engineering vessels and large steel bridge structures. According to a survey made by the British publication World Cargo News, during the past seven years ZPMC has had the largest order book worldwide for large container cranes. ZPMC is listed on the Shanghai Stock Exchange.
Shanghai Zhenhua Port Machinery Co. Ltd., already a global leader in the manufacture of cranes, is looking to extend its presence to container terminals worldwide.
Over the past 14 years, Shanghai's Zhenhua Port Machinery Co. Ltd. (ZPMC) has evolved from a company with registered funds of $1,000,000 to a holding corporation with about 25,000 employees and an output of $1.5 billion in 2005. ZPMC has attained a 60 percent share of the international port machinery market and has been leading the industry for six consecutive years in terms of secured orders. The company has also registered a yearly growth of more than 50 percent in terms of output for five consecutive years. To date, ZPMC has orders in hand for 2006 valued at more than $2 billion. As the company's president and founder, Guan Tongxian, said in 2005, "ZPMC has covered in just 13 years what took others players in this field 30 or 40 years to do."
Today, the huge quayside cranes are exported to more than 40 countries, including Germany, the hometown of cranes, and the Republic of Korea, home of the world's largest shipbuilder, Hyundai Heavy Industries. The United States, where the crane was invented, has purchased more than 110 cranes from ZPMC.
In the 1980s, the ports in China, from Guangzhou in the south to Dalian in the north, depended on imported container cranes. It was the birth of ZPMC that changed this situation and made China the world's largest exporter of port machinery.
What magic power does ZPMC possess that has enabled it to dominate the market and conquer the world? In addition to doing the right thing, being in the right place at the right time and having the support of the right people, the company's principle of "innovation is the soul of the enterprise" is the secret to its successful development.
"If we can say that we initially won our clients over with cheap but good-quality goods, we can equally say that we are now attracting them with our obvious comprehensive advantages," says Dong Hengrui, manager of ZPMC's administration office.
In today's world of port machinery, ZPMC has been widely recognized as a capable and competitive supplier that always delivers on time. The company can also boast of being the maker of the world's largest, fastest and most advanced container cranes.
ZPMC has a manufacturing base that comprises 2.2 miles of coastline on Shanghai's Changxing Island, as well as a quay length of 2,953 feet in Jiangyin in Shanghai's neighboring Jiangsu Province. At both bases, floating cranes can be used to assemble large-scale steel structures. In addition, at the 3,937-foot heavy-duty docks on Changxing Island, more than 60 cranes with a deadweight of 1,700–2,200 tons can be fully installed and tested at the same time. The Jiangyin base has a further 984 feet for heavy-duty
operations.
With its own fleet of 12 66,000-ton vessels ZPMC delivers the assembled cranes to its clients, making sure that the cranes are put into operation as early as possible, maximizing the benefits for the
client as a result. In Hong Kong, ZPMC set the record of completing the installation of cranes in the port in just 24 hours.
Advocating "technology means productivity," the company invests at least 2 percent of its annual output in research and development every year. Cooperative relationships have been established with more than 200 professional academies, institutes and universities in Shanghai, thereby helping to maintain
ZPMC's position as an industry leader.
ZPMC leads the nation's industry in passing the ISO 9001 authentication in 1994; the company has also applied for more than 100 patents and won 55 city-level or national awards for achievements in science and technology. More than 30 types of cranes have been developed, each with completely independent intellectual property rights. Its "Key Technology
Research, Development and Application of New-
Generation Container Cranes" recently won the State Scientific and Technological Progress Award for 2005 – the highest honor in China in terms of science and technology.
"Rejuvenating the nation" is the meaning of ZPMC's Chinese name, and it has boosted the company's morale, helping it to grow from a small workshop into a huge, global supplier. ZPMC adopts people-oriented policies and improves management continuously in order to create a harmonious environment and a successful company.
Some 800 of the company's 1,500 white-collar workers are technical professionals, including more than 200 senior engineers. The company values knowledge and talent and offers interest-free housing loans, supplementary endowment insurance and auto loans in order to improve the living standards of its employees and ease their monetary concerns.
To set a good example and boost morale, the company issues gold medals to outstanding employees, and offers other rewards and bonuses, as well as organizing tours and gatherings to improve overall cultural awareness and motivate its staff.
"The charm of ZPMC lies in the huge stage its offers for us to fully exert our potential," says Wang Xinge, chief engineer at ZPMC's Zhangjiang Base, which produces gearboxes. "New challenges and problems await us every day."
Over the past decade, Wang has witnessed the rapid development of the Zhangjiang Base from a shabby factory with second-hand equipment on an area of just two hectares into a grand nine-hectare site equipped with the most leading-edge machinery. The category of products manufactured at the base has also been expanded to include all types of gearboxes.
ZPMC has worked out a conservative blueprint for the first decade of the 21st century, which sees its
annual output increasing to $2.5 million around 2010; in other words, the figure will increase by $200 million every year, based on the $1.5 billion figure for 2005.
"We cannot – and do not want to – monopolize the global port machinery market, which is rather limited. Instead, in addition to consolidating our current position, we will diversify our products to seek new areas of economic growth," says Dong.
The company plans to maintain its global market share and continue to improve advanced equipment, including double-trolley container cranes and the twin 40-foot container cranes that can increase productivity by 50 percent, while also striving to promote automation technology.
Bulk cargo machinery has secured more than 80 percent of the market share of loading and unloading machinery, designed to handle such bulk cargoes as coal and metal ores in China. The company's ambition is to conquer the world market for this type of machinery.
ZPMC has also worked out specific plans to develop large-scale steel structures, offshore heavy-duty
machinery and container components.
"ZPMC's rapid growth looks set to continue," says Dong.
---
A rapidly growing partnership
Wherever there is rotation, there are bearings, and of course SKF bearings, according to Wang Xinge, chief engineer at ZPMC's Zhangjiang Base. The base is engaged in the production of gearboxes – the heart of the machinery parts of cranes. In 2005, it produced 7,000 sets of gearboxes.
SKF established a business relationship with ZPMC at the very start of ZPMC's operation and, in recent years, this relationship has developed rapidly.The volume of sales is continuously rising, and the orders placed with SKF today value at more than twice the turnover of 2004.
To better serve ZPMC as a key account, SKF China has designated a number of engineers who are in contact with a large number of ZPMC engineers in order to know their needs, thereby making sure that SKF bearings maximize benefits for their customer.
"SKF is peerless in China," says Wang. "Although domestic products are competitively priced, they lose out to SKF in terms of reliability and noise levels. Moreover, some foreign companies simply insist that SKF products are fitted in their cranes."