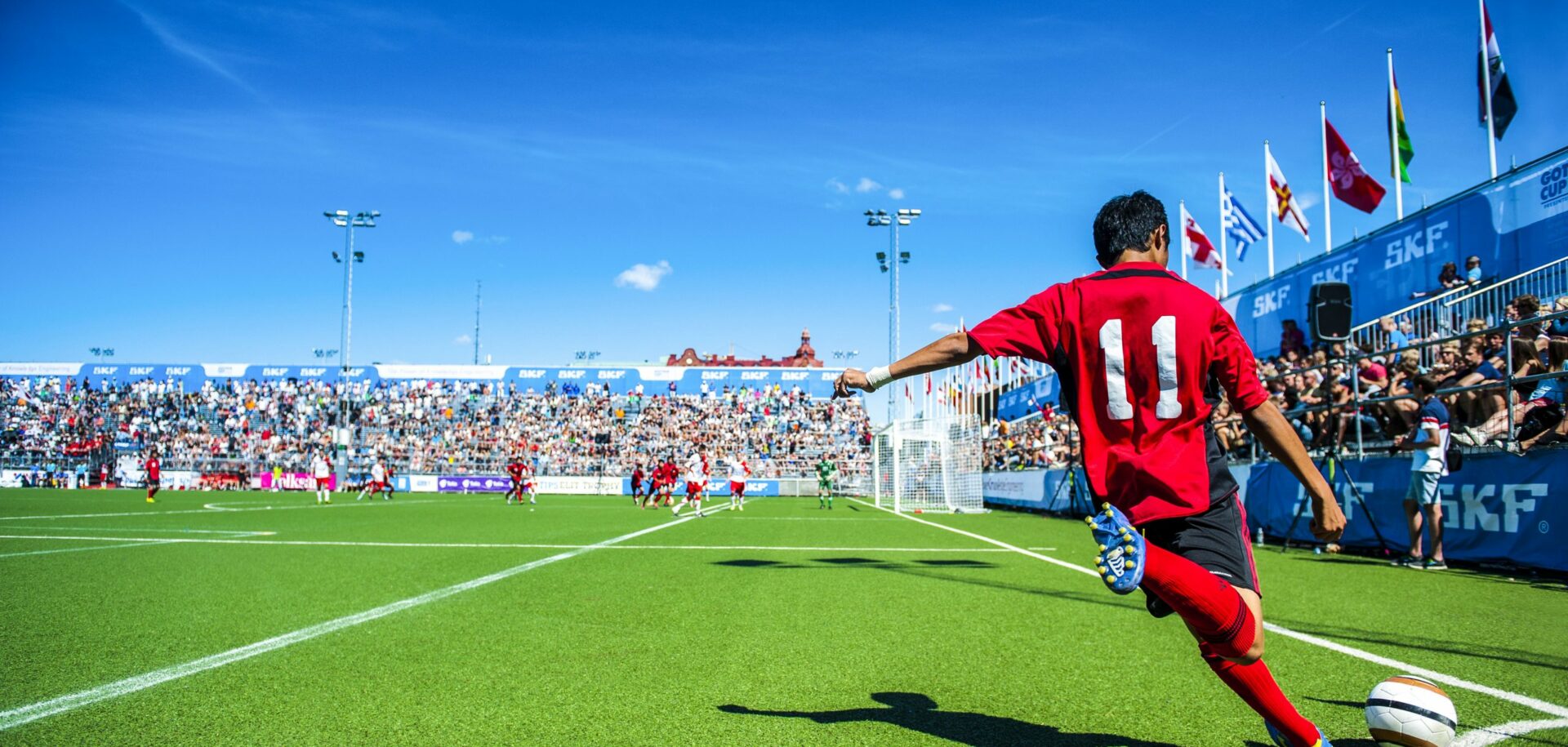 Goal-oriented
SKF's extensive Meet the World soccer tournament program is growing every year, changing kids' lives all around the globe.
Facts
MEET THE WORLD
at a glance
• Meet the World is SKF's largest corporate social responsibility project. It started in 2007 and involves local SKF companies hosting annual youth soccer tournaments in their countries.
• The purpose of Meet the World is to give a number of underprivileged youth the chance to go to Sweden and participate in the annual Gothia Cup, the largest and most international youth soccer tournament in the world.
• Winning Meet the World teams receive all-expenses-paid trips to Sweden to compete in the week-long Gothia Cup tournament.
• Organized for boys (ages 11–18), girls (12–19) and boys and girls (11–21), with a learning disability.
• In July 2014, 25 Meet the World teams from 24 countries traveled to Gothenburg, Sweden, to represent SKF and their countries in the soccer games and socialize with some 1,600 Gothia Cup teams from around the world.
Related Links
Never lose your focus on the goal." Vikas Zanje says that is the most important piece of advice he gives young soccer players participating in the Meet the World tournament in Pune, India. Zanje, a 19-year-old professional soccer player who plays for the Pune Football Club, is himself an alumnus of Meet the World, and he credits SKF Sports Academy in India for introducing him to the sport.
The Gothia Cup, which takes place in Gothenburg, Sweden, every year, is the world's largest youth tournament for soccer (or football as it is known in many countries). SKF began supporting the tournament in 2006 and has been its main partner since 2007. But many young people around the globe can't afford to participate in the games, which is why SKF decided to start up local pre-tournaments called Meet the World in 2007. Organized by local SKF units, the winning teams receive all-expenses-paid trips to Sweden to participate in the Gothia Cup.
In 2014 Meet the World set a record with tournaments in 24 countries, and in most places the tournaments are growing. In Colombia this year, eight teams of 20 children each competed for the winning spot, two more teams than previously.
Zanje isn't the only Meet the World alumnus to turn his soccer experience into a career. Oscar Cabezas, 21, played for Colombia's Seleccion Bogotá team in 2012 at Gothia Cup, and today he plays for a professional team in Brazil.
"[Soccer] is, like, my lifestyle!" says Cabezas. "It is something I love, it's my passion. It gives you a chance to meet people and go places." Manchester United figures prominently in his hopes for the future.
As Cabezas remembers from his time in Meet the World, "All the teams have in their heads one objective: Win the tournament and you will go to Europe."
Marcela Rengifo, SKF's head of marketing and communications in Colombia, has accompanied the Colombian team to Sweden several times. "For many kids, this is the first time they get on a plane," she says. "It's an opportunity to travel to a country that they could not go to on their own. It's the experience of playing with teams from other countries and interacting with other cultures. The best moment of the trip was when we arrived in Gothenburg and all the kids looked out the windows of the bus, saying, 'This is real, we are in Europe. Look, they have blue trams, look at the houses.' This was an incredible moment."
Rengifo admits that before she began to work with Meet the World, she was not a fan of soccer. "But this activity changed my point of view," she says. "It has been very rewarding work, and giving these kids this opportunity makes you feel complete."
Shrikant Savangikar was also not a big fan of soccer when he first began to work with the Meet the World program in India. Savangikar, SKF's director of business excellence, quality and sustainability in Pune, says his main interest was making an impact on children's development. SKF India set up the SKF Sports Academy in 2005 to improve the physical and sporting skills of underprivileged children from nearby areas.
"The big challenge is that most of the children's parents struggle to create their livelihood," Savangikar says. "Often there are no parents at home, and the children's lives are not as organized as for children coming from more privileged families. Along with sports education, here they have mentor support and stamina and health education."
Today, the Academy's Meet the World program sends a boys' team to Europe every year, selected from 60 boys. A girls' team was introduced in 2013, and going forward it will participate in the tournament. "They practice three times a week, in the morning, with coaches who have been appointed," Savangikar says. "There is also a nutrition and health program, so they come to the SKF canteen, and a holistic development program addresses any academic or personal problems they may have."
Like Rengifo, Savangikar is inspired by the program participants. "Me and my team, the Communications team and Human Resources, all of us have learned a lot from these children," he says. "They have great passion and enthusiasm, despite their circumstances in life."