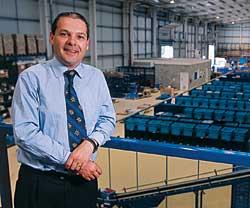 The outmoded image of warehousing is about the only thing gathering dust at BSL, an industrial supplier with a distribution system as sleek as it is speedy.When Peter Ulleri left his previous employer to join BSL, friends and colleagues raised their eyebrows. He was leaving Amazon.com, the pioneering Internet bookseller – a leader in global Internet sales and one of the most notable survivors of the bursting Internet retail bubble.
That he was leaving Amazon at an exciting time in its short history was mystifying enough. What his associates found even more difficult to comprehend was that he was leaving it to join BSL, a decades-old supplier of bearings and industrial components to British industry.
Ulleri, now BSL's operations manager for warehousing and distribution, laughs at the memory.
"The image of industrial warehousing as a world of weary men in brown coats shuffling through the sawdust from one dusty shelf to another is so outmoded," he says. "Despite its deep roots, BSL is the most dynamic, responsive business I have ever worked in, and that responsiveness must be maintained, day in day out, because our clients need everything now. Any delay in fulfilling their orders can cost them dearly in lost production."
Custom solution
BSL's new National Distribution Centre (NDC), in Wolverhampton in England's West Midlands, is a custom-built solution to a logistical challenge of bewildering enormousness. Commissioned in 2000, this 8,000-square-meter (86,000-square-foot) facility is, by necessity, much more than a warehouse.
As the central storehouse and ultimate control resource of a nationwide network of 104 BSL branches, the NDC knits together the tasks of stocking millions of items and coordinating their distribution, both directly to clients and through a national branch network.
Packed neatly in 33-foot-high shelf units are items ranging from tiny ball bearings and infinitesimal washers to motors and generators weighing in the tons. Every type and dimension of bearing, seal and machinery component known to industry is represented.
The NDC can supply, in component form, more than 10 million gearbox configurations. It stocks more than 100 miles of chains and in excess of 200 miles of belt products, all of which can be supplied pre-cut to precise requirements. It distributes each year more than half a million tools and general maintenance products, more than 250,000 bottles of industrial adhesives and more than 110,000 pounds of industrial greases.
One increasingly in-demand product line is ergonomic hand tools, designed to combat repetitive stress injuries that are estimated to cost industry in the United Kingdom in excess of 3 billion dollars a year.
The center is open for business 24 hours a day, 364 days a year. On Christmas Day – the one day that its doors close – key staff remain on standby.
Designed to respond – fast
A critical factor in the design of the NDC and its ever-ready state of preparedness is the trend among clients to pare their own warehousing costs by keeping minimal stocks of maintenance products and components. The risk of that practice is that entire production lines might grind to an expensive halt for want of a washer or an oil seal.
BSL's solution to these parallel challenges has resulted in what Logistics Manager Magazine hails as "one of the most advanced complete storage and handling solutions to be found anywhere."
Ulleri, not surprisingly, agrees. "The NDC is a leading-edge solution in any industry, but even more so in ours. It was a forward-thinking decision. It gives BSL the most integrated distribution system that I have come across anywhere."
When a production line locks up and its maintenance chief puts in a frantic call to his local BSL outlet for a crucial component, it takes a maximum of:
One minute for the component order to be processed and received at BSL's Wolverhampton NDC, by way of the company intranet.
Five minutes for the order to be picked from the shelves.
Ten minutes for it to reach Dispatch and be on its way by courier or taxi.
To achieve this, the NDC is automated to an almost incomprehensible degree by interlocking systems heavy on the acronyms. Any order is logged into BSL's intranet Sales Order Processing (SOP) system. The SOP gives real-time stock visibility at the NDC and at all BSL sales branches, and provides projections of 24-hour availability from most of the company's major suppliers.
Once confirmed either by telephone or over the intranet, the order passes onto the Warehouse Management System (WMS), a complex storage and picking control network that oversees the location and selection of the NDC's millions of items. All items are stocked in the smallest-possible bins to optimize storage efficiency.
There's even a strategy for putting items away. It ensures that identical items are stored in multiple locations, so that the picking of any required item will never be held up by repair or maintenance activities. Also, WMS sees to it that oldest items are picked first, to ensure optimal stock rotation.
What's more, items recognized by the system as being in heavy demand are stored in "sweet spots" within the warehouse to further reduce picking times.
A stereotype shattered
All of this is carried out by automated picking devices that belie the image of men spending their days climbing up and down rickety ladders.
The Miniload Store comprises three aisles, each three storeys high and served by six rapid computer-controlled cranes that pluck required items from their locations and bring them to and from the picker's central operating station.
The Carousels comprise six central towers within the Miniload aisles, where smaller items such as bearings and seals are stored on rotating shelves.
The Totes are the blue boxes into which picked items are placed and sent along automated beltways to the dispatch department.
All of this is overseen by bar codes and bar-code readers at every juncture, to almost completely eliminate errors in the system.
One of the most surprising achievements of this transition from handwritten carbon-paper dockets to a state-of-the-art computer-dependent system is that BSL has managed it without shedding staff who were once ingrained in the old ways of warehousing.
"Staff members who were self-proclaimed computer-phobes are now confidently using computer terminals and scanners every day of their working lives," Ulleri says. "By encouraging them to change with us, we have retained their product knowledge and sense of ownership of the company. The very real pride they had in fulfilling orders with maximum efficiency has been enhanced, when it could so easily have been lost."
Ulleri sees the NDC as a courageous move in a declining manufacturing sector, one driven by BSL's vision of a need to design and build systems to match British industry's future requirements. "This (the NDC) is a bold statement – a statement of how we think the standards must be met," he says. "It is a leading-edge solution in a traditional industry."
Ron McMillan
a technology journalist based in Scotland
photos Ron McMillan