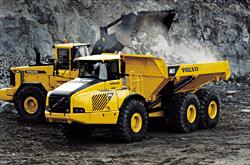 Volvo's A40D articulated hauler is a giant, built to carry an astonishing 37 tons of rock and gravel. But operators want minuscule maintenance requirements.It is only when climbing the staircase to the yellow-and-gray cab of the Volvo A40D that one fully appreciates the vehicle's gigantic proportions. The tires alone are taller than an average-sized man and weigh a ton each. The cab roof is almost 13 feet above ground, while the dumper – or bucket – at the rear can carry a staggering 37-ton load. Beneath the hood lurks a six-cylinder turbocharged engine capable of 420 horsepower.
Built to work in the most inhospitable terrain, the A40D is the largest of five models produced by Volvo Articulated Haulers in Braås, near the southern Swedish town of Växjö. The vehicles, which range in carrying capacity from 20 tons to 37 tons, are used chiefly to transport large quantities of rock, gravel, sand and earth for highway, bridge and dam projects. They're also used in the mining industry.
Heavy-duty tasks
Not only can an articulated hauler carry loads up to three times heavier than a traditional dump truck, it is more versatile and better equipped for heavy-duty tasks. Volvo's haulers have a three-point suspension that allows axles to move independently. A hitch that can be likened to a floating head connects the front and rear ends of the vehicle, allowing 180 degrees of lateral movement as well as extensive vertical movement. That means the vehicle can negotiate the roughest terrain without getting stuck or keeling over.
Gösta Svensson, manager of product planning and haulage technique at Volvo Articulated Haulers, describes heavy haulers as the most flexible and cost-effective vehicles for moving large quantities of ballast.
"You can do a lot of things with haulers that you cannot with a truck or rigid hauler [another type of transport vehicle]," he says. For instance, Volvo's haulers have recently become popular in Indonesia after customers there realized they were the only vehicles capable of transporting heavy loads over rough ground during the country's monsoon season.
Volvo's biggest individual customers are two German and Australian companies with fleets of 130 and 120 haulers respectively. Overall, though, Europe and the North American Free Trade Area are the two most important markets, accounting for some 80 percent of sales of articulated haulers.
Volvo is the world leader in the business, with a global market share in excess of 50 percent. The Swedish company was the first to build an articulated hauler, way back in the 1950s. "We were the first in the market with the articulated steering concept," recalls Svensson. "Our first hauler was called Moonrocket and the first mass-produced vehicle, which we called Gravel Charlie, was launched in 1966."
Healthy sales
Since then, Volvo has produced five generations of haulers, the latest being the A40D and A35D, and has watched the market grow steadily. Volvo, which sells haulers in 60 countries, sees good potential for long-term healthy sales. "There are still a lot of countries where the dumper concept is not well known and where they tend to rely on trucks and scrapers [a self-loading vehicle]," says Pär-Olof Gåård, a product specialist at Volvo Articulated Haulers.
World sales of heavy haulers have doubled in the past decade, though it remains a niche industry – perhaps not all that surprising when you consider that the biggest models cost up to 400,000 US dollars. Volvo sells on average about 2,000 heavy haulers each year.
At first glance, today's vehicles don't look radically different from those of the Gravel Charlie era. They are still painted yellow and consist of a cab plus trailer connected by a bogie and driveshaft. Beneath the surface, though, the vehicles' performance and capabilities have changed enormously.
Load capacity has increased almost threefold in the past three decades. And whereas the machines of the 1960s had a top speed of 18 mph, today's heavy haulers can reach 30 mph and have a fully automatic gearbox and suspension. They also boast five computers – what Volvo terms its "built-in intelligent system" – that control many machine functions, such as fuel injection, gear shifting and service intervals.
New design
The new A35D and A40D models also have a subtly new and more rounded design, made possible by the use of a new plastic called Telene, from which the engine hood is now made. Telene is easy to mold and so durable that "you could smash it with a sledgehammer and it would just bounce off," says Gåård.
Volvo developed the new cab to improve driver visibility. Safety is one of the company's core values. The ergonomics and climate within the cab are designed so the driver can sit at the controls for an eight-hour shift or sometimes longer and feel comfortable throughout. "Having a motor with 1,000 horsepower or more wouldn't help unless the driver felt good," says Svensson. "If the driver feels good, it increases productivity."
A commitment to high environmental standards also is evident on a visit to the Braås production plant. Recycling bins are everywhere, for everything from scrap metal to cardboard and plastic waste. Even the smallest metal shavings are carefully collected and recycled. The paint process is fully automated with giant robots, eliminating the need for people to enter the otherwise hazardous paint shop environment.
Waste from the paint process is burnt in a catalyzer, producing near-zero emissions. The factory as a whole has very low emissions, according to manufacturing engineering assembly manager Jörgen Sjöstrand, and is certified to the ISO 14001 international environmental standard as well as the 1SO 9000 quality assurance standard. Volvo says the vehicles conform to – and in some cases exceed – European and US standards for off-road vehicle emissions.
Building a typical articulated hauler involves about 200 people. The bulk of the components used in production come from Sweden, some made by other parts of the Volvo group and others manufactured by outside suppliers.
Low service frequency
Sjöstrand is clearly proud of the latest generation haulers now rolling off the production lines in Braås and at Volvo Articulated Hauler's two other plants in North Carolina and Brazil. He explains that Volvo, through the D-series, has taken a big step forward in meeting demands from customers for lower service frequency.
The D-series includes new maintenance-free bearings (see SKF sidebar) that substantially reduce service needs. Daily service checks are no longer needed because the in-cab computer informs the operator if a particular part needs servicing. Perhaps most significant from a customer's point of view, the annual number of hours lost to daily and weekly maintenance has been cut from 33 hours on the previous range to just seven hours for the D-series.
"If you reduce by one hour the amount of time a vehicle needs to undergo service, you are not only cutting the customer's costs but you're increasing his revenues and productivity," says Svensson.
Greg McIvor
a business journalist based in Stockholm
photos Volvo