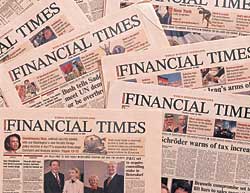 A complex logistics system ensures that the pink paper that is distinctive to London's Financial Times makes it from the Swedish mill where it is produced to the plants in Britain where the FT is printed. The same system returns wastepaper back to the mill for recycling.Sinking into the sofa with the daily newspaper remains a well-loved pleasure, despite the onslaught of electronic media. The future remains bright for news in print. One success story is the Financial Times (FT), one of the world's leading business newspapers, which reaches a daily circulation of around 500,000 and a worldwide readership of more than 1.6 million.
The FT's distinctive pink color, first adopted in 1893 to distinguish it from its rivals, is custom-made by Holmen Paper at its Braviken Paper Mill in Norrköping, Sweden. The company produces newsprint and magazine paper and is the primary paper supplier to many of Europe's daily newspapers. It is also Europe's market leader in pink newsprint, commanding about 40 percent of volume. The Braviken Paper Mill supplies half of the FT's newsprint worldwide, excluding the United States.
"Delivery logistics are worked out by planning backwards," says Bo Wibrén, Holmen Paper's distribution director. "The FT needs paper every three to four weeks, and if they require stock in the warehouse on, say, the 15th, then we aim to deliver by the 13th at the latest, to allow for discharge and handling. Since shipping takes three days, we then check which vessel is scheduled to leave on the 10th, or the nearest date prior to that. The final step is liaison with the mill to ensure that the order will be available for the shipping date. Then, once the paper is produced, it's a fairly logical process."
Roger Vian is logistics director at Holmen Paper Ltd. (HPL), the company's U.K. subsidiary. "FT London sends us an annual forecast, specifying anticipated monthly requirements, and we raise production orders to the head office in Norrköping," explains Vian. "Paper for the FT is produced twice a month at Braviken, and orders are generally confirmed four weeks before production. There are about 14orders each month, for different printing locations, product specifications and reel sizes."
From paper to print
Holmen operates five ships on a timecharter basis, and deliveries for the FT are made by two of the vessels, Baltic Bright and Baltic News, running on a continuous loop. Every ninth day one of the ships arrives at Chatham Dockyard, about 25miles east of London, carrying approximately 6,000 tons of paper. Discharge takes 10 to 12 hours, with stevedores unloading the paper reels onto trucks for transportation to Holmen's warehouse. "We generally aim to hold 30 days of stock locally. Warehouse space at printers is usually limited, so paper is delivered on a just-in-time basis," says Vian.
Data on stock levels, shipments and orders in production are sent electronically to the FT London on a weekly basis, and from there to the print sites. For the south and west of England, the FT is printed by West Ferry Printers, on London's Isle of Dogs. West Ferry prints a number of national and regional newspapers, requiring 35 to 40 paper loads per day, seven days a week, beginning at 6 a.m. and spread over eight or nine hours. "That's a lot of vehicles and handling to organize," says Alan Brockhurst, West Ferry's newsprint coordinator. "We call direct to HPL for deliveries, giving 24 hours notice and specifying delivery times at up to 15minute intervals to avoid bottlenecks."
FT stock requires one or two deliveries, five or six days a week, and a full trailer quantity could comprise 18 "jumbo" paper reels weighing 1.65 tons each. Delivery is by special system trailers, designed to couple up to West Ferry's "Rolafloor" automated intake system, which is capable of lifting all 25 tons of paper in one load – in about 10 seconds – onto a conveyor system within the pressroom, where it is stacked. "We keep about three days' stock to allow for up-printing in the event of a major news story," says Brockhurst. The printing process begins with FT page layouts sent by pressfax to West Ferry, where they are output to films and developed onto aluminum printing plates for the presses. Paper is transferred from stock by guided robots, and then the computer-controlled Goss printing press begins to roll. The machine runs off 40,000 copies per hour on average, which are wrapped and strapped in bundles ready for collection. By 3 a.m., West Ferry has printed about 100,000 copies of the FT, which are distributed by Scania truck to depots around the country.
"Yesterday's news is no good to anyone," says Brockhurst. "This is an instantaneous industry, so supply and timing logistics are crucial. I'm placing orders worth thousands of pounds per week, and I can just pick up the phone to Holmen Paper, specify a load and a time and they organize it. It's all about trust and efficiency, and we've built a great relationship on that basis."
While readers across Britain pick up the day's edition of the FT, the delivery ship at Chatham is prepared for the return journey. During cargo discharge, the ship is simultaneously loaded with around 2,750 tons of waste newspapers and magazines, recovered from pressrooms and local councils by Holmen Recycle Ltd., a division of HPL based in Chatham. This makes practical and economic use of the ships, since they would otherwise run back to Sweden empty, and it also provides valuable raw material for paper production. In 2001 this amounted to 110,000 tons of the total 670,000 tons of wastepaper recovered by Holmen, which contributed to production of 1,150,000 tons of newsprint and telephone directory paper.
From pink to read
Recovered paper delivered to Braviken is cleaned to produce de-inked pulp, which makes up 40 percent of the basic "furnish" for standard newsprint. Wood fibers can be used many times over but eventually weaken, so it is important for paper quality that the cycle is constantly replenished with virgin fiber. The other 60 percent is thermo-mechanical pulp, comprising virgin spruce wood fiber and a small amount of sulphate pulp to strengthen the paper. A dye is added to the pulp to produce the FT's pink paper – "news salmon" as it is officially known – but this is no simple matter, according to Nils-Åke Rosengren, financial manager at Holmen Paper. "It takes considerable training and experience to produce the correct color shade and consistency. There's a good deal of logistics planning required, too, as we have to switch from white to pink, or pink to white, which is a more complicated process, without excessive downtime."
The pulp, initially 99 percent water and 1 percent fiber, is processed through a series of screens, presses and hot cylinders to evacuate most of the water and produce paper with a 92 percent fiber content. Finally, a winding machine cuts the finished paper into customer specified reels – each holding up to an impressive 12 miles – which are then wrapped, labeled with a customer code and transported to the warehouse ready for shipping. "And so the cycle begins again," says Rosengren. "There are a lot of logistics involved, but it's quite possible that when you recycle your newspapers, they will return to the same Holmen mill that originally produced the paper." And if a newspaper story ever looks familiar, maybe it's just the same wood fiber.
Brian Davenport
a freelance writer based in London
photos Jan ALmerén, Kenneth Jonasson and Lars-Gunnar Larsson/Media Express