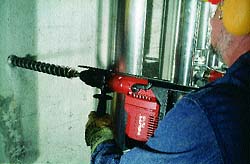 The customer connection
For the Hilti Group, customer satisfaction translates to some 70,000 personal contacts each day with its customers in the construction industry worldwide.
For the Hilti Group, customer satisfaction translates to some 70,000 personal contacts each day with its customers in the construction industry worldwide.
Customer satisfaction is much bandied about as a principle in today's global marketplace. But for the Hilti Group, one of the world's leading suppliers of fastening solutions to the commercial and industrial construction industries, customer satisfaction is the driving force behind the group's corporate philosophy worldwide. It's a philosophy summed up by the corporate catch phrase: "Think globally, act locally."
Humble origins
Hilti began in 1941 as a family-owned mechanical workshop in the tiny European principality of Liechtenstein. It had only five employees. Today, Hilti is a global company with 12,000 employees worldwide. Despite this growth, one senses that the Hilti Group has never lost sight of its modest beginnings.
     Hilti's corporate headquarters are still in Liechtenstein, situated on a main highway between the Liechtenstein Alps and Switzerland's Rhaetikon mountain chain. About 1,400 people work for Hilti in Liechtenstein, making it the country's largest industrial employer.
     A key to Hilti's success – and what sets it apart from its competition – is a vast network of specialized direct sales and distribution organizations. The Hilti Group devotes two-thirds of its total workforce – about 8,000 people – to this facet of its operations. Hilti employees make an estimated 70,000 personal contacts with customers every workday.
     Not only does Hilti produce a wide range of high-quality products such as rotary hammer drills, breakers, powder-actuated tools (similar to gun powder), mechanical and chemical anchors, diamond coring tools and firestop systems. It also provides customers with personalized on-site advisory services, product maintenance and repairs and ensures the availability of new orders on short notice. And most importantly, it helps tailor solutions to meet individual customer needs.
     One outcome of this direct personal contact is that the Hilti Group is able to identify early changes in the market and respond flexibly to both the customer and the new trends that arise.
Complete product systems
Hilti solutions generally consist of three components – machinery, tools and consumables. The result is a complete product system for the customer.
     For example, Hilti technology, in the form of powder-actuated tools and an extensive offering of threaded studs, nails and combination fasteners, has influenced the entire field of powder-actuated fastenings. Hilti powder-actuated tools, not unlike handguns, are used to drive nails or threaded studs, primarily into steel, concrete or threaded masonry. Heat generated by the fasteners during penetration either sinters them with concrete or fuses them with steel. In either case, the result is a high holding power, which makes these fastenings suitable for sustained cyclic and long-term static loading.
     Hilti also offers complete anchor systems for a wide variety of fastenings.
     Here, a clear distinction is made between mechanical and chemical anchors. Three versions of mechanical anchors – safety, standard and light-duty – are offered and supported with extensive application software. Meanwhile, the chemical anchors take the form of injection and adhesive systems, both of which can be used for such things as train- or tram-rail anchoring.
     The advantage of injection systems is that they can be used for universal fastening in almost any kind of base material. Adhesive systems are available for medium and heavy-duty fastenings.
     In the continual search for innovation, Hilti's corporate researchers go out in the field to visit job sites. They observe methods, film working procedures and discuss problematic applications with users. Whenever possible, they also carry out the work themselves to experience firsthand any problems that may arise.
     It is a hands-on approach that does not go unnoticed. In 1997, Hilti sales were up 17 percent to 2.6 billion Swiss francs (US$1.8 billion). Organizations, responsible for more than 90 percent of the group's total worldwide sales, are established in 50 countries.
     In addition, in 70 other countries where the group has no direct sales organization, Hilti is represented by qualified local sales partners. What this means is that Hilti truly has a global reach and thus a measurable impact on the commercial and industrial construction industries that it services.
     Hilti focuses on the professionals of the construction industry – construction specialists, electricians, woodworkers, plumbing and pipefitting contractors, metal construction companies, general contractors, public works and utilities, construction engineers and even architects. Hilti's telltale red toolboxes can be spotted everywhere from small household projects to very large job sites such as the current rebuilding of Berlin's historic Potsdamer Platz, the construction of Steven Spielberg's DreamWorks film studio in Burbank, California, and the building of Lisbon's new Vasco da Gama bridge, which will be showcased later this year when Portugal hosts Expo '98.
Individual strategies
Each of the Hilti Group's six business units – drilling and demolition, direct fastening, anchor, diamond systems, construction chemicals and new business – exercises autonomy and responsibility for its individual product-line strategies. This includes development work, marketing and customer relations.
     One of Hilti's most popular products since its introduction in the market five years ago is the TE5 rotary hammer drill.
     It offers professionals a high level of convenience because it is vibration-free during drilling and has an electropneumatic hammering mechanism. In addition, the TE5 is one of the first-ever hammer drills to feature a built-in vacuum cleaner. Though the TE5 is fast and powerful, it weighs only seven pounds. The TE5 is just one example of Hilti innovation. In all, Hilti spends more than 70 million Swiss francs (US$47 million) a year on research and development.
Production network
Hilti's seven market regions – Asia, Near/Middle East and Africa, Latin America, Central and Southern Europe, Northern and Eastern Europe, North America and Germany – are complemented by a production network of 10 plants on three continents. Each plant concentrates on its own strategic core skills and technologies. For example, the plant in Kecskemet, Hungary, makes chisels and insert tools; the German facility in Kaufering (near Munich) manufactures drill bits, adhesive anchors and electric motors for various machines; the plant in Zhanjiang, China, makes machinery as well as metal anchors and drill bits; and the plant in Mexico City concentrates on such items as threaded studs and nails.
     This wide-scale geographic diversification in production and sales enables Hilti to withstand changes in construction activity in individual countries and regions, as well as the exchange rate fluctuations that affect business in a global market economy.
     Surveys show a high level of satisfaction among Hilti customers. However, every comment or complaint is approached as an opportunity for further improvement, according to the company. As the new millennium approaches, the Hilti Group plans to continue implementing something it calls the "Champion 3 C" strategy. The three C's stand for customer, competence and concentration. This strategy underlines Hilti's corporate philosophy – that the customer comes first, now and always.
Kathleen Saal  
a business journalist based in Germany