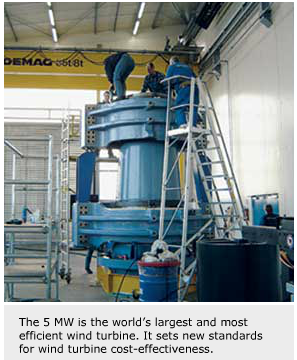 Wind turbines loom large
Tailored solutions that involve novel bearing and condition monitoring systems lie behind the latest advances in wind turbine technology. SKF has supported the development of a new generation of large turbines for offshore and onshore applications.
Tailored solutions that involve novel bearing and condition monitoring systems lie behind the latest advances in wind turbine technology. SKF has supported the development of a new generation of large turbines for offshore and onshore applications.
Wind-generated electricityis becoming an increasingly attractive source of power, as it is recognized as providing an environmentally compatible source of electricity. Indeed it is forecast that 10 % of the world's electricity will be gener­ated by wind power within 20 years. SKF is working closely with global industry leaders in this sector to develop efficient and trouble-free turbines.
In the extreme and often remote environments where wind farms are sited, including offshore, the design imperative is robust equipment with low maintenance and long service intervals. As confidence in wind power grows, turbines are also increasing in power output. The latest generation wind turbines are capable of generating 5 MW – the largest so far – and SKF has been involved with the leading German manufacturer REpower for a new machine design intended for offshore applications. Specifically, SKF has supplied the bearing solutions for the rotor, including a novel nut locking system to secure the bearings in position, condition monitoring and lubrication.
Wind farms with turbines of these dimensions can achieve the performance levels of conventional power plants – enough power to supply about 4,500 three-person households. Due to its modular construction and logistical flexibility, the 5 MW windmill can be installed both offshore and onshore. The offshore version is specially designed for the demands of the high seas. This includes, for example, the redundant use of individual components to provide maxi­mum availability, permanent monitoring of operations and optimized corrosion protection.
As there is limitedopportunity for land-based wind power systems, there is a growing interest in the potential of off­-shore applications. For offshore applications wind machines need to be reliable, have low maintenance requirements and long service intervals. The sea's wind potential is balanced against the high technical requirements of offshore operation.
For offshore applications, the wind turbine has a condition monitoring system that looks at a range of temperature, noise and vibration parameters.
This enables the condition of machine components such as the main gearbox, gear teeth and generator bearings to be monitored. Early diagnosis of potentially damaging changes means that planned maintenance routines can be used to remedy problems early.
The 5 MW machine is a three-blade unit with a rotor diameter of 126 m. In its normal operation the speed range varies between 6.9 to 12.1 r/min. It has a combined planetary/spur wheel gearbox. All bearings in the gearbox are supplied directly via lubricant systems that include filtration. The bearings and gear pairs have been optimized to provide high efficiencies and low structure-borne noise level. The base frame is connected to the tower via a four point contact slewing bearing. During normal oper­ation the nacelle is held in position by brake callipers. Geared electric motors enable the nacelle to yaw into the wind.
SKF's main contributionis to the rotor assembly, which is a crucial part of the design. The bearing system is made up of a CARB® toroidal roller bearing, which provides the best operation for the non-locating function, in combination with an axially locating spherical roller bearing. This offers high load capacity and low weight and can accommodate mis­alignment. The CARB bearing represents a milestone in design, being the largest of its type ever manufactured by SKF. Alongside this the company had to create a similarly large induction heater so that the bearings and bearing housings could be heated prior to mounting them. The power­ful 100kVA induction heater, TIH 1000E/C950, was used to heat the CARB bearing, weighing 2,700 kg, and the spherical roller bearing, weighing 3,320 kg. Two bearing housings weighing approximately 8,000 kg each were also heated using this heater.
Careful calculations were carried out by SKF specialists to make sure that the bearing system meets its performance requirements. The aim was to give the windmill operators a system that would fulfil operating requirements and also para­meters by which they could monitor the bearings performance in operation. Engineers used advanced SKF computer programs to analyze load distribution, contact stresses and fatigue life of bearings.
Fixing the axial position of the bearings did represent a major challenge, as the large size of the wind turbine design meant that the conventional design, using fixation nuts was not possible for practical reasons. SKF engineers had to adapt the locking mechanism to incorporate a novel safety split nut, the SKF HMS lock nut. The result is a locking system that does not require a keyway in the shaft, which makes the overall design more robust and reduces manufacturing costs. The system is easy to mount and open for main­tenance and repair, and there are no problems with fretting corrosion when dismounting.
Lubrication is another im­­portant aspect that contributes to turbine reliability and long service intervals. SKF has considerable expertise in lubri­-
cation technology (explained in the article "SKF combines forces with Vogel to lead the way in lubrication" in this issue) which is particularly applicable to wind turbine designs. SKF has supplied its LGEP 2 grease for lubricating this application.
Maintenance costsrepresent a significant expense for the industry. Up to 25 % of the costs of energy produced by wind energy converters or wind turbines goes to maintenance. Proven techniques that are commonly used in other mech­anical industries cannot be used in wind farms for a number of practical reasons.
SKF's concern to reduce its customers' costs in this sector led to the development of the WindCon system. This is a customized condition-monitoring system for wind turbines and was launched in 2002. It enables operators of commercial turbine plants to improve the uptime of the machines and have early warning of problems. The system includes an "Intelligent Monitoring Unit" that measures continuously the most critical machine para­meters such as bearing condition, lubrication oil quality and gene­rator temperature. Data can be transmitted via the Internet to remote specialists such as SKF Reliability Systems engineers to enable operators to enhance maintenance timing and effi­ciency. A few hundred systems have already been ordered in the short time it has been on the market.
With the REpower 5 MW, the company believes that it has successfully scaled up its inter­nationally proven technology to a new dimension.The 5 MW is the world's largest and most efficient wind turbine that sets new standards for wind turbine cost-effectiveness.
So far, the 5 MW turbine has been operating without problems, and there are plans to install further turbines on land in coastal areas next year. The first turbines are set to generate electricity at sea starting in 2006. For SKF the developments in its solutions for wind turbines opens up new opportunities in a market with exciting growth potential in the coming decades.
The windmill industry pro­vides a good illustration of how SKF works with its customers. Over a number of years, SKF has gained a leading position as a supplier to the industry of bearings, seals, housings, lubrication, couplings, high-tension bolts, simulations and calculations.