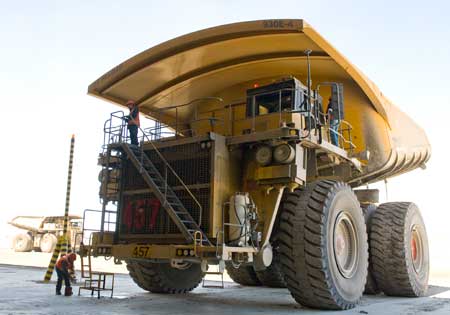 Big wheels keep on turning
When you describe the Chuquicamata copper mine in northern Chile, you have to dig deep into your thesaurus for synonyms for the word "big". Everything about Chuquicamata is vast. Mighty. Huge.
Facts
Codelco's head office is located in Santiago, Chile. In 2008, Codelco's pre-tax profits were 4.97 billion US dollars (3.33 billion euros), and copper operating income totalled 10 billion US dollars (6.75 billion euros). In the same year, the company invested more than 50 million US dollars (33.5 million euros) in research and technological innovation, and had 19,300 employees.
At current production rates, it is estimated that Codelco's current copper reserves will support mining operations for an additional 70 years.
When you describe the Chuquicamata copper mine in northern Chile, you have to dig deep into your thesaurus for synonyms for the word "big". Everything about Chuquicamata is vast. Mighty. Huge.
Chuquicamata is located in the driest place on earth – the Atacama Desert, west of the Andes mountain range. Tests executed by NASA have shown that not even micro-organisms can survive in this extreme environment. But the mining industry in this region is far from lifeless. Chile accounts for more than 35 percent of the world's production of copper, and the major mines are concentrated at Atacama.
When you stand at the edge of the Chuquicamata copper mine, it is difficult to understand the sheer size of what you're looking at. The open pit spread out below you is huge, approximately six kilometres long, four kilometres wide and 1,200 metres deep. It makes you feel very small.
Then you get into a pickup, pass a dump truck on a dusty road and shrink even more. The driver of the dump truck is seated in a cabin far above you. If your vehicle, like all the pickups at Chuquicamata, did not display a tall orange flag in the back, the driver wouldn't even notice you.
The mine has 94 heavy dump trucks and 13 shovels toiling away every day, digging out and transporting ore after it has been drilled and blasted. Some 600,000 tonnes of ore per day is removed from the pit. For a dump truck to handle such large quantities, it must be capable of carrying as much as 400 tonnes each trip to the top of the pit.
Investing in this type of mobilemining equipment is costly. For many mining companies it is their biggest capital expenditure. A single wheel of a dump truck of the type used at Chuquicamata costs 18,000 US dollars (12,000 euros); a shovel costs 30 million US dollars (20 million euros).
And the pressure is always on to keep dump trucks and shovels up and running. Chuquicamata operates 365 days a year, and reliability and availability of mobile equipment is extremely important. But keeping trucks and shovels in service with minimal maintenance is a continuing challenge in the harsh conditions – the dust, the loads – the equipment is exposed to on a daily basis.
"Every day people from production ask for more equipment and better availability of it," says Oscar Olivos, maintenance manager for mining equipment. "But we also need time to fix the trucks and equipment. So that's a daily se bild ht."
To win that se bild ht and keep maintenance costs down, the mine owner, Codelco (Corporación National del Cobre de Chile), is in the process of testing SKF's online fault-detection equipment, Copperhead. This vibration monitoring system detects problems and monitors the state of the mechanical systems by measuring parameters such as speed, temperature, vibration and load, while the equipment is operating.
Data is wirelessly transferred, then analyzed, making it possible to plan maintenance and repairs at the first suitable opportunity, rather than on a time-based schedule in which equipment is taken out of service for
inspection whether repairs are needed or not.
"The collaboration with SKF is fundamental," says Olivos, "as more and more accuracy is needed in moni-toring mobile equipment, and it is necessary to search for new technologies to achieve this. Codelco wants to keep producing copper at Chuquicamata for many years to come. To live up to that vision, we need to keep costs down. And that is where SKF can help us."
And for Codelco, money saved at Chuquicamata means more revenue for the state. Codelco is 100 percent state-owned. Thus it answers to more than 16 million demanding "shareholders" – the citizens of Chile.
Copper extractionhas a long history in Chile. In the pre-Columbian period, indigenous cultures in the region made copper tools, developing basic metallurgy skills and even producing alloys. More recently, a mummy dated to about 550 AD was found at the Chuquicamata mine. Dubbed the "copper man", the mummified miner had been trapped in an ancient mining shaft by the fall of a rock.
By the beginning of the 20th century, Chile was the world leader in the production and exportation of copper. But American companies were starting to take an interest in Chilean copper extraction, investing in mines such as Chuquicamata. In the 1950s, an agreement was signed, giving Chile control over 20 percent of its copper production.
Copper nationalization was formalized in 1971, when a constitutional reform established a 51 percent state participation in the country's copper reserves. Codelco was formed in 1976. Since then it has grown to become the largest copper producer in the world, in charge of about 20 percent of the world's copper reserves. In 2008, Codelco produced 1.5 million tonnes of fine copper.
For Codelco, producing copper at the lowest possible cost for the Chilean people is a key aim. But there are other crucial goals driving the business. In 2003, the "Sustainable Development Policy of Codelco" was approved, establishing that both sustainable development and social responsibility were to be an important part of Codelco's business project.
The company's "Corporative Policyon Sustainable Development" states: "The mission of Codelco is to develop, in a responsible and agile way, all of its capacity for mining and related businesses in order to maximize its economic value and its contribution to the Chilean state in the long term." Codelco has travelled a long way down this path. In 2008, Codelco's overall accident frequency rate was the lowest in its history. During the same year, Codelco invested 54 million US dollars (36 million euros) in environmental projects.
"Sustainability and safety are our guiding principles here at Chuquicamata," says Olivos. "When we introduce a new worker to the mine, we mention safety and sustainability first – and then we talk about the process."
---
SKF at Chuquicamata
SKF provides a variety of solutions and products used in different parts of Chuquicamata's production process. At the concentrator plant, where the copper ore is pulverized, several SKF products and services help to reduce maintenance costs and increase reliability and safety. These include:
An online vibration monitoring system for rotary equipment. This system, developed together with process automation giant Honeywell, enables operational control and predictive maintenance in the plant, identifying incipient damage in critical rotary equipment.

Large-diameter seals for mills. The sealing system used in the mill trunnions has been improved using large-diameter seals, which are produced in a material known for its resistance to abrasion and wear.

Hydrostatic shoe bearings. These bearings are able to operate in very harsh conditions and support the heavy loads of SAG mills, which have a process capacity of 182,000 tonnes per day. SKF also provides a tailored repair and maintenance services programme.

Lubrication solutions. For the mills' lubrication systems, SKF provides lubrication pumps, which result in considerable savings because of reduced repair and restoration costs.
For the mobile mining equipment Chiquicamata is in the process of testing SKF Copperhead, combining a robust online monitoring system with rugged vibration and temperature sensors, and easy-to-use analysis software. Developed specifically for offroad vehicles that operate in extreme ambient conditions, the system monitors vibration, temperature, speed and other specific parameters.