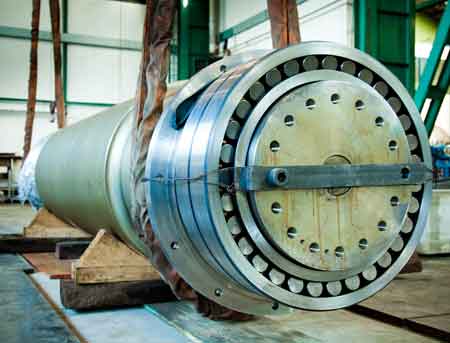 Boldrini likes it hot … and cold
Some like it hot, as in the classic Marilyn Monroe movie of that name. And some like it cold. Italian machinery company Boldrini likes it both ways.
Summary
Founded: In 1905 by Francesco Boldrini to produce
piping for sugar mills in the area around Ferrara, Italy
Management: Privately owned family-run company, with CEO Rino Boldrini, great-grandson of the founder, at the helm
Location: Via Gaetano Crespi 28, Milan, Italy
Product lines: Tank head hot and cold forming equipment for the shipbuilding, petrochemical and nuclear power industries
Production: About 20 machines annually, each custom-made at the company's 7,000-square-metre facility
Turnover: 12 million euros (estimated for 2008)
Number of employees: 35
Some like it hot, as in the classic Marilyn Monroe movie of that name. And some like it cold. Italian machinery company Boldrini likes it both ways.
Heat is an integral part of the process in metalworking for industries such as aerospace, petrochemicals and nuclear power plants. Plate rolling, pipe bending and the creation of the storage tanks and heads are relatively straightforward operations when metals such as alloys and stainless steel are heated, then bent or formed to the desired shape.
But cold is also critical in some operations. Thick shells are better produced with cold processing because the metal structure is not adversely affected, as it would be if subjected to hot processing, which can employ temperatures of up to 1,000 degrees Celsius.
"A thick shell with cold processing is better than hot rolling and equal to or better than forging," explains engineer Rino Boldrini, CEO of Italian machine manu-facturer Boldrini SpA and the fourth generation of Boldrinis to run the company.
Boldrini SpA manufactures bending rolls, hydraulic presses and turnkey solutions for the production of shearing and flanging machines, heads, storage tanks and hydroforming units. And it makes the machines that make key components for energy, aerospace and industry. Thus, it needs to provide both hot spinning equipment and cold head flanging machines to satisfy its varied – and, in the case of the nuclear power industry, highly demanding – customers.
Rino Boldrini describeshis company's mission as "producing reliable, simple, manufacturing machines of high quality that will perform well for at least 40 years." As proof of his company's success, he cites a number of installations that are nearing the half-century mark.
The longevity of Boldrini equipment has not been an obstacle to modernization. Quite the contrary, says Boldrini. "We have always been attentive to new technology, and this is why our current range of machinery covers the needs of industries that didn't even exist when my great-grandfather founded the company."
Francesco Boldrini founded Impresa Boldrini in 1905 in Ferrara (not far from Bologna). He made piping for use in the then-abundant sugar mills in the area, and developed an expertise in constructing boilers and pressure vessels. At the time, heads were produced either by major corporations that could afford expensive dies and presses or by small companies, relying on the ability of local artisans to hammer metal into shape. Boldrini was one of the latter.
By the beginning of the 1930s, Francesco's son Prosperino had taken over the business. In the wake of the Great Depression, farming practices had shifted and the political situation in Italy had changed, so he decided to start making section-bending and plate-rolling machinery. In 1933 he produced the first Italian machine for profile bending and in 1939 the first plate-bending machine. The process was still artisanal and would be for another quarter century, but the direction of the company was now oriented to machine construc-tion rather than product manufacture.
During World War II, Boldrini, like many small business owners in Italy, buried his machinery to keep it from falling into the hands of the German military-industrial complex. Shortly after the war ended, in 1947, he moved the company from Ferrara to the city of Cremona, where transport and communications were better. Business boomed in the post-war period, and Boldrini did some construction and welding, but the main output was shears, sections and mechanical presses for making dished heads. In 1953 he opened a second facility in Milan, site of the company's current headquarters.
A breakthrough came in 1959, when Prosperino Boldrini patented a unique design for a flanging machine that could handle a wide range of metal thicknesses, a range that no other machine has surpassed. In 1975, Boldrini added improvements to a Rotex hot spinning machine that no competitor has duplicated. Its Rotex can flange hot blanks starting from a flat condition and ending with a finished flanged head, working in hot and cold conditions.
Thanks to these and other advances, by the 1960s Boldrini's customers included major names in the nuclear power and petrochemical industries worldwide. "We have become a leader for machinery to make heads and vessels for nuclear reactors," observes Rino Boldrini.
Today, the Milan factory has 35 employees working in 7,000 square metres, producing about 20 machines a year, each one constructed ad hoc to the specifications of a particular customer. The metal can be carbon steel, stainless or special alloys; the bending can be cold or hot. The machines cost from 200,000 to 10 million euros each and meet all international quality and safety standards, including those for the exacting nuclear power industry. SKF is the supplier of choice for bearings in Boldrini's machines and has been for as long as current management can remember.
---
Size matters in multi-platform services
A relatively small company such as Boldrini of Italy can compete successfully against much larger companies, but size does matter in the design of plate rolling machinery. Back in 2006, Boldrini accepted a tender from a Chinese company based in Fushun. The Italians knew the project was challenging because the customer wanted the machinery to handle both hot and cold processing to produce shells with a thickness of 162 millimetres and a width of 3,000 millimetres. "This had been done before with heat, but the shells produced could have lost some of their strength and characteristics," explains Antonio Cerutti, design engineer at Boldrini. After eight months of development, Boldrini projected a machine that called for 900-millimetre bore (diameter) spherical roller bearings, much larger than usual, for plate rolling equipment. "So we called SKF," recalls Cerutti. "We had ordered these large bearings and asked for help to install them, since they are the experts."
SKF and its subsidiary Vogel worked with Boldrini to provide a multi-platform solution, including bearings, seals, lubrication and service support.
For example, SKF suggested to incorporate ducts and distributor grooves in the shafts to facilitate dismounting: In case the bearings might have to be replaced, it would be easier to do so. SKF also recommended the installation of a system of alarm sensors to alert technicians to possible problems, thus avoiding production delays. "This system of sensors was new for us, but it was necessary because of the size of the bearings and the machinery," Cerutti says. In addition, when the machine rolls hot plate, temperature sensors sound an alarm if the roller exceeds a pre-established temperature. The roller is automatically raised and cooled so that a proper temperature can be maintained throughout the production cycle. The plate-rolling machine was finished in the summer of 2008. Eight Boldrini employees went to Fushun to install and test it in November and December of that year. The result was a satisfied customer and a piece of equipment that is the largest of its kind in the world. "It also delivers the highest performance," notes CEO Rino Boldrini.
---
A multi-platform effort
Four large-size SKF spherical roller bearings mounted on the two lower cylinders (variable axis).

Two large-size SKF spherical roller bearings mounted on the upper
cylinder.

Rod seals and piston seals developed by SKF Economos for the pistons that move the cylinders.

SKF application engineering verified the bearing size, bearing life,
installation, and the optimization of components and equipment used with the bearings during the development stage.

SKF Reliability Systems mounted and tested the bearings, monitored and controlled vibration during start-up phase and did verification of machine operations.

SKF Vogel supplied a centralized, ready-to-use lubrication system.