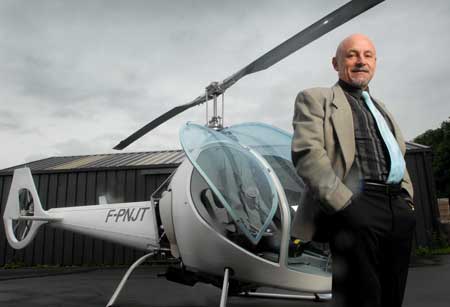 Chopper challenge
The dream of a helicopter of your own is coming closer to being realized, thanks to the self-build machines from Belgian manufacturer Dynali.
The dream of a helicopter of your own is coming closer to being realized, thanks to the self-build machines from Belgian manufacturer Dynali.
Belgian helicopter manufacturer Dynali is a relative newcomer to the world of rotary-wing aircraft, but it is certainly making its mark. Dynali produces low-cost self-build machines, and the demand for its products is already massively outstripping supply. At a fraction of the cost of competing machines, Dynali helicopters have the potential to revolutionize small-scale helicopter use around the world.
Daniel Michau, chief pilot of Dynali, met designer and company founder Jacques Tonet some five years ago. "When I arrived, Jacques was working on a prototype machine that has been radic-ally improved since," Michau explains. "Now we have certification for our two-seater H2S leisure helicopters and more orders than we can fulfil."
Commandant Michau flew combat helicopters for the French army, and on retiring became a commercial pilot, working across Africa, Vietnam and French Guyana. "I have over 13,000 hours of flying under my belt on over 20 different models of helicopter, so I'm speaking from a lot of experience when I say that the Dynali H2S may be small, but it's extremely well constructed," he says.
The H2S is available in kit form in Europe for around 95,000 euros. It's sold as a kit because in Europe an owner can carry out maintenance on a self-build craft, but a conventional machine must be serviced in a certified workshop, which can be very expensive. The kit comes with a complete stainless-steel chassis and the engine in place. The cabin and tail boom are made from Kevlar and carbon fibre. "The stainless steel is not just strong and flexible, but also acts as a shock absorber," says Michau. "It's a wonderful material for helicopters, and yet we're the only manufacturer to use it."
All parts are number referenced in a detailed step-by-step construction manual. "It's a bit like buying a furniture kit from IKEA, only it takes slightly longer," Michau says, laughing. It takes around 250 hours for a first-time builder with basic knowledge of mechanics to complete the machine.
Once built, the H2Shas a cruising speed of 165 kilometres per hour and consumes 25 litres of fuel per hour. It has an optional spare tank. The useful load (the weight of the crew, passenger, fuel and cargo) is 245 kilograms, and the flight range is three hours at maximum charge (excluding spare tank). The machine is equipped with an 165 hp (121 kW) engine. Dynali is also working on adding a compressor to the engine, taking the horsepower up to 220 hp (162 kW), but for now, there is just one model in the range.
An air ambulance version of the H2S is currently in development for the African and Asian markets. This medical helicopter can carry one wounded person plus the pilot. There is no room for a caregiver. Although smaller than its competitors, the Dynali solution is a fraction of the cost. "Our main competitor's medical helicopter sells for 3.5 million euros and costs 2,000 euros per hour to fly. Ours will sell ready-to-fly at just 100,000 euros and will cost around 100 euros per hour to fly," explains Michau. "It might be less comfortable, but I know I'd prefer to be rushed to hospital in 30 minutes in a Dynali than six hours in a four-wheel drive!" Dynali is also working on a more versatile four-seat model that can be used for medical and civil applications.
The company alreadyhas dozens of potential customers for the air ambulance. And they expect a lot of other opportunities.
In Europe, most of the interest in Dynali machines comes from private buyers, either non-professional pilots or aviation clubs. "We get a few professionals who are interested too, like one Belgian constructor who can now visit 10 construction sites every day rather than just two in his car," Michau says.
However, other "clients" are less welcome. One night in November 2007, Michau was abducted at gunpoint from his home by a Kalashnikov-bearing man dressed as a policeman who drove him to the Dynali workshop. Michau explains: "The whole team had been working overtime and was trussed up on the floor. Two men forced me into a chopper at gunpoint. The Dynali isn't built for night flying – there are no lights on it and no lights on the dash – but they had a torch, so up we went and flew for about 30 kilometres to a nearby prison.
"We landed in the courtyard and tried to pick up two more men, making five in the chopper, but it was too heavy for a two-man machine, so we set back down again and dropped off one man," Michau continues. "We were just taking off again when two guys leaped up and grabbed hold of one of the skids, which brought down the chopper. I was pretty seriously injured in the crash, but the authorities left me in the prison courtyard for three hours. They thought I was one of the criminals. Some inmates threw me blankets and got me drinks until I was taken to hospital. But I've been a test pilot for many years; you can get caught in tense situations."
The only trouble now with the Dynali helicopters is that the company can't build them fast enough. The first order was signed in 2004, and the company is now building its seventh machine. "It's been a steep learning curve because the technology is so complicated and precise that it's extremely hard to ensure that everything works just right," says Michau. "You can't rush aeronautics; you have to go slow and follow the speed of your materials," he adds. But work will soon be completed on a new 1,300-square-metre production facility next door to the existing factory, where Dynali will be able to produce 10 machines a month, compared with the current figure of two or three.
"We're going to make Dynali the most successful low-cost helicopter in the world, but with the potential of a more expensive model," insists Michau. "This is a serious business, and we only use the very best parts to produce our machines. Despite a lot of propositions from other manufacturers, we chose SKF to supply the bearings. We've been really lucky with our rotor blades. I knew the technical manager for Eurocopter was retiring, and we managed to persuade him to open a workshop for us. You just can't buy that level of experience."
Despite the high demand, the guys at Dynali are not worried about people copying them. "The formulas involved are so precise that if you change one bearing, the machine won't fly," explains Michau. "The secret is in the fine tuning, and Tonet and I are the only ones who know the formula, and," he pauses, grinning, "we do it in private so nobody can see."
There is no doubt that Dynali is stirring up interest around the world. "We had a Chinese delegation come to visit us, and they offered us cash on the spot for two machines," says Michau. "We've also had a lot of interest from many other countries. The French have tried to tempt us to relocate there, offering us an amazing package with all sorts of tax breaks and benefits, but despite the fact we've had no interest nor help from the Belgian state, Jacques is a loyal citizen and refuses to leave his homeland."
Tonet was in the light aircraft business before turning his hand to helicopters and building his first one-seater prototype 10 years ago. Tonet never studied further than his high-school diploma, and is thus virtually self-taught in mechanics and engineering. He even taught himself to fly – a rare feat. "When I first met him, I saw his passion, motivation and energy," says Michau.
"I added my experience to it, and that's Dynali."
---
Appropriate solution
The SKF team worked in close cooperation with Dynali to select the most appropriate bearings for the application. "There are around 130 bearing positions in the helicopter," says Bernard Brootcorne, account manager at SKF Belgium. "These are covered by 45 different bearings, mainly deep groove ball bearings and rod ends incorporating spherical plain bearings."