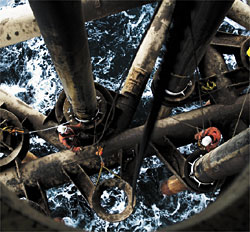 Diagnostics at sea
The offshore industry is increasingly relying on telecommunications for its operations. For BP in Norway, remotely controlling an oil platform from land isn't that far off.
Summary
Complete condition monitoring
Stavanger-based RC-DEI is BP in Norway's main analyst of online and offline condition monitoring data. RC-DEI is a joint venture between local company Rogaland Consultants, a maintenance-engineering firm, and Development Engineering International (DEI), based in Aberdeen, Scotland.
   Formed in 1981 to provide engineering solutions to the North Sea oil and gas industry, DEI has become an international consultancy committed to improving the performance of its customers' assets.
   DEI was acquired by the SKF group in December 1999 and has active bases in Aberdeen, Abu Dhabi, Stavanger, Perth and Kuala Lumpur.
   "We get data from on- and off-line monitoring systems from all of BP's critical rotating machinery and make a report," says John March, general manager of RC-DEI in Stavanger, Norway. "This leads to detailed discussions around the identified problems and results in either increased monitoring frequency, ordering of spare parts or issuance of work orders."
The systems in use include:
DEI Polymanager and Polymate Vibration Analysis software;
DEI Prolog data handling and performance monitoring software;
SKF Prism Vibration Analysis software; and
Bently Nevada Data Manager 2000 On-line Transient Analysis software.
Data from many of these systems go back to October 1993 when the first contract was awarded, although the software has been upgraded many times since.
   BP in Norway gives RC-DEI access to all the monitoring information collected from its turbines, pumps, compressors, separators and other rotating machinery present on an oil platform.
   From lubrication oil test lab results, RC-DEI can also determine running problems on a vital piece of equipment such as a compressor before events overtake them, for example. Bringing in a company such as RC-DEI for BP in Norway is part of the company's strategy to farm out non-core-related businesses.
   "RC-DEI is our main expert for all our condition-based monitoring on all our rotating equipment," says Ole Jørgen Narvestad, a BP rotating equipment engineer. "They give us background and decision support on how to plan our maintenance. "
The offshore industry is increasingly relying on telecommunications for its operations. For BP in Norway, remotely controlling an oil platform from land isn't that far off.
Like spacecraft in flight, an offshore oil platform needs to send and receive reams of information to stay afloat. This information – time sheets, maintenance and production reports, work orders, even catering needs – is traded with an organisation on shore, which, like a control tower, processes it all to support the continuous production of oil.
   For BP in Norway, a division of the global BP group, the support function of the head office in Stavanger is turning increasingly high tech. Video conferencing, online condition monitoring of vital machinery and other IT-related tools are progressively being adopted to streamline its oil platforms' activities.
   "Communication is essential," says Reidar Waldeland, a maintenance engineer for BP's fields, located in the southern part of the Norwegian continental shelf in the North Sea. "To perform maintenance work offshore requires careful planning, which means it is very communication intensive."
   With parliamentary permission to explore four oil fields in Norwegian waters, BP in Norway runs a total of nine platforms that altogether produce about 150,000 barrels of oil a day.
   To the uninitiated, an oil platform is a nebulous array of pipes, valves, compressors, tanks, separators, pumps and turbines. It is also one of the harshest environments in which to run these machines. Aboard the semi-open structure, the weather is always cold and windy. Like a vicious circle, the only way to protect the structural steel from corrosive sea salt is to continuously grit blast and paint it.
Video conferencing
With video conferencing, engineers on shore and on the platforms can discuss maintenance issues and study documentation together in real time. This is also possible with BP's extensive computer network in which engineers can study the same diagrams online, while speaking on the phone with each other. In addition, telediagnostic equipment is continuously monitoring how machines are functioning, and relaying the information back to shore. An extensive database covering all the maintenance routines and history of the platform's machinery is at the disposal of the engineers, both on and off shore.
   A current pilot project being developed by Hitec, a company in Stavanger that works for BP, Shell, Statoil and other oil companies, will install a little camera on a helmet, so that photographs can be relayed to shore of what an engineer is looking at. Sound can also be transmitted.
   Due to the presence of explosive gases on an oil platform, the device has to adhere to the strictest standards of electronic transmission. Mobile phones, cameras and other electrical devices are forbidden in most areas on a platform.
   "To have a picture of what a technician is looking at, and to give advice at the same time would be an enormous aid to troubleshooting," says Waldeland. "The equipment has been tested and will soon be available."
   While platform-to-shore communication is usually handled via satellite links, BP's platforms on the Norwegian continental shelf have the unusual advantage of sitting right over a 950-kilometre fibre-optic cable stretched between Britain and Norway. Fibre-optic cables are superior to satellite communications but require signal amplification over long distances.
   Since May 1999, BP's Valhall platform acts as a booster station for the 30-gigabyte cable. For the service, BP gets 310 megabytes of capacity free of charge; that is more than enough to cover their need for data transmission.
   "It was a nice deal for us," says Ole Jørgen Narvestad, a BP rotating equipment engineer.
   Another interesting development that BP is studying is to supply electricity to its platforms from land. Currently, huge turbines aboard the platforms generate electricity that is used to operate everything from desalination plants to pumps, compressors and cooking equipment.
   These gas-powered turbines emit carbon dioxide, and, like everything else on an oil platform, require enormous amounts of maintenance. The alternative, to use Norway's bountiful supplies of hydroelectric power, is in line with the stringent environmental requirements BP has set for itself.
   "Our goal is by 2010 to reduce our CO2 emissions by 10 percent from 1990 levels," says Narvestad.
Remote control
But the most amazing development, according to BP engineers, is that the technology exists today to remotely control an oil platform from land. For an oil company like BP, the advantage would be that it could move personnel from the platform to shore, thus saving the cost of transportation, catering, offshore allowances and so on. It would also enhance the general safety of BP in Norway's operations by reducing time spent in helicopters and in an exposed offshore environment.
   Already, a small and unmanned platform is operated from the Valhall platform. And in the new Tambar field, which is planned to start production in the summer of 2001, another unmanned satellite platform is to be linked to the nearby Ula platform with pipelines and, of course, data transmission cables.
   "There are a lot of regulatory issues to solve before this can happen on a larger scale," says maintenance engineer Reidar Waldeland. "But remote control of an oil platform from shore is the direction we at BP are moving in."
Alexander Farnsworth  
a feature writer based in Stockholm  
photo BP/Kjetil Alsvik