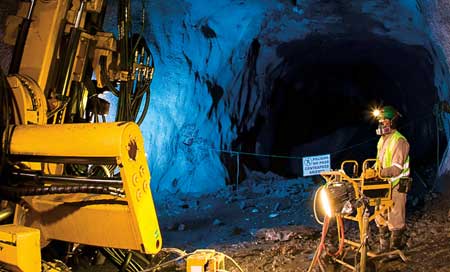 Mexico's mighty miners
Mexicans have been exploiting their nation's rich geology since before the Spanish conquistadors arrived. Today their top mining companies are among the best in the world. Two of these have a close cooperation with SKF.
Mexicans have been exploiting their nation's rich geology since before the Spanish conquistadors arrived. Today their top mining companies are among the best in the world. Two of these have a close cooperation with SKF.
Much more than a mere industry, mining is woven deep into the rich fabric of Mexico's history and has been carried out here for more than five centuries. When the conquistador Hernán Cortés met the emperor Montezuma for the first time in 1519, the Aztec leader's lieutenants covered him with "a marvellously rich canopy of green feathers, decorated with gold work, silver, pearls'" according to the Spanish chronicler Bernardo Díaz del Castillo. But while it was gold that lured the Spanish conquistadors to Mexico, it was silver that made them rich. And during the 300 years of their rule, they mined copper, lead, iron and other metals too.
The wealth generated by mining was a key factor almost 200 years ago in the way in which Mexico gained independence, in the Mexican Revolution at the beginning of last century and in the free-market reforms that accompanied Mexico's free trade associ-ation with the United States and Canada in 1994.
Industrias Peñoles,the world's leading producer of refined silver, is very much part of that tradition. Peñoles is part of a business group, led by the Mexican businessman Alberto Baillères, whose other interests include top-end retail, insurance and water infrastructure.
Boosted by high metal prices, Peñoles posted record sales of more than 1.4 billion US dollars (1.1 billion euros) and a net 100 million US dollars (80 million euros) profit in the first quarter of 2008. Peñoles is always on the lookout for new business opportunities. In May 2008, it became the first Mexican company to be quoted on the London Stock Exchange when it floated its Fresnillo offshoot in an initial public offering that raised 2 billion US dollars (1.6 billion euros) – sufficient to give it a market value ensuring a place among the top 100 companies that form the Financial Times market index.
Fresnillo is the name of Peñole's legendary silver mine – the world's richest – in the north-central Mexican state of Zacatecas. But Peñoles is far from living by silver alone. Placing an early stake on increasing copper prices, it has developed the Milpillas copper mine in the northwestern state of Sonora. Having come on stream in 2006, Milpillas is currently ramping up to full production.
"Milpillas is an underground mine and, as frequently happens in that type of operation, we faced a problem with flooding," says Daniel Barragán, the Peñoles assistant vice-president for procurement. "Water is a constant problem in underground mining."
The SKF agent Rybalsa Laguna provided pumps to clear the water. But there was just one problem. An underground mine is not like your kitchen floor. As well as the water, the pumps sucked up dirt, grit and slurry that clogged the pumps' motors, in many cases ruining them.
Faced with the problem,Javier Rodríguez, general manager of Rybalsa Laguna, got in touch with SKF, whose engineers modified the pump seals. "The new seals let in the water but not the dirt that was damaging the machinery," says Barragán. Soon, development of Milpillas was back on schedule. Milpillas is a 220 million US dollar (177 million euro) project that is expected to produce 55,000 tonnes of cathode copper a year when at full capacity. Copper cathode is the purest form of the metal.
Efficient pumps have a double benefit. Not only do they keep costs down, they also protect the environment. At Milpillas they play a key role in
recycling water – a scarce resource in much of northern Mexico – thus keeping with the Peñoles goal of implementing environmentally friendly solutions.
Another important player in the Mexican mining industry is Grupo México, led by Germán Larrea. Besides major mines in Mexico and Peru, Grupo México owns railroads in Mexico and the United States. In the first quarter of 2008, Grupo México made a 453 million US dollar (364 million euro) net profit on sales of 1.74 billion US dollars (1.4 billion euros), in spite of a long-running strike at Cananea, one of its major Mexican copper facilities.
But mining is not always so profitable. Grupo México has faced plenty of hard times too, when metals prices were low. These are the times when tight cost control is the only way to prevent the closure of mines and the loss of the thousands of jobs that they bring to some of the most remote and underprivileged areas of Mexico.
Manuel Téllez, supplies director of Grupo México's Mexican mining unit, has been with the company since the early 1980s, when he was involved in procurement for one of the projects of which the company is proudest, the electrolytic zinc refinery in the central state of San Luis Potosí.
The refinery came on stream in 1982 at a cost of some 200 million US dollars – less than half of what it would cost at today's value of the US dollar. Production cap-acity is some 105,000 tonnes a year of pure zinc and aluminium, magnesium and copper alloys, plus 700 tonnes of cadmium and 180,000 of sulphuric acid.
Téllez knowsall the Grupo México units like the back of his hand, but he confesses that the zinc refinery holds a special place in his heart. "I was new then," he says. "So were nearly all the others. They were a great bunch of people. And the plant itself was a marvel."
The experience started Téllez thinking. Grupo México's procurement, he reasoned, was not nearly as efficient as it should be. "A gathering was held each year at which suppliers – SKF among them – would turn up with their products and pitch for sales. The prices on offer were attractive, but few of the suppliers were willing and able to provide support for their products," Téllez explains. "And the time between the gatherings was too long for a fast-changing industry."
So, with some downtime on hand, Téllez drew up a proposal for change, based on long-term accords with suppliers. He showed it to senior executives, and they gave it the green light. Thus was born Grupo México's system of ongoing agreements with suppliers, SKF among them.
Grupo México suddenly had reliable suppliers, providing follow-up all the year round. And, as an added bonus, stocks could be kept low in keeping with the "just in time" philosophy that was then gaining ground in the world of business.
---
Proud partners
Through good times and bad, Industrias Peñoles has relied on supplies from SKF México. "You can buy from somebody else, have a problem, look round … and they're not there any more," says Daniel Barragán, the Peñoles assistant vice-president for procurement.
""When buying from SKF, you're paying for dur-ability and reliability," he says. "What counts is that operating costs are lower; that's what we're looking for."
Barragán points to Javier Rodríguez, general manager of Rybalsa Laguna, the SKF agent in the northern state of Coahuila. "I know Javier will be there," he says.
Rybalsa has been supplying Peñoles with SKF products for more than two decades, and the relationship has been sealed under what Peñoles terms a supply convention. But why doesn't SKF supply Peñoles directly? For one thing, Rybalsa is located in Torreón, where Peñoles has its major base of operations and hundreds of kilometres from the SKF headquarters in southern Mexico. "It would simply be too costly for us to provide the level of personal service that Javier does," says Carlos Rodríguez, the SKF México president of sales.
Sergio Nevárez, managing director of Applied México, a unit of Applied Industrial Technologies, based in Cleveland, Ohio, and an SKF agent for more than two decades, is providing service to Grupo México. He recounts the many battles he has faced in meeting the company's exacting demands. "One bearing type in particular – the 3318 A – gave us a lot of problems," he recalls.
"Consumption of the bearings was extremely high," says Manuel Téllez, supplies director of Grupo México's Mexican mining unit. "We were simply gobbling them up as fast as SKF could produce them."
With competitors poised to meet the demand, Nevárez knew he had little time to spare. He got in touch at once with SKF in Puebla, where one of SKF's top engineers analyzed the problem immediately and sorted it out in record time. Adjustments were made to the application, and its production increased – much to the satisfaction of Grupo Mexico.
"That's the difference in doing business with SKF," says Téllez. "They're not in it just for the day-by-day distribution, though they do a good job of that too. I'm confident that when I've got a problem, I can pick up the phone to Sergio, and he'll get the people at SKF to find a solution.
"Nobody, but nobody, else offers us that level of service," he says.
The level of service includes post-sales attention in assembly and lubrication, points out SKF's Rodríguez. Increasingly, SKF México has been offering its customers complete solutions that include monitoring equipment and complementary machinery, such as conveyor belts.
Mining is by no means the only mainstay of SKF México's business. The company also supplies the nation's large and rapidly growing cement, steel and automobile industries among others. It offers energy efficiency – of major importance to companies in Mexico, where electricity and natural gas costs often exceed those of competitor nations.
Yet mining is very much at the heart of Mexican industry, by long-established tradition and by the achievements of world-class companies, such as Grupo México and Industrias Peñoles, with which SKF México has long been proud to be associated.