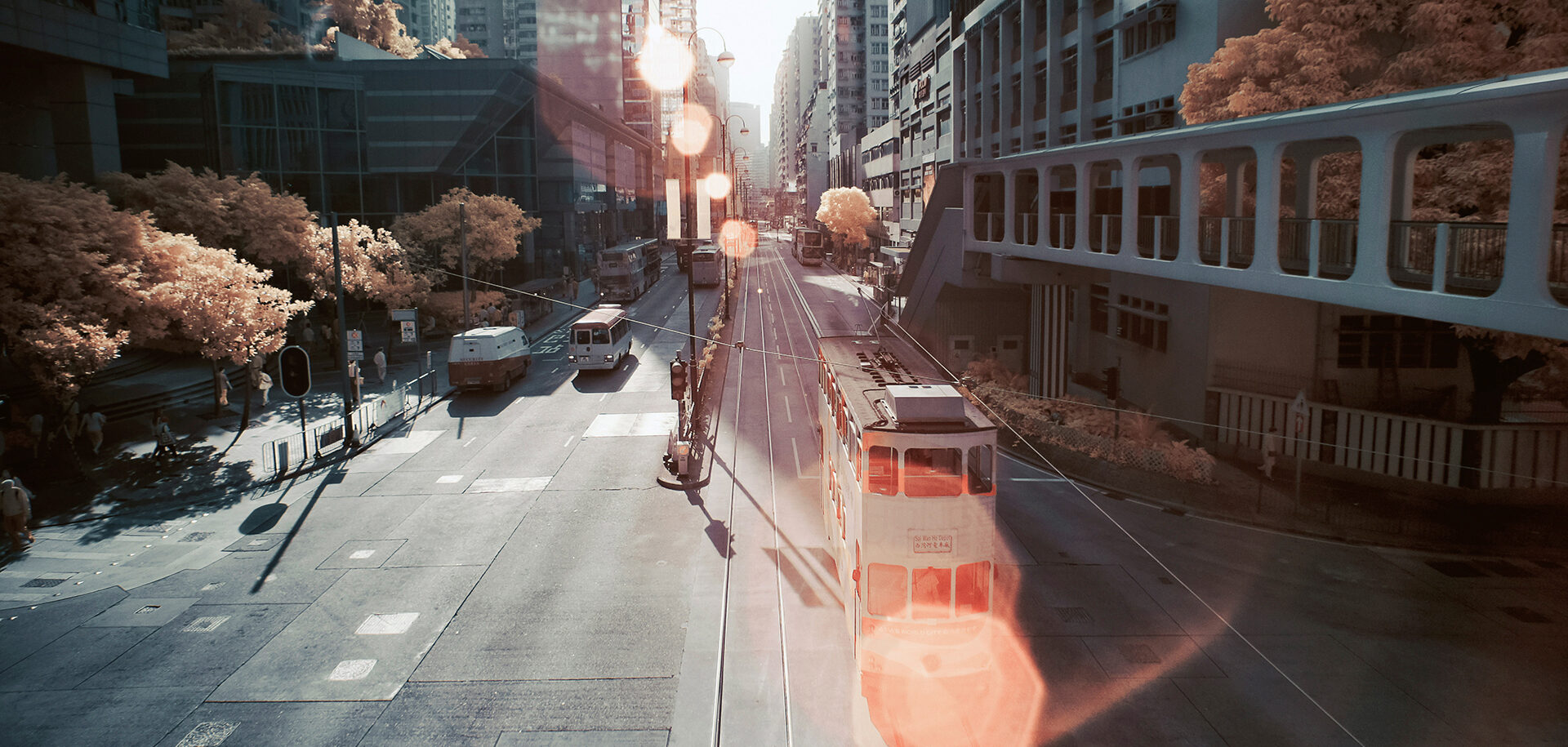 Modernizing the "ding-ding" trams
Hong Kong Tramways operates the world's oldest and largest double-deck tram fleet. The company is now modernizing its trams with new technology. The challenge is that the old, unique design cannot be changed.
Hong Kong Tramways
Since 1904, trams have run east and west along the northern edge of Hong Kong Island. Today, Hong Kong Tramways owns and operates a fleet of 164 tram cars, including a maintenance tram and two antique trams that are rented out for private events.
The Hong Kong tram system is the world's largest double-deck tram fleet still in operation; it carries up to 200,000 passengers every day.
The tramway runs on Hong Kong Island between Shau Kei Wan in the east and Kennedy Town in the west, with a branch circulating through Happy Valley.
Since 2010, Hong Kong Tramways has been wholly owned by a joint venture between two leading French operators of public transport: RATP Dev, which operates the Paris Métro, and Transdev, formerly Veolia Transdev, which has a presence in 20 countries and operates 13 different transport modes.
The iconic double-decker trams in Hong Kong have been running on the streets of Hong Kong Island for more than a century. They serve as an important transport choice for the people of Hong Kong as well as an inexpensive and nostalgic attraction for tourists.
For only 2.60 Hong Kong dollars (0.30 euro – children and seniors pay half price) an adult passenger can travel from east to west, or vice versa, on Hong Kong Island, enjoying views of Hong Kong's numerous skyscrapers as well as the city's picturesque street life and markets. The ride on the upper deck is particularly scenic.
Hong Kong residents call the trams "ding-ding" in everyday speech, based on the double bell ring that warns pedestrians of their approach.
"Our long history, our strong reputation in the city and all the heritage values are good for us," says Cyril Aubin, managing director of Hong Kong Tramways. "But [these factors] also provide some constraints since we are responsible for keeping and maintaining a unique design, one that is 60 or 70 years old." In addition, the trams' historic design has some built-in discomforts, including the screeching and banging that accompany the typical journey.
The big challenge for the company has been how to bring in new technology in the design to improve comfort and facilitate maintenance while still keeping the trams' historic shape, coach and outlook.
Axleboxes with SKF tapered roller bearing units
Hong Kong Tramways cooperated with SKF to develop two axlebox prototypes; a conical suspension rubber axlebox and a chevron-shaped rubber spring axlebox, each fitted with an SKF tapered roller bearing unit. Two bogies were built by the company using these prototypes.
"China's CRRC Sifang Rolling Stock Research Institute, commissioned by Hong Kong Tramways, has carried out computer dynamic performance simulation analyses as well as structural and fatigue strength analysis of the bogies, both have been successfully validated," says Steven Chan of Hong Kong Tramways. "After we have passed dynamic performance on-road tests, we will see which one of the prototypes will be the most suitable for us."
In 2018, after several years of preparation, Hong Kong Tramways decided to make a multimillion-dollar investment and replace the bogies, or undercarriages, which contain the trams' wheels, axles, motors and brakes, on all 164 trams in the fleet. The bogies were originally constructed in the 1920s and rebuilt in the 1950s.
"Since our trams are so unique, we can't let an external manufacturer build them for us," Aubin says. "We have to build and modify them by ourselves. We are not really a rolling stock manufacturer, but over the past decade we have gradually developed our skills."
During the next five years, the first phase of this makeover, some 40 million Hong Kong dollars (4.5 million euros) will be spent to replace 60 bogies.
"Six years ago, we identified the axleboxes as being the most critical part of the bogies," says Steven Chan, senior engineering manager at Hong Kong Tramways. "They cause us lots of problems, since they are breaking and cracking, and we have to use very skilful mechanics for the necessary welding repair."
The current axleboxes are equipped with basic plain bearings, which create problems, especially at the many sharp bends along the tracks.
"Designing a bogie to run in Hong Kong is very difficult," says Chan. "We realized that the best thing to do was to modify the bogies by replacing the axleboxes and introducing appropriate bearings."
This led to discussions between Hong Kong Tramways and SKF on how to redesign the axleboxes to incorporate SKF bearings.
Our new bogies will bring great advantages for us.
Cyril Aubin, managing director, Hong Kong Tramways
"SKF has been very supportive," says Aubin, "giving us technical advice. Since the bogies are originally from the 1920s, we don't have any background data or engineering calculation sheets to compare with. We have to rediscover everything.
"Our new bogies will bring great advantages for us," he says. "They will increase reliability, facilitate maintenance and reduce energy consumption. For the passengers, we hope they will find the rides smoother, less noisy and less shaky."
The installation of the new bogies is expected to start in the first quarter of 2019.