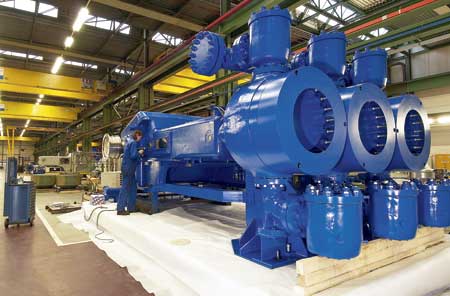 Pumping powerhouses
GEHO slurry pumps from Weir Minerals Netherlands are put to the test in some of the most extreme environments the world has to offer. And they are expected to work without fail.
GEHO slurry pumps from Weir Minerals Netherlands are put to the test in some of the most extreme environments the world has to offer. And they are expected to work without fail.
Blue and shiny, the piston diaphragm pump stands in the factory hall, ready to be shipped to China for use in an aluminum factory. "The pump, a digester feed pump, was built and tested here," explains Marjo Cox, public relations manager at Weir Minerals Netherlands, situated in Venlo. "The design was tailored to provide optimum performance in its specific application. The pumps are installed by one of our own commissioning engineers in China. He then instructs the local people on maintenance and operation."
"Although this is a real powerhouse, it is not even our largest pump," adds purchaser Jan Joosten.
"Broadly speaking our pumps are used for three applications in mining," he continues. "Firstly, they are used for pumping slurry over long distances, from the mine or extraction area to a port or processing plant. Secondly, the pumps deliver slurry directly to the system for removing the mineral or ore from the rock. Finally, they are used for pumping residual products such as red mud [a waste product in bauxite processing] or fly ash to a dump or back into an unused mine shaft. On a global scale, we are the leading player in all three applications, in particular in pipeline transport, with a market share of more than 90 percent."
The company has a long history in pumping liquids and slurries. Even before World War II, Weir Minerals Netherlands (then GEHO Pompen) was involved in the manufacture of pumps for discharging ground-water. The products developed by pumping ever- thicker liquids such as sewage sludge and industrial sludge, until by the 1960s the pumps were capable of pumping ore slurry.
Slurry is crushed raw materialmixed with water. The problem is that direct contact between abrasive slurry and moving parts in a pump quickly leads to wear. The development of the piston diaphragm pump by GEHO in the 1970s offered a solution. With this system, the slurry is separated from the vulnerable moving parts of the pump by a membrane. At the time, an entire test installation was built at the GEHO factory to study the behavior of bauxite and other mineral slurries.
Cox explains: "The mining industry had long been keen to transport ores and minerals via pipelines. The extraction locations are to be found all over the world, often in inaccessible areas where road and rail infrastructure is either absent or impossible. The distances between the processing plant and the extraction area are also constantly growing. As a result, pipelines represent an economically attractive alternative."
The first customer for a GEHO piston diaphragm pump was the German aluminum manufacturer VAW, which in 1974 needed a system for use in the German Ruhr area. Customers such as Hoechst and Thyssen Stahl soon followed. Initial contacts were then established with North America, and a small network of international agents was formed.
"The world of mining is relatively close-knit," says Cox. "Your reputation is your most valuable possession. It is essential that you deliver a top-line product in terms of quality, service life, operation, availability and of course reliability. If a pump shuts down, the whole system grinds to a halt."
The international expansionof GEHO took on a new dimension in 1990 following its takeover by U.S. company Baker Hughes. In 1994, Baker Hughes transferred all pump production activities to the Scottish Weir Minerals (see sidebar). "Becoming part of an international organization was a logical step for GEHO," Joosten says. "We were able to retain our identity, and we remained responsible for sales, production and development. But we also gained access to an inter-national infrastructure of Weir sister companies. We could profit from a wealth of knowledge and experience and from a financially powerful parent company that enabled us to participate in larger projects."
One mega project in Brazil recently involved the delivery of 18 pumps, to be installed in two pump stations, for a 340-mile-long pipeline. Each pump weighs 80 tons and 125 semi-trailers will be needed to transport the pumps to the port.
"A pump is not a standard product," Joosten emphasizes. "We make our designs taking into account the application, ambient factors and the type of slurry. Each slurry has its own characteristics. First a sample of the slurry is examined in our laboratory for rheological characteristics. Depending on the outcome, we advise on or select the relevant materials, ranging from standard steel through to solid titanium."
"The circumstances are different wherever we operate," he continues. "They range from –40°F in Alaska and Siberia to more than 100°F in New Guinea, 10,000 feet under the ground in South Africa up to 13,000 feet in the Andes. Such extreme conditions can influence, for example, the operation of the electronic control equipment. Via the lubricating oil that flows right around the pump, we can cool or heat the system."
Given the highraw-material prices and the tremendous demand from emerging markets over the past decade, business has boomed at Weir. "Our strength has always been our ability to supply products quickly," Joosten says. "But at one point it became difficult for us to obtain our materials from our suppliers of wrought and cast work and moving parts. We faced the bizarre situation that there was simply not enough steel available to make the pumps that had been ordered for iron ore mines. Because every pump is tailor-made, it is almost impossible to complete work in advance, and that leaves little time for our suppliers. We eventually solved the problem by buying capacity, enabling us to get the products in time."
"Our order book is well filled," Cox says, "and there is also a great deal of work in service and maintenance, as follow-up to the new building projects."
Joosten adds, "Pumps are constantly developing. I predict trends involving more energy-efficient and more process-specific pumps with tailor-made work, in particular for high-temperature pumping. And as it happens, we are specialists in tailor-made products. And of course, pumps must never fail."
---
Close communication
The strong relationship between Weir Minerals Netherlands and SKF is based on close communication. The two companies work together to anticipate future needs and developments.
The result is that SKF not only supplies specially designed connecting rods and cross-head bearings, but it also has implemented a tailored reservation program in the production capacity, directly involving SKF factories in the relationship.
The open communication between SKF's account team and Weir's engineers and purchasers has given both parties the confidence to keep developing the partnership.