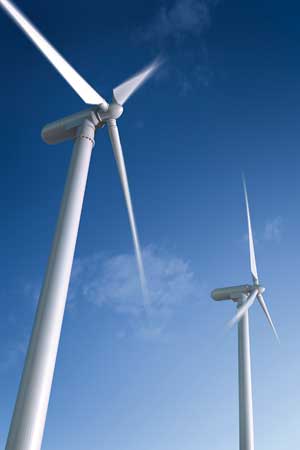 Remote monitoring of wind turbines
Around the world demand for condition monitoring and service from the wind power industry is growing. SKF's intelligence centre for wind turbine surveillance in Hamburg, Germany, is a part of SKF's increased service offering to the wind power industry. From this centre, wind power parks can be monitored all over Europe.
"SKF is a supplier to all the main wind turbine manufacturers worldwide, and we are involved in all parts of the life cycle – from design, problem solving and manufacturing of components and systems to service and maintenance," says Inge Aasheim, business developer, Wind Power, at SKF.
There is a huge demand for condition monitoring among customers. In Germany alone, SKF has installed 1,000 SKF WindCon systems. Some 50 percent of the customers have assigned the day-to-day surveillance of the wind turbines to SKF, and almost 600 turbines are monitored from the centre in Hamburg.
"A wind park is supposed to be running for 20 years with an economic profit," says Aasheim. "It needs care, maintenance and effective running. In the end, you cannot do anything about how the wind blows; you can only see to it that your wind park is running well."