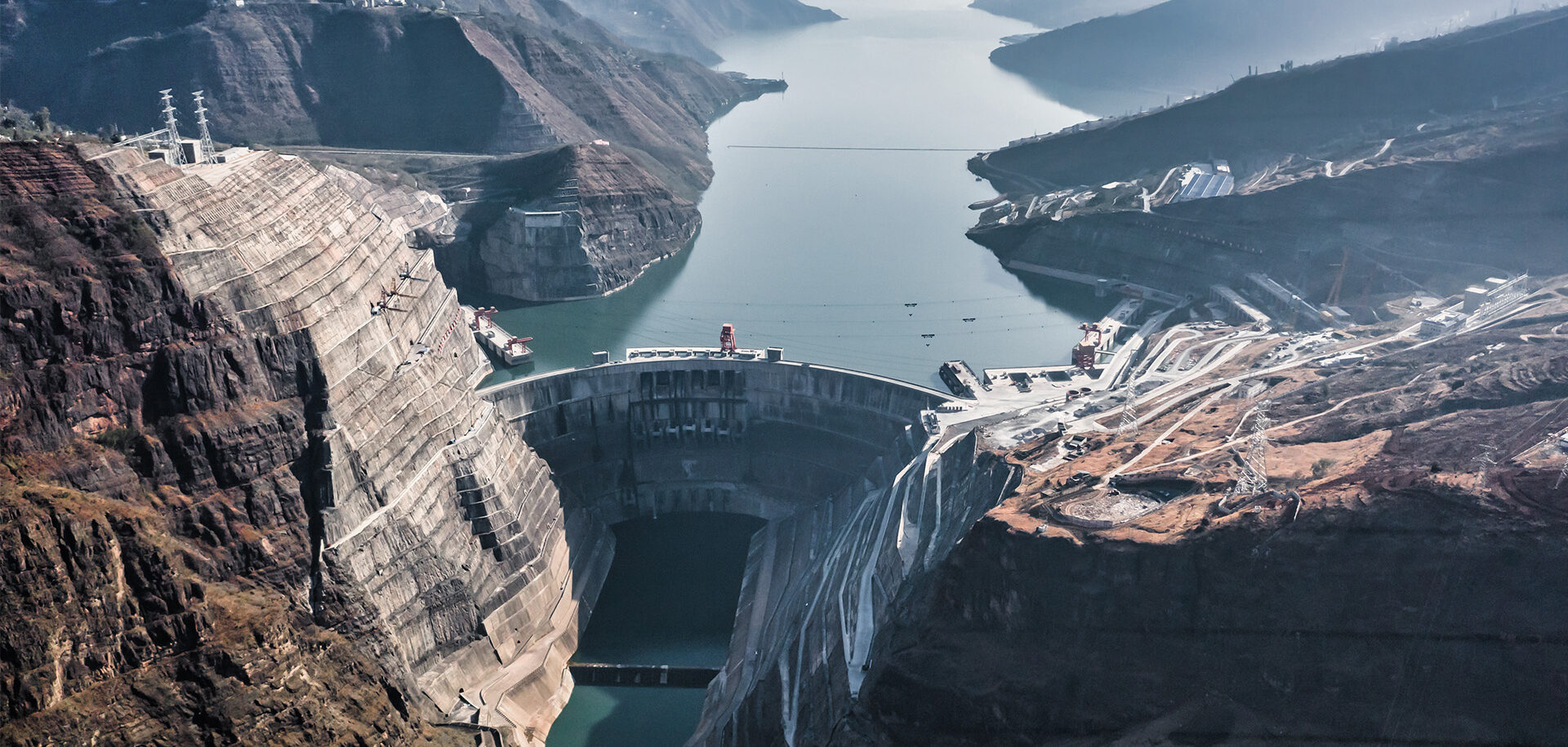 Letting the power flow
China's latest hydropower mega project is the final piece of the world's largest renewable energy scheme.
On 20 December 2022, after 13 years in construction, Baihetan Hydropower Station was fully connected to China's electricity grid. With an installed capacity of 16,000 megawatts, the plant is the last link in China's "clean energy corridor", a series of six giant hydroelectric dams built along the Yangtze River and its tributaries that have made significant contributions to the development of clean energy in China. The new station will generate an average of 62.443 billion kilowatt hours of clean electricity every year.
Built on the lower reaches of the Jinsha River, Baihetan Hydropower Station is the second-largest hydropower facility in the world, behind the 22,500 MW Three Gorges Dam, which is 1,300 kilometres downstream along the corridor. The plant is a record-breaker in other ways, however. While Three Gorges Dam produces power using 32 main 700 MW hydroelectric generators, Baihetan is equipped with just 16 giant 1,000 MW units, the largest hydroelectric machines ever built.
Jumbo turbines
In large-scale hydroelectric power production, turbine size matters. Using fewer, bigger turbines reduces installation, maintenance and operating costs and increases the energy conversion efficiency of a plant. And with a peak efficiency of 96.97 percent, Baihetan's turbines are the most efficient in the world at present, according to the China Three Gorges Corporation, a Chinese power company.
Designing and building turbines of an unprecedented size was a significant engineering challenge, and SKF expertise has played a role in several parts of the Baihetan project, beginning deep inside the giant 50-metre-high, 8,000-tonne turbine units. In each unit, a guide mechanism controls the flow and direction of incoming water before it reaches the 2,000-tonne rotor at the heart of the machine, so it is critical to the stability, safety, reliability and efficiency of the unit.
One key performance indicator in the guide system design is the amount of leakage around its moving components. The turbine manufacturer used SKF sealing technology to reduce theoretical water leakage through the wicket gate facade to just one-tenth of typical levels for such machines and overall water leakage by half.
The cylindrical water guide mechanism is situated in the volute seat ring where water enters the turbine. The wicket gate bushing seal plays a key role in preventing pressure water leakage and stopping sediment from entering the journal. If the bushing is worn, the upper, middle and lower journals can become misaligned. That results in an increase in the vertical clearance of the wicket gate and larger leakage, which will greatly affect the water energy conversion efficiency.
For the Baihetan project, SKF H-ECOPUR wicket gate sealing material was selected. This is a hydrolysis-resistant thermoplastic polyurethane elastomer with good wear resistance, low compression deformation and high tear strength. SKF also provided a 3.4-metre-diameter floating ring seal, made of G-ECOPUR special-cast polyurethane. This material is highly suitable for on-site welding of split seal rings, ensuring that the performance of the seal reaches the performance of a one-piece sealing ring.
Safety through strength
The water that feeds the Baihetan turbines is held behind a 7-metre-wide, 289-metre-tall double-curved concrete arch dam. This giant structure, the height of a 100-storey building, holds back more than 20 billion cubic metres of water, resisting a hydraulic thrust load of 16.5 million tonnes.
Using fewer, bigger turbines reduces installation, maintenance and operating costs and increases the energy conversion efficiency of a plant
The dam has been designed to work safely in extreme conditions, including a once-in-a-thousand-years catastrophic flood scenario. Its flood discharge facility consists of six overflow outlets and seven bottom outlets on the dam body, together with three spillway tunnels on the left bank. Flow through the hydropower station itself takes place through a bank tower equipped with three separate gates: a stratified inlet gate, a maintenance gate and a quick emergency gate that can drop down to cut off water flow within four minutes under dynamic water conditions.
That quick gate is operated by the world's largest hydraulic hoist. With an outer diameter of 1.19 metres and an inner diameter of 0.95 metres, the giant cylinder operates a 0.45-metre-diameter ceramic-coated piston and can deliver a maximum force of 12,500 kilonewtons during operation. That's enough to lift around 800 passenger cars.
Inside the cylinder, motion and stability are provided by a new generation of special spherical plain bearings from SKF. The bearings are composed of a copper alloy outer ring inlaid with dry lubricant and a stainless steel inner ring. They are characterized by their high load-carrying capacity, low friction, corrosion resistance, extremely long service life and compact design.
More SKF technology is used to seal the hoist, stopping hydraulic fluid from escaping under high pressure and protecting internal components from corrosion and wear in the harsh humid operating conditions around the dam. SKF ECOPUR S SFW was developed for the advanced ceramic coatings on the piston rod used in the hoist. The material has excellent anti-friction and anti-creeping properties and extremely low leakage and can accommodate higher surface roughness than conventional materials can. For the Baihetan hoist, SKF also provided a total hydraulic cylinder solution, including chevron set seals, wiper seals and guide rings.
Safe, economical, renewable and clean energy from hydropower is playing a crucial role in China's energy development. Each of the 16 giant turbines in the new Baihetan power station contains more than 1 million components. The water guide mechanism alone comprises 7,300 parts, of which the SKF seal is only a small part, but it too plays a crucial role in the unit's efficiency. And the SKF sealing system and spherical plain bearings are key components of the Baihetan gate hoist, ensuring that the huge power of the world's second-biggest hydroelectric facility is always well controlled.